Photos of Wigan
Photos of Wigan
Album Contents
Album Contents
Wigan Album
Lower Ince
10 Comments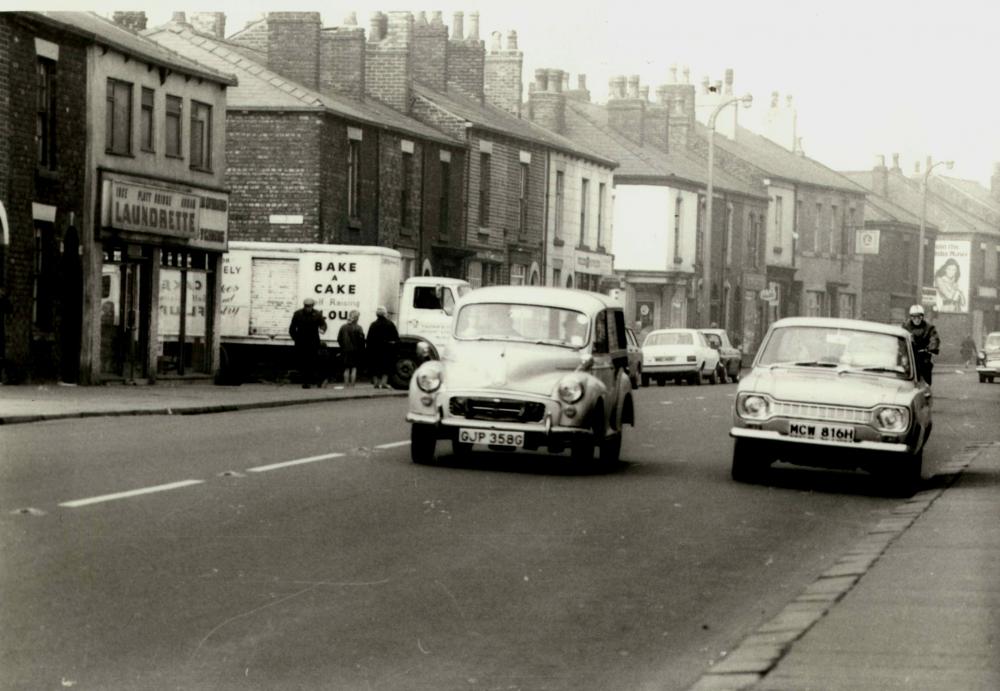 Warrington Road
Photo: Rev David Long
Views: 4,041
Item #: 13322
"The Launderette" and The White Swan - which is still standing, though presently closed and boarded up.
Comment by: dot on 25th January 2010 at 11:08
Its nice to see a car with the old JP Wigan registration.
Is it still used??
Comment by: David Thompson on 25th January 2010 at 19:19
The van parked in the side street is very interesting on the side it say's BAKE A CAKE self raising flour this was a brand name of George Thompson wholesaler of Poolstock Wigan, there must be a Bakery somewhere nearby.
By this time Hansons' Dairies had the former premises of Harveys', less than a hundred yards up the road on the right. I think quite a few shops made and sold their own pies, though, from what locals tell me.
Comment by: Tom Clancy on 31st March 2011 at 18:17
George Thompson (Provision Merchants)LTD.Poolstock.Was a wholesale grocer who delivered groceries in and around the Lancashire area.Bake-a-Cake S.R.Flour was his brand name.It came in bulk in one and half cwt. hessian sacks.Delivered by H.and R.Ainscough,Flour Millers of Burscough,it came by road on their trucks,and sometimes by barge to Wigan Pier.I myself have collected it from the Pier. It was mixted and blended on the premises,packed into small bags and delivered to small shops.Sponge cake mix was also made.
Comment by: Kathryn Heyes nee Belshaw on 29th May 2011 at 18:12
Does anyone remember the National Westminster bank, on the row here and Pietriks( i appoliges for spelling) and Maidens cake shop, and then at the end of the row it became an outdoor licence, run by a family called Painter, and then after the street what is now Pall Mall carpets it was a butchers, and then I cant remember what came next, but I think there was another off licence come sweet shop, and then the White Swan pub, the another shop and then the .butchers
Comment by: INCE MAN on 30th May 2011 at 01:38
I WONDER IF ANYBODY REMEMBERS WINNYS CAFE ON WORRINGTON RD LOWER INCE AND JIMMY RAMSBOTTOMS CHIPPY JIMMY WAS A GOOD MATE OF MY DADS AND MY MOTHER WORKT IN THE CAFE
Hi Kathryn I lived in Lowe Ince for 23yrs before I married, I remember the National Westminster bank, Ince was a thriving community everyone looked after each other, we went to Spring View school in the same year, we were invited to your daughters wedding at Haigh Hall, I still have a photo on the mantlepiece is she keeping well.
Hi. My Grandad's shop was on that row (not sure where) it was Petriek and Maiden's bakery (not sure on the spelling either) I do not have any photo's of the shop only my mum and Grandma's memories. My grandad was Walter Maiden and such a wonderful man. Would be lovely to know if anyone has a photo of the bakery
Many Thanks
the butchers was charnocks i think, then it was lambs chemists and now pall mall, i remember the bank going in with my nan from manley street,
Comment by: david houghton on 31st July 2014 at 20:13
yes I was born in lower ince.and that pic has brought back many memories.the laundry and the bank.pls bring it all back.and bring it back to live.instead of being dead.i wonder if their is tumble weed blowing around ince nowadays.