Photos of Wigan
Photos of Wigan
Album Contents
Album Contents
Wigan Album
Lower Ince
13 Comments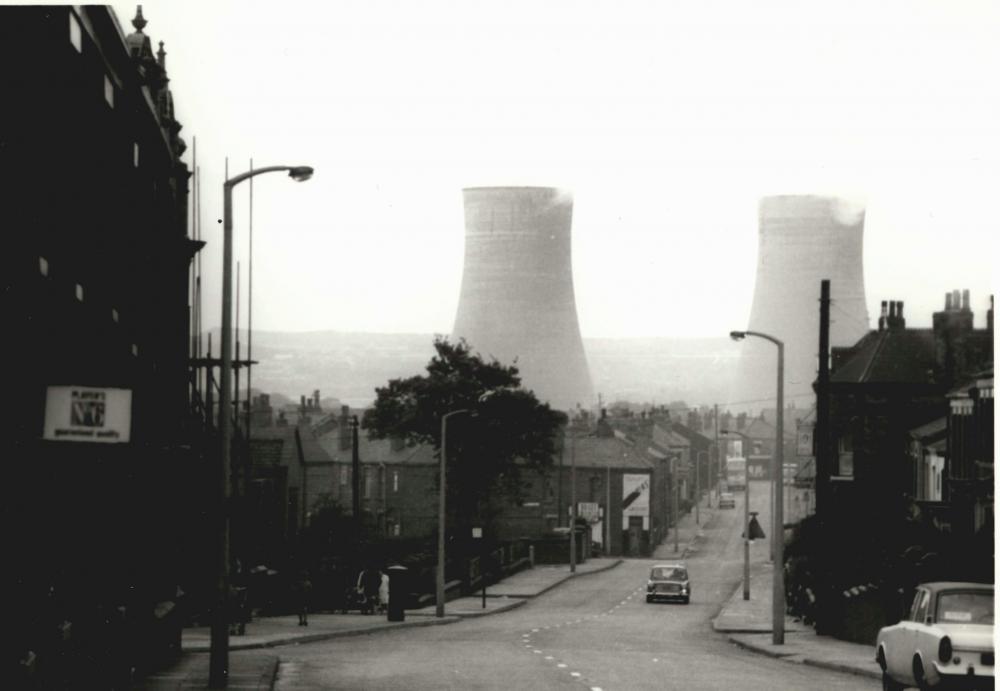 Ince Green Lane and Manley Street
Photo: Rev David Long
Views: 4,023
Item #: 13320
Taken from just below the bridge by Christ Church. It is difficult to see where Ince Green Lane continues to the left beyond the railway bridge by Lower Ince Station. The Manley is on the right. The scaffolding on the left appears to be around Ince Public Hall.
Comment by: Kevin Higgins on 24th January 2010 at 19:59
David, the junction is at the shop on the left, just behind the 1100. Manley Street is straight on and Ince Green Lane to the left. The photo certainly brings back memories.
Comment by: irene roberts nee griffiths on 24th January 2010 at 20:27
What a brilliant picture, Rev Long.....a part of my childhood. Thankyou!
Thanks, Kevin, that's where I thought the turning was - and you can see the fronts of the first few houses after the turn, but now that the bridge has gone, along with the shop and houses in the apex between Manley Street and Ince Green Lane, the junction is very clearly visible nowadays, whereas it can't really be seen in this shot.
Comment by: Evelyn on 24th January 2010 at 21:46
You can just see the old Ince Clinic beyond the scaffolding.
Comment by: Jack Lawton on 24th January 2010 at 21:47
On the left hand side, just about level with the 1100, wasn't there a schools clinic and dentist? I remember going to collect orange juice and tins of dried baby milk. Was there not also a kitchen where they cooked school meals???
Comment by: Evelyn on 24th January 2010 at 21:48
Those cooling towers were certainly a blot on the landscape!!
Comment by: geoff on 24th January 2010 at 22:57
i remember walking up from lower ince labour club to ince station to catch the speial train,which would take us to southport on the annual "club trip".we all had to have a identity label attached in case we got lost.it never rained on this day!.
Comment by: Margaret Wall on 25th January 2010 at 11:18
I must have seen this view thousands of times walking home to Manley Street from St Williams School and Church on Sundays. I never remembered the cooling towers looking as imposing as on the photo though.
I think the shop on the apex between Manley Street and Ince Green Lane was a grocer's called Mortons and had a pale green front.
This is a lovely photo Rev Long and it brings back so many happy memories for me. Thank you!
Comment by: Cyril on 25th January 2010 at 18:02
Jack, not sure if there was a school meals kitchen on Ince Green Lane, but there was Ince Central Schools Kitchen down the bottom of Christopher Street, where the council Building Department is now. That was a very large kitchen has they made and delivered meals to a lot of schools.
Comment by: COLIN HARLOW on 12th February 2010 at 10:02
This photograph certainly brings back memories of the 60s.
I remember walking down Ince Green Lane and Manley Street many times to visit my late grandparents, who lived near Lower Ince labour Club. I can also remember two-way traffic on Manley Street, but because of the danger vehicles faced turning right on to Warrington Road, towards Britannia Bridge, a real accident blackspot, the powers-that-be (rightly) erected "NO ENTRY" Signs, but only for a short distance from the junction to Harvey Street. Great sight of the cooling towers, good advantage point to see them demolished in the late 80s. Thanks for sharing it.
Comment by: carol on 16th March 2010 at 15:26
geoff i remember meeting at lower ince legion for pop and crisps before catching the train to southport cyril the scool meals kitchen was at the bottom of christopher st i was born at 24 christopher st my gran who lived at no.50 worked in the kichens i can remember the school meal vans leaving through the 2 large green gates at the bottom of christopher st. it was also the council yard the mortuary was also in the yard and a building where dogs were put down they used to gas them later on they electracuted them as kids we used to play in the council yards when i look back it was a gruesome place to play another play area on the picture opposite the manley pub was what we called the jungle it was grass hills and trees the big lads used to make a swing in the trees just as you came down the steps into the jungle i also remember the clinic going with my mam for orange juice and the dentist many memories thanks david for putting this picture on
Hi Colin were you relative to Angela Harlow we were friends as children, my name was Doreen Hickey.
Comment by: jim 12 on 11th May 2012 at 18:01
mortons used to display row after row ofbiscuits in tins with glass lids so you could choose your selection which was then weighed nice shop