Photos of Wigan
Photos of Wigan
Album Contents
Album Contents
Wigan Album
Warrington Lane
6 Comments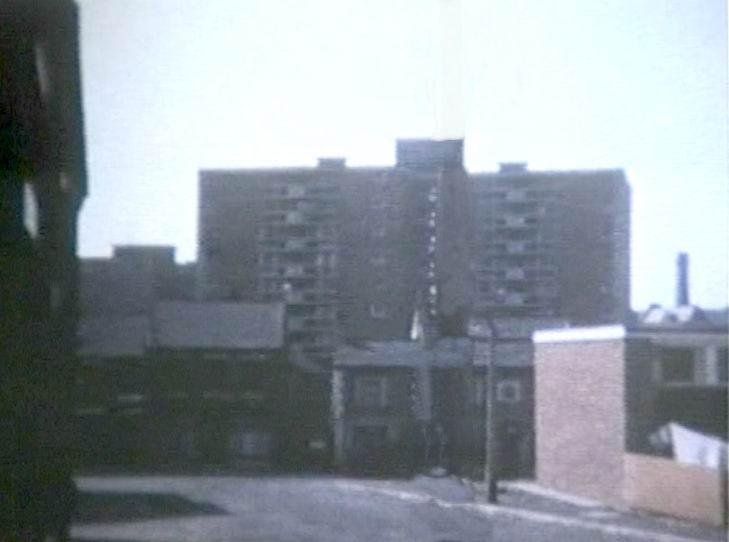 Warrington Lane / Hardybutts Junction
Photo: Kevin Higgins
Views: 2,534
Item #: 13005
This is a shot taken from Hardybutts, looking towards Warrington Lane. I must apologise for the quality but this is taken from a super 8 cine film and is quite grainy. Still, it is better than nothing.
I think the shot was taken in about 1969. The Royal George has been demolished and Woodcock House is prominent in the centre. The building to the right of centre is the Whitesmiths Arms and the one to the left is a private residence although a pub did stand on this site in the late 1800s. It was known as The Stanley.

Comment by: Ste, Wigan on 8th January 2010 at 21:19
Kevin, have you got a lot of cine footage of the Scholes area?
Comment by: Del on 9th January 2010 at 10:24
I always find old Scholes pics interesting too with living in the area, my mum always tells me about the ammount of pubs that where there and how its all changed, I'm always looking out for pictures of the massionettes in Orchard st because it was actually Orchard house where I grew up.
Comment by: Scholes Malc on 9th January 2010 at 13:43
The Dohertys ('The Doc' & son Ray and family) lived in the terraced houses to the left of the photo
Hi Kevin - I would be more than delighted to see any of the footage you may have of this area - especially if there are pubs in it!

I think stuff like this should definitely be preserved !

My email is ianmcl13@googlemail.com
Comment by: Gwen Charnock (nee Thomas) on 5th May 2013 at 21:34
I lived my early years around 1960 in a house attached to the wall of the slaughter house on Hardybutts. The odd sheeps head was dropped over the wall for our dog. Not a nice memory for a little girl! They damaged our house when they demolished part of the slaughter house and rain found its way down our staircase. our house was condemned and we moved to Orchard House maisonettes which felt like a palace after the awful conditions we endured.
Comment by: Eric Bulpitt on 19th June 2014 at 17:47
I think the pub was the stanley arms, the street on the left was spring street,(I think)