Photos of Wigan
Photos of Wigan
Album Contents
Album Contents
Wigan Album
Ince
15 Comments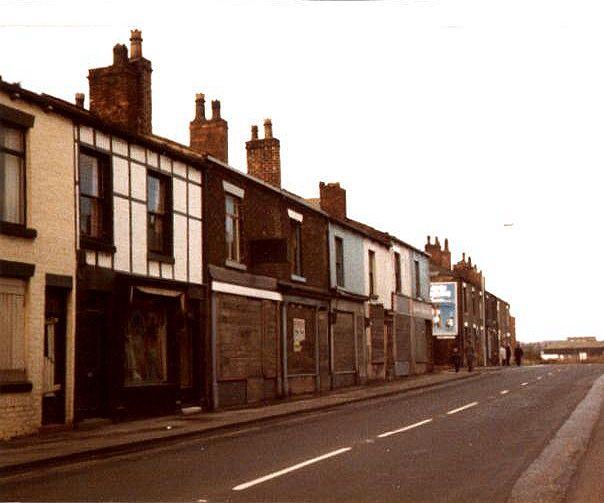 Warrington Road, Lower Ince, before it was completely demolished.
Photo: Alice (Haselden) Pearson, Rochester Hills, Michigan, USA
Views: 6,097
Item #: 1294
Warrington Road, Lower Ince, before it was completely demolished. At the left, (I think the black and white building) was Dykes Women's Fashions. Late 1970s.
Comment by: peter frost on 16th October 2007 at 12:58
it was dykes women fashions
our family came from down there
i lived in lancaster street for a spell before they were demolished
Comment by: Ann Gaskell (Maiden) on 8th March 2008 at 20:52
At the end of the row was Morton Shop (GreeN Groceries)
Comment by: john edwards on 5th April 2008 at 22:32
i used to live here in the one with a light blue top. the one in the middle when i was little. in fact we was last ones in before they got knocked down around 1976ish
Comment by: geoff on 6th April 2008 at 20:21
does anyone remember the shop which was behind the group of people in the distance.it was known by vaious names.take your pick:-happy harry,s.almonds.little mons alehouse,they used to do glasses of vimto,and had a bench to sit on while you drank it!.
Comment by: Bill on 2nd August 2008 at 17:37
my father was born in lancaster street number 3 in 1927
Comment by: glyn on 7th November 2008 at 21:24
The shop in the distance was called Almonds.I was born in Harvey st.in 1950 which i assumed was named after harveys bakery,it was at the bottom of the street with Britannia Bridge school at the top of the street.I was knocked over by a car when I was about 5 when I ran out of Almonds.The photos make it look bleak but it brings back many happy memories.
Comment by: peter frost on 27th January 2009 at 21:55
for Bill
me and my family lived at 3 lancaster street in the early 50s before the knocked them down
Comment by: Mal Stott on 2nd June 2010 at 11:28
The shop is Almonds ( Jack and Ann ) Ann was my Grandma. They lived in Preston Street, left at the very end of the row
Comment by: LennyJones on 22nd September 2010 at 16:33
In that row of shops and the ones going the other way ,you could buy just about anything, I remember going shopping with my mumwhen I was a kid, walking along the pavement going in and out of the shops, Butchers, bakers, grocers , green grocers, fishmongers, haberdachery (spelling) toffee shops, flower shops, at least one of each, and many others all whithin about 400yds of one another and all within easy walking distance of home. Mum stopping to chat with neighbours and friends, me bored out of my brain. But a real sense of community. They've got a lot to answer for these supermarkets.
Comment by: INCE MAN on 1st June 2011 at 20:32
me and my dad have been studying this pic trying to name the shops in the row , We lived at 8 james street the street where you can see the billboard my dad was born there and we lived there untill thay where demolished . Starting from where the people are walking (1)ALMONDS SWEET SHOP (AKA) HAPPY HARRYS (2)MORTONS GROCERS (3)A HOUSE WE THINK THE MOSLEYS LIVED THERE (4)COWERDS CAKE SHOP (5)SCANDRIKS BARBERS SHOP (6)A CLOGGERS SHOP (cant remember the name) (7)DYKES WOMENS FASHIONS (8)A HOUSE WHERE THE OWNERS OF DYKES LIVED AND FACEING DYKES SHOP ON THE OTHER SIDE OF THE ROAD WAS JIMMY RAMSBOTTOMS CHIPY (the best chips peewet & scratchin`s in ince)IF ANYBODY HAS MORE PICS OF THIS ROW OF SHOPS PLEASE POST THEM
Comment by: Doreen Hickey on 27th October 2011 at 12:26
It was Dykes womens fashions, my mum used to buy my walking day gloves and handkerchiefs from there, I remember when I was only 10yrs old we could choose ankle socks or stockings for walking day, I wanted to have the same as the big girls on our banner and mum bought me stockings, I have a photo we were all dressed in green, I always thought Dykes was a posh shop.
Doreen, i lived in james street when i was 5, in 1976, i remember being in a walking day and dressing in green, would i know you
Comment by: Colin on 27th February 2013 at 22:35
The black & white building was my Grandma's Drapers shop and next door was the cloggers,he was Eric Wilsons grandad I think. I lived across the road at number 139 just lower down from Maggie Lanes chippie, and can still remember Glyn getting knocked down by the car. I see no cars on the road we used to play on the pavement on our roller skates, going down the hill past the Big Rock pub. Also remember when a funeral went past on the way to Ince or Westward cemetry everyone stopped what they were doing as a mark of respect, you don't see that today.
i am posting a comment because of the the name "Alice Haselden" Michigan. My grandma was Mary Ann Platt before she was married. her three brothers, Tony Robert and Jimmy all emigrated to Ontario Canada I think they were friends of yours Alice??? i would love to hear from you. My aunty betty still lives in ontario aged 97.my grandma lived at 24 Frederick street. i spent a lot of my time at her house even though my own home was in Broom rd pemberton. she moved to sheltered accomodation in Platt bridge(around 1968.) i used to shop for her and remember all the shops shown on the picture above. and drinking vimto on that bench at "Happy Harrys" and Maggie Lanes chippie. There was a fish shop in that row too and a hairdressers. i remember chilren from that time in the fifties and early sixties, Christine and John Jarvis, Pat Rigby, susan, sandra and Paul jones. freddy bennet, Kevin Critchley Sandra Grey, Christine Appleton, Mavis JOnes. My great aunt Dorothy Dunderdale lived at 36 William Street. She died in 1964. it was a wonderful community. I hope you are able to contactme alice.
Comment by: joe landy on 13th February 2014 at 18:34
the cobblers shop name was Hooper and he had twin girls ( Grandad, mum and aunty). this was up until about late 60s