Photos of Wigan
Photos of Wigan
Album Contents
Album Contents
Wigan Album
Ince
8 Comments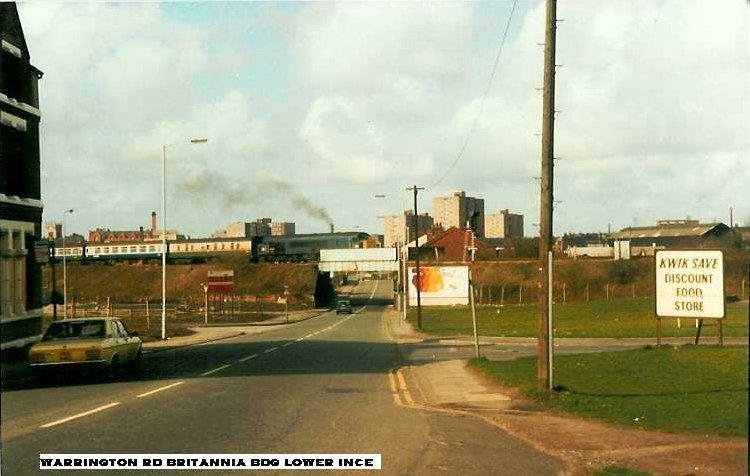 Britannia Bridge, Warrington Road, Lower Ince.
Photo: Brian Mcdonough
Views: 6,151
Item #: 1292
Britannia Bridge, Warrington Road, Lower Ince.
The sign on the right saying KWIK SAVE is now replaced by a new housing estate at the side of Britannia Bridge Primary School which i used to go to.
Comment by: mark on 21st May 2008 at 18:55
my dad was born in Lancaster street he used to play on the railway
Comment by: damian on 12th December 2008 at 23:07
i now live on this housing estate i moved to wigan from manchester 7 years ago,so never new what it looked like before the houses were built,it looks so different
Comment by: peter frost on 27th January 2009 at 21:31
i lived in lancaster street in 1952
was born in a house on warrington road near what was called the blackie wall
near pitt street
Comment by: julie on 16th May 2009 at 22:12
Mark my dad was born in number 3 Lancaster Street in 1927 what number where you born in?
Comment by: Doreen Hickey on 27th October 2011 at 12:13
I lived in Baldwin St situated on the right hand side as you came under the bridge from Wigan, from 1958 until 1968 with my parents and two brothers,We attended Britannia Bridge school, and then onto St Mary's, our father Joseph Hickey was born bred and died in lower Ince.
Comment by: Peter frost on 28th June 2012 at 20:20
I lived in number 3 lancaster street
After we moved in 1954 they pulled em down
Peter Frost, I've been following my partner's family tree and found this picture in my search for any images of Lancaster St. It's a strange coincidence reading your comments because my partner's great-grandfather also lived in No.3 Lancaster Street - but in 1881! Before that in 1871 they lived in Rock Farm, Warrington Road. It's fascinating how small this world is :)