Photos of Wigan
Photos of Wigan
Album Contents
Album Contents
Wigan Album
Ince
12 Comments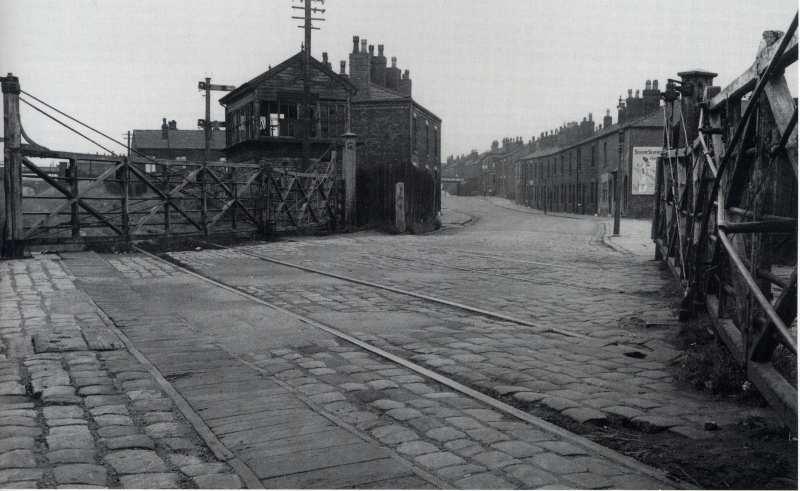 Belle Green Lane crossing.
Photo: Ron Hunt
Views: 5,321
Item #: 1289
Belle Green Lane crossing.
What happy memories I lived at number 186.in the first row of houses after the crossings.
Comment by: Gerry on 5th April 2008 at 18:29
Hi Doreen were you related to Carol Hill she lived a couple of doors up from Ernie Prescotts? or were you on the other side near to McLauglins betting shop?
hi doreen do you remember terence&alwyne fillingham who lived next door well i am their cousin.
Comment by: dave thomas on 1st February 2009 at 08:57
I lived in west street and remember standing on gates till the train passed and waiting till they were closed bye the man in the signal box i was on my way to belle green school aged about six 1953.steve braddock is that you that mated about with me and johnny garrity when we were kids
Comment by: Gerry on 10th February 2009 at 20:51
I Remember Terence and olwyn and their little dog Susie Terence lives in Hindley now
Thats a priceless picture of Belle Green Lane. Ive passed that way so many times. I used to live facing Belle Green School in Francis street. I remember Steve Braddock very well and Josie Becket from York street. Not sure if Josie was Raymond Beckets sister....anyway I recall she always wore a black raincoat in summer and winter. Are you both still in Wigan ! I live near the Brocket arms now after a few years away from Wigan. Great to hear from you !
Looks like something out of Oliver. Didnt realize how poor we were....didnt even have a drill for the hole in our trollies...like you say - a red hot poker !But yet I think we were happier then than now. Ive been up there recently and had a pint in the Bush. The place was empty and the landlord reckoned that the folk were afraid to come out in case they got burgled. ..not like in our days ! Belle Green lane is desolate with only the Oak tree pub open...the otheres have been closed or set on fire. What happened !Despit the poverty of those days, it was a much better place to live. Great memories !! I remember almost all the people in these comments. Nice to know we are still aroud with our memories.
I crossed over this level crossing on many occasion. I had two aunties who lived at the top of Belle Green Lane. One auntie lived in Tank Street, the other lived in, I think it was called Kirkless Lane (I'm not sure) I remember at the top end of Tank Street there was a very large rubber dump. I also had a friend , he was in the R A F with me. His parents' had a shop just over the crossing, on the left as you walked up the hill. I cannot remember now what kind of shop it was. It was in the early 50s,so long ago.
Comment by: Gerry on 30th May 2011 at 21:18
Albert The shop in question in the 50 was owned by a family mamed Moss
i was born in the first house on the left after crossing .hoctors lived next door 1950
Comment by: josie on 28th September 2012 at 22:51
i love this photo i never thought i would see this place again, my childhood, i lived further up under bridge thats just out of view in york st.me and my sisters and brother walked up and down that lane every day sometimes a train would come and you had to wait at the gates,wonderful steam trains would pass,then we would be on our way to school love love love it thanks ron x
Comment by: jimmy on 29th October 2020 at 18:24
i lived the end house left of signal box which was7 Elizabeth St from 1969 until 1975