Photos of Wigan
Photos of Wigan
Album Contents
Album Contents
Wigan Album
Whelley
15 Comments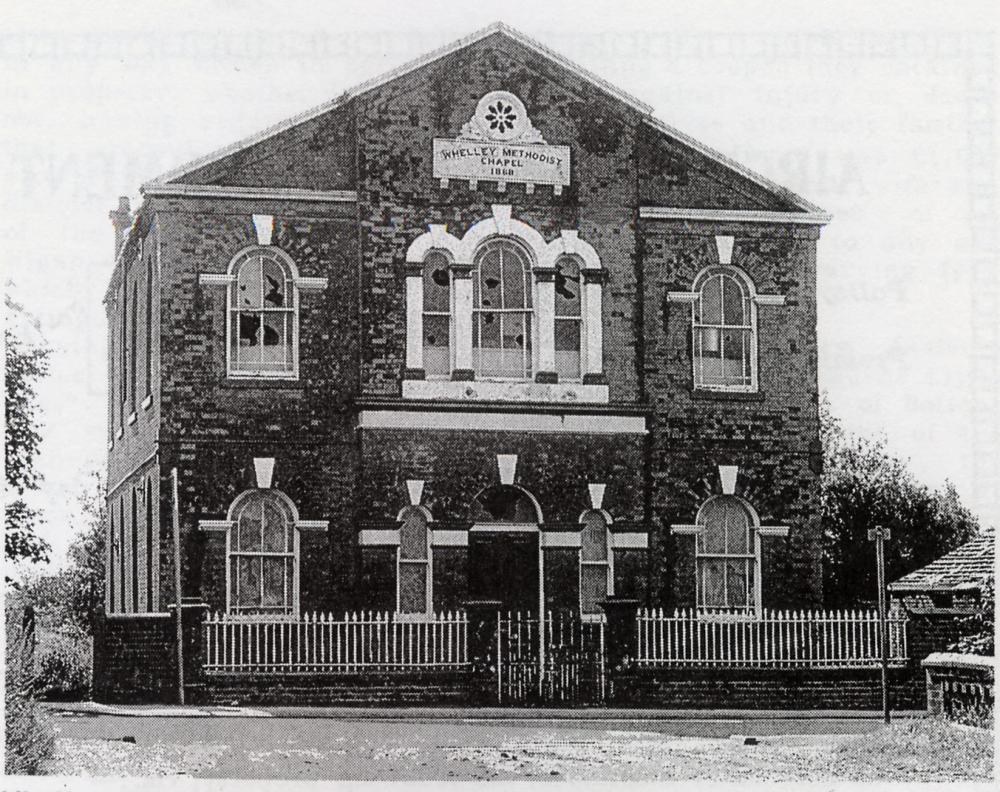 Whelley Methodist Chapel. c. 1991
Photo: RON HUNT
Views: 2,912
Item #: 12868
Picture taken of the derelict, Whelley Methodist Chapel in 1991 before its demolition.
Comment by: kathy lee on 22nd December 2009 at 01:06
This is where I got married in 1963 I was taken to Sunday School there as soon as I could walk by my Grandad David Pendleton who spent most of his life looking after this chapel as caretaker and when he was 80yrs old a clock was installed with a dedication of his long service there.I wonder what happened to it when the chapel was demolished I am very sad to see the state it was allowed to get into !!!
Comment by: vic on 22nd December 2009 at 13:19
where in whelley was this? and what if anything is there now.ive lived in scholes/whelley all my life and just dont recognise this building.
Comment by: David Thompson on 22nd December 2009 at 16:39
I think this was just before Cale lane on the right heading out of Wigan just before what is now a chemist shop I think the gate posts and fence are still there
Comment by: kathy lee on 22nd December 2009 at 22:02
The Chapel was on the boundary of New Springs and Whelley just after Bath Street on the right side of the road heading towards New Springs A house has been built on the site and they have kept the railings in front. I have put a couple of pictures in which my mum and dad where part of some sort of stage show at the chapel in the 1930s in the album under schools My family had a very long history with this chapel
Comment by: Eric Turner on 22nd December 2009 at 22:27
Thats right Dave, Strangley enough, this and the other Ron Hunt photo' of Birkett Bank are where 2 of the Zeppelin Bombs dropped in WW1, "...the Chapel was narrowly missed". E.T.
Comment by: RON HUNT on 23rd December 2009 at 16:18
Eric you are correct, the photos are from a book about Zeppelins in Lancashire
Comment by: Eileen Shepherd Peet on 24th June 2010 at 20:31
I also got married here in 1969, The minister then was Eli Meese a very nice person who wouldn't be forgotten easily. An old lady in her 80s who lived across the road used to clean this Chapel as well as being a member,can't remember her name though.
Comment by: Liz on 7th June 2011 at 21:00
Her name wouldn't be Elizabeth or Lizzie Seddon would it? She was my grandmother and she and her brothers, the Hewitts, and their families were very involved with the chapel.
I now live in the house that occupies the land the church sat on bizzarly enough its only when we were viewing the house and the owner explained its history and showed us photos that like breaking a dream I remembered attending a youth club here around 1978 when I was 10. I can be so specific as I went to st johns over the road for just one year I would like to know what the Bach looked like and if there was a cemitery I do feel sympothy for the condition the church was allowed to get into after its rich history but feel like my family and I living here was meant to be
Lee
I spent absolutely hours in the grounds of this chapel and the back of the chapel did not have a cemetery there was a long black wooden building which was called the HUT which is where the local men used to play dominoes and billiards they had a team which competed with the other Methodist chapels on the circuit and there was a type of big iron contraption which had a fire in it I remember when Whelley hosted a match my grandad used to make beef paste and salmon paste sandwiches for the teams and they had madiera cake as well and he always brought the leftovers home for us for supper. He was the caretaker there and attached to the chapel at the back was a sort of cellar in which the heating for the chapel was housed my grandad called it Th'apparatus and he was always there attending to it very early in the mornings on Sundays There were trees all down one side of the grounds and at the side nearest to Bath Street there was a large brick wall and outside toilets.I would love to live in that house that place has so many memories for me I did at one time write a story about my grandad and the chapel and I sent it to Past Forward but it was never published
Comment by: Kathy Lee on 2nd November 2011 at 20:13
Liz
I remember Lizzie Seddon and her brothers Horace,Albert and Stanley Hewitt and Horace's children Pauline and Horace we all attended the Chapel
Comment by: Kathy Lee on 2nd November 2011 at 20:30
Liz
My mistake Pauline and Horace were the children of Stanley
Comment by: Beryl on 26th December 2012 at 20:32
I remember looking at the evacuees there, around 1940. They were from Bootle I think and things had been collected for them . There were two bombs dropped in WW2, one on the chapel in New Springs and one on the chapel at the top of Greenough Street. The Germans mustn'thave liked Methodist chapels!
Comment by: david on 30th September 2018 at 13:10
Don't think this is the same as the one posted Whelley Old Boys AFC Photo 1900. Different window architecture