Photos of Wigan
Photos of Wigan
Album Contents
Album Contents
Wigan Album
Ince
11 Comments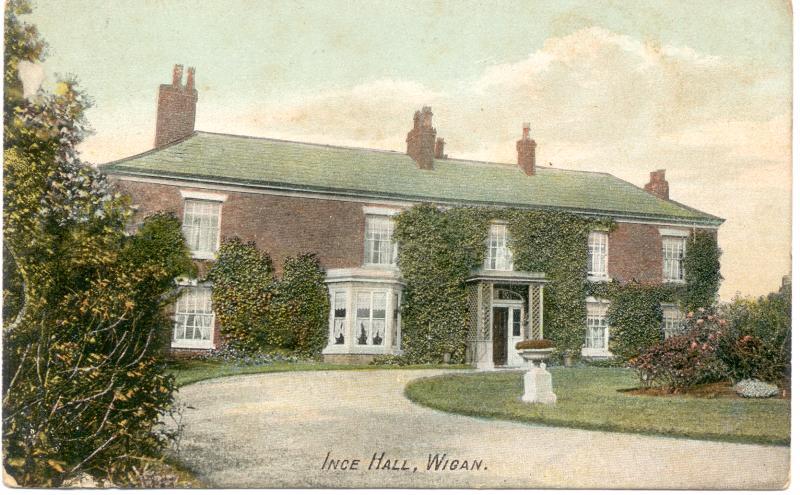 Ince Hall.
Photo: Ron Hunt
Views: 6,414
Item #: 1285
Ince Hall. Scanned from an old postcard.
Comment by: Gerry on 6th April 2008 at 17:48
This where "Peggy Beawt Yed" lived
Comment by: dk on 6th April 2008 at 21:12
Gerry I's taft tek issue. Peggy Beawt Yed could be found at Dairy Pit (which was actually the Bridge Pit) at New Springs. She was a close neighbour of Nanny Green Teeth on the Old Arm.
Comment by: Gerry on 8th April 2008 at 22:24
You Know DK just to the left of this picture (out of shot)there was a further residence built onto this hall I used to deliver papers to it very early mornings, I were frikund dee-uth, one night the lad who lived there had a ouija board and a gang of us tried to conact "Peggy Beawt Yed" she never turned up. So maybe tha reet maybe 'er did live in New springs.
If tha gus deawn Ince dont tell the locals that she lived i'new Springs cos we were all very proud of her living in Ince... I wonder if she did a flit??? Beawt telling us?
Comment by: dk on 9th April 2008 at 18:03
Aye and beawt her yed too. I might be mistook wi' Red Clogs at Dairy Pit.
i was born in '71 and was always up t'rabbit rocks as a kid, we alus used to say "kitty beawt yed"... are we on about same un? or completely diffrunt? theres a couple big rocks up there, still are that resembled a cheer and a book shelf that we alus used to say was kitty's
Comment by: josephine pennington nee beckett on 30th September 2009 at 23:38
kitty never lved in new springs. it was hr ince my sister & brother claim to have seen her in bell green lane riding a white horse with her head tucked underneath her arm comeing from either pennington lane or next st up . she went streight through a house in front of them they ran pell mell home .they stick to this story to this day my sister now passed away. my mother used to sing a song about kitty dont remember words only chorus (whith her head tucked underneath her arm).
I lived in Ince Hall whilst going to Belle Green School and then to Rose Bridge, we loved living in the Hall, which was converted into 2 flats and the ends were known as Cottages. From first moving into Ince Hall we were told about Kitty Beawt Yed, that she used to walk up and down the dirt track road between the fields which was the only access up to the Hall. This would have been about 1964 when we moved there.
Comment by: whelley wasp on 2nd March 2010 at 02:10
charlie red clogs was reputed to have haunted alexander pit
kitty bowt yed livs cos frum lonjump pit topat scoo feld look from shaft sidat cut iv tha looks rond slowly thsiz rab rocks ion bridg peel cotige n rose bridge wot a life fa a kidin care 65/77ish xxx
Comment by: Sheryl B on 29th November 2011 at 20:18
Loving this dialogue! Makes me smile ;)
Comment by: josie on 1st November 2014 at 02:07