Photos of Wigan
Photos of Wigan
Album Contents
Album Contents
Wigan Album
Ince
5 Comments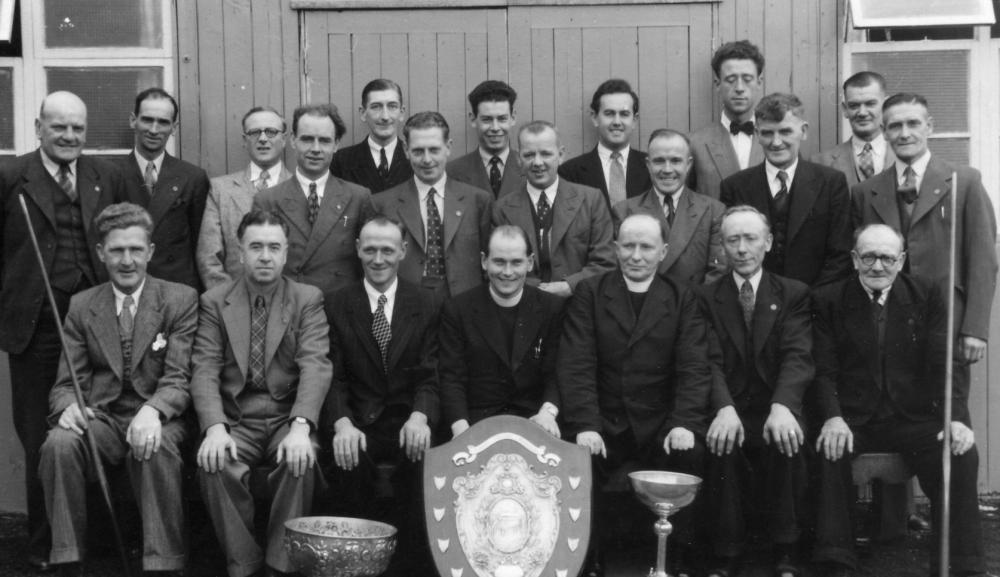 St Williams RC snooker team
Photo: Glenys Cunningham
Views: 2,894
Item #: 12772
This photo was taken approx 1960 My father in law Thomas Cunningham is on the middle row 1st left Father Howarth is sat behind the shield
Smashing picture Glenys,It was in fact the Billiards team.I remember Tommy we lived close by in Ince Green Lane,and he was a lovely chap.
I,ll try to name the team,
Back row Left to right.
John Hodkinson,Jimmy Lewis,John Hesketh,Bill Fleetwood(my father),Bill McAllister,Tommy Collins,Frank Finney,Jimmy Dutton.
Middle row,Tommy Cunningham,Charlie Taylor,Ralph Jones,Tommy Hidden,Joe Scully,Albert Tuite.
Front row,
John Powell,Charlie Hagan,Joe Hesketh,Fr Naughton(who became parish priest at St Cuthberts,Fr McKillen,Arthur Lawton,Arthur Hidden.
Comment by: Jack Lawton on 7th December 2009 at 20:57
Arthur Lawton was my uncle, he lived in West St (up Belle Green Lane) when this photo was taken. I think he was born in St Williams Club, same as my father.
Comment by: Gerry on 8th December 2009 at 18:03
I remember your Dad bill when he was Caretaker, he used to let us milk monitors come into his boiler room for a warm on winter mornings and share out his winter nips or open a tin of Tacs.. only titchy but red hot. A great chap, god bless him
Comment by: dave cockrell on 9th July 2010 at 12:55
Frank Finney (back row, tallest) is my Great Uncle and lives out in New Zealand in Lower Hutt. he came over to visit us about five years ago. My morther Winifred Cockrell (nee France, formerly of Belle Green Lane H. Ince still speaks to him on the phone now and again.
Most of these people came to our house, Father Howarth was good friends with my dad as was most of them. Vince Hesketh was my dads best friend.