Photos of Wigan
Photos of Wigan
Album Contents
Album Contents
Wigan Album
Bryn
11 Comments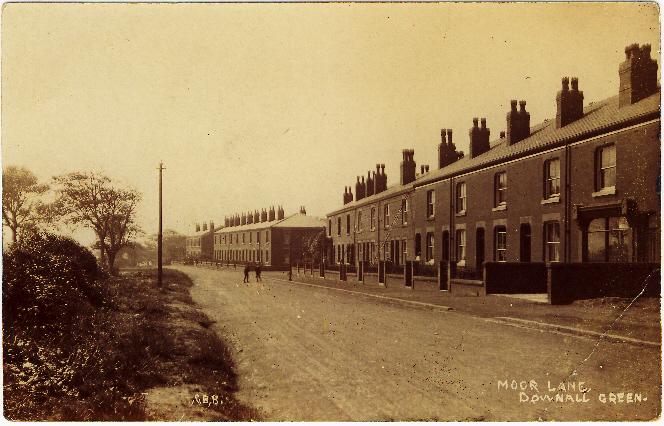 Moor Lane
Photo: Allan Hughes
Views: 2,587
Item #: 10828
Moor Lane better known now as Downall Green Rd. Photo taken c1904
Comment by: Frank Walford on 7th June 2009 at 09:26
Not a lot of traffic about Allan
Comment by: tom on 7th June 2009 at 14:21
thanks for that one Allan. great picture
Comment by: Irene Duffy on 7th June 2009 at 14:33
What a surprise to see this photo because of the name Moor Lane, my Grandparents always called it by that name, I was born in the next to the end house in the photo 434 Downall Green Rd in 1942,and the name was dying out even then,but I am sure it would have been a Moor before that, Many thanks for the photo
Comment by: Irene Duffy on 7th June 2009 at 14:40
Sorry forgot to add the turn off to the right is Boothsbrow Rd the Co-op was always on the corner,the turn off further down is where you go to Dellside close,after allthe houses that you can see is a brow that went down to the village green.
Comment by: janet on 7th June 2009 at 18:05
Unlike the rubbish houses that are built today, that will be falling down slums in less than 50 yrs. These houses, well over a 100yrs old are still going strong..
Comment by: Dave Lewis on 7th June 2009 at 23:58
Very interesting photo allan thanks, does anyone know when they built the council houses opposite.
Comment by: Dave Thompson on 8th June 2009 at 19:19
Funny but I was just talking to someone today about those houses he said his parents were hopeing to get one when they married in the 1930's but ended up on the Cansfield Grove estate which were built around the same time.
Comment by: Dougie on 9th June 2009 at 08:49
Can't just remember you Irene have you a brother Tom are did Tom live next door,
Comment by: Dougie on 9th June 2009 at 09:10
Peter P-----r hope you see this photo your house was the last one on the left(there not built yet)before we moved to Downall Green estate
Comment by: Irene Duffy on 9th June 2009 at 12:51
Sorry Dougie i was an only child,in the end house lived Mr &Mrs Hughes son Kenneth,then us then Mr & Mrs Lowe & then Venazza,s
Comment by: billy middlehurst on 17th July 2013 at 17:22
we used to live at 188 and my cousins used to live 191 my grand dad used to own the row they got it off his father in law as a wedding present