Photos of Wigan
Photos of Wigan
Album Contents
Album Contents
Wigan Album
Empress Ballroom
28 Comments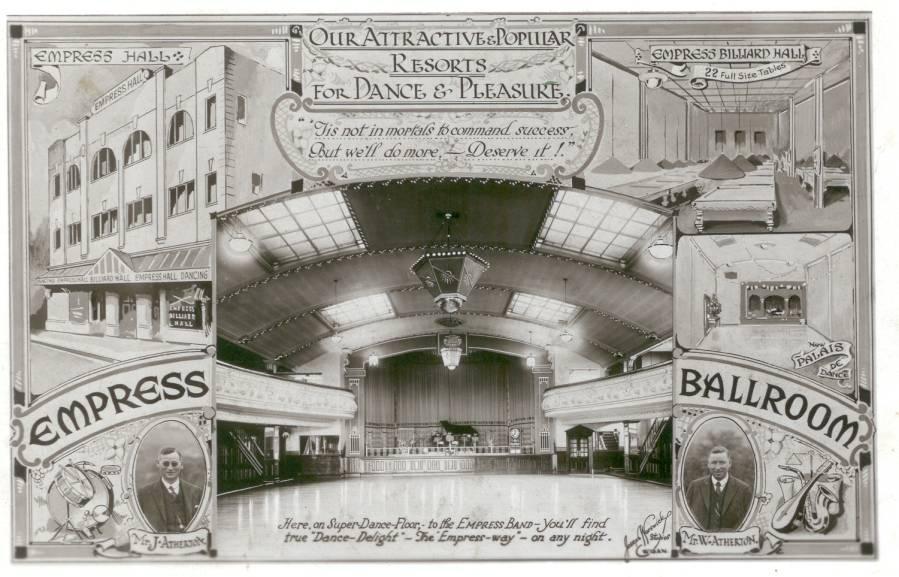 Empress Ballroom.
Photo: Ron Hunt
Views: 13,116
Item #: 1072
Empress Ballroom.
I still miss going to Wigan Casino,it was the most important part of my young life,as my fiftieth year catches me up,i must have a fond memory born of my love for Northern Soul music and dancing. Thanks " EMP "
Comment by: J, Heffell on 11th October 2007 at 20:49
being part of the casino soul scene for a number of years was part of my life that still goes on today i'm nearly fifty now and it has never gone away..waht was it ? was it the music ..? the people..? the place..? I cant say , all i know is that we had a close encounter of a very real kind and it still lasts today...keep on, keep' in on. lvoe Joe
Comment by: Johnny Peters on 12th February 2008 at 20:48
Luvved the place pre-northern soul. Great venue for established artists such as stones, herman hermits, tom jones and lulu amonst others. What a place for pullin' birds!
Comment by: Derek Evans on 28th February 2008 at 19:58
From 1966 to 1970 I spent most of my time here.
Three nights a week free ticket wed night then frid sat sunday. Most met there wifes and husbands here. great times
Comment by: Bobby on 17th March 2008 at 19:36
What Casino ?....the real name was "The Emp"....The Emp on a Saturday night through the 1950s was something you Casino lot will never have memories of. W O W !....a n d we caught the last bus home with a bird on our arm.
I was an aficionado in 1947-9, Jan Smits(of Churchill's club London) was singer with Dick Stanleys band and if you could get a girl on for the last waltz with jan singing "Whose taking you home tonight?" you thought that you had cracked it !! also Joe Bertrand's jiving was out of this world!!
I am sure I remember going to St. Patrick's school ball here in the 50s. I am sure we used to go in through entrance on Millgate.
Comment by: Roy Davies on 12th April 2009 at 22:25
Can anyone who played in a group at the Emp remember there experiance I played in a few bands in the 60s (drums} What a great time.
Comment by: P Hesketh nee Gallagher on 8th October 2009 at 22:41
have wonderful memories of the Empress 1963 to 1965 the bands that played there one in particular Ronnie Carr and the Beat Boys does anyone else remember them I think they came from Leigh they were quite popular locally
Comment by: Kyle Harris on 1st January 2010 at 22:42
I'm sat here having a drink with Terry from the Beat boys (H)
Comment by: linda (massa) on 7th September 2010 at 16:26
New Year's Eve in the 1960's at the Emp. Happy, happy memories.
Been reading some comments....am in total agreement! The Casino? Northern Soul? - forget that....this was the Wigan Emp! The Mecca for anyone who could get there by bus!

In the mid-50s the owner, one Farrimond, gave free entrance to nurses at Wigan Infirmary...and we were there! Even for the Friday night late dances, when we had to go back to the nurses' home via the fire-escape, having previously bribed a colleague to open the fire-door for us! Somewhere in the "Wigan Observer" archives there is still a photo of me and a friend, standing outside the Manager's Office on the balcony, obtaining autographs in our books from, would you believe it, Joe Loss, the famous bandleader - Howard Jones and Lita Rosa had been the singers, I think! And I remember seeing a few more famous dance-bands at those Friday-night dances!

The next time I danced to Joe Loss (on a weekly basis) was at the Hammersmith Palais in London in the 60s (and he had another singer - Tony Ventro).

Oh, for the good old days! And at 75-years-old I can still dance....even to "He who would true valour see" and "Abide with me"! But the "Emp" was top-dollar! As was the "Ritz Cinema" across the road, where Billy Davies, the Commissionaire, used to stand in the queue shouting "Seats in the one-and-nines!"...ie seats for one old shilling and nine old pence! Believe it!

Edna Booth
Comment by: linda (massa) on 5th January 2011 at 16:16
And I bet you can still hear him shouting it Edna. Ah the good old days.
Comment by: Christine Ackland (nee Hunter) on 3rd February 2011 at 20:45
Th'Emp(as we called it)..... what happy memories. Friday late night dances...Engineers Ball..Police Ball...Electricians Ball...Didn't finish till 1.00am in the morning and all the double decker buses waiting outside to take us home. Wonderful happy days :-)
My Grandad was Ted Lowe who was resident at the Wigan Empress Ballroom in the early fifties I wondered if anyone has any photos
Comment by: Danny Feeney on 1st December 2011 at 15:56
Emp or Casino, this building was made for dancing in.
We travelled from Dundee in Scotland over 500 mile round trip to dance in Wigan.
That's what you call keeping the Faith.
What great memories of the Emp, late dances on Friday nights, then in again on Saturday nights, we even went on a Monday night just to dance to records. The Emp was indeed made for dancing !!!!!!!
Comment by: eileen on 26th February 2012 at 19:00
joan the entrance on millgate was the palle de dance not sure on spelling and from there you could go through to the emp o the great nights
Comment by: Arlene Norton-Everett, Washington-USA on 21st May 2012 at 21:07
I was looking for information on The Empress Ballroom as a way of connecting with my Mothers past, she passed away in 2006. My Mother, Edna Green, was born in Wigan in 1922 and lived there until she married in 1951 and moved to America. She had so many wonderful stories about dancing at The Empress. I was surprized to see one of her dance partners mentioned here. She spoke alot of Joe Bertrand and the fun they had dancing together. I have a piece of the dance floor from The Empress that he had given to her on her last trip home. I'll treasure it forever. Thank you for the memories shared here.
Comment by: nopa on 21st October 2012 at 19:14
I had hundreds of great nights at themp , one of the most memorable -- Dusty Springfield ,one hour and twenty minutes non stop ,,,, oh how i wish those nights would come back == magical.
My dad George Welsby, who sadly passed away in 2009, was head doorman at the Emp in the late 50's to the end of the sixties. He then went on to do the Bodega bar on King St.
He also had a spell of running the Empress cafe underneath the ballroom.
Hello, I am doing some research (putting together a documentary on the Musical history of Wigan). So I'd like to get as much information about the Ballroom as possible, Please Email me at kiecroft@gmail.com, I'd be very happy to credit you for your assistance. Thank you
My Mum, Lilian Yates (maiden name) entered a Go As You Please competition. She sang and went through to the semi-finals but then joined the RAF. I don't know if she appeared in the finals. I would love to get a recording of her singing. Can anyone help?
It is strange to know that my family once owned this magnificent place. My grandad, Peter Atherton told me the history behind it all.
Comment by: Maureen on 25th June 2020 at 23:20
All my teenage years were spent at the Emp,no other place like it,as someone else said Policeman's ball, Electricians,Plumbers,Uncle Tom cobley and all, I was there..the place was the next thing to heaven..the only night I didn't go was Wednesday which was old folks night.my Dad said "why don't you just take your pyjamas chic cos you live there"..wonderful days.
Comment by: Linma on 28th December 2020 at 17:18
Looking at the prices they charge today for New Year's Eve do's, can anyone remember how much it cost us at the Emp on New Year's Eve in the 60's? Never forgotten that fantastic evening.
Roy Davies asked for former group members to comment. I was guitarist in The Blueprints who played at the Emp several times. We supported the Wheels there a couple of times, The Hollies in May 1966 and Johnny Kidd in late September 66 2 weeks before his death.We also supported Tom Jones and The Moody Blues in 65 downstairs in the Jubilee Bar?