Photos of Wigan
Photos of Wigan
Album Contents
Album Contents
Wigan Album
Lower Ince
28 Comments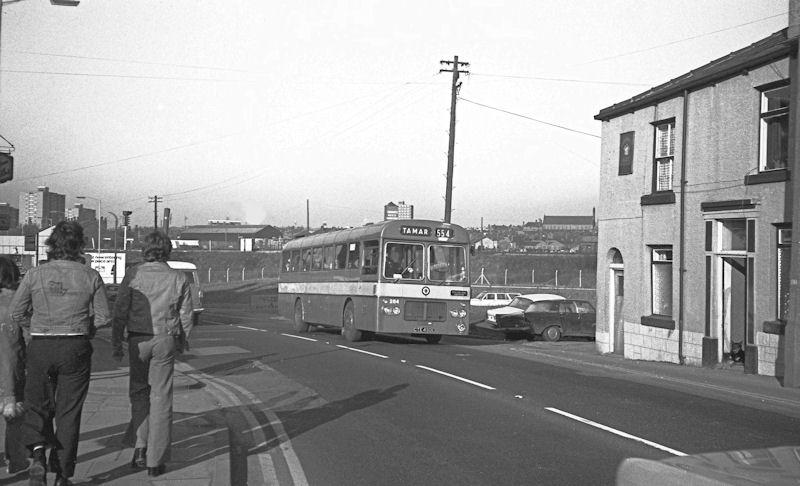 Lower Ince
Photo: Thomas Sutch
Views: 5,759
Item #: 10601
LUT bus in Lower Ince, 29 January 1977. Anybody remember the name of the pub on the right?, Britannia Bridge school is just behind.
Comment by: Cyril on 30th April 2009 at 13:15
Was it the Red Lion? I'm not 100% sure though.
it was the red lion, it was the first pub i went it
Comment by: Tom on 30th April 2009 at 16:25
Red Lion,thanks, it's been driving me mad trying to remember it !
Comment by: julie on 30th April 2009 at 17:15
Hi Thomas have you any more picture my dad was born in parliment street near the school would love to see some more julie
Comment by: Paul on 30th April 2009 at 21:34
Cant quite picture this (way too young...ahem), is the street that the dark car is parked in Lancaster Street or Pitt Street? Not sure if its a trick of the photography but it appears nearer to the railway embankment than the School, almost nearer to the boarded up Rock Hotel further towards Wigan.
Comment by: peter frost on 1st May 2009 at 10:48
definitely the Red Lion.
i was born a few doors up from there and me gran used to tek me in.
if i remember it was only the size of a house inside but was well frequented
paul,
Pitt street was further back up the road.
the chap who took the pic would have been standing near enough across from pitt street and then next street after that would have been Lancaster St.
I lived at No.3 in the early 50s before they pulled them down
Comment by: rubyshoes on 1st May 2009 at 13:35
I see the bus is on it's way to Tamar. I have been in the pub of the same name once or twice lol.
Comment by: julie on 1st May 2009 at 15:00
hi Peter My Dad was born in number 3 in 1927 and my grandad lived there then before that and my great Aunt was born in number 3 Lancaster street about 1906 small world
Comment by: dianne on 2nd May 2009 at 00:47
my dad came from lower ince jack forshaw cant remember the name off the street launderette was at the top off the street
Between Hilton Street and Chorley Street - "The Launderette" is still a coach pick-up point, despite not having been there for 30 years....
Comment by: John Sanfilippo on 16th August 2009 at 23:11
Jack Forshaw lived at #7 hilton st. We lived at # 5.Elsie Forshaw at #9 Her son Ralph used to let me ride his motor bike
Comment by: hllda kinsley nee fenton on 6th May 2011 at 21:07
yes definetley red lion are littel dicks i lived three doors up good days.
Comment by: Jimmy edwards on 17th October 2013 at 21:16
Thomas. Hilda is right red lion ,better known as the little rock.lads in vault used to lift beer kegs on to wooden stands for landlady ( can't remember her name) she used to fill a metal jug with beer then fill your pint pot. Should not tell you this I was only 17 then used to stand in side corridor so my dad's mates would not see me.. Hilda remember your Sid being a good rugby player
Yes jimmy he was and land lady's name was bessy them were the days love xx
Yes jimmy he was and land lady's name was bessy them were the days love xx
Yes jimmy he was and land lady's name was bessy them were the days love xx
The Rock Ferry further along was known as "Little Rock"
Comment by: Jimmy on 3rd February 2014 at 23:22
Carol,Pub in photo is Red Lion Was known as Little Rock Pub across Rd Rock Ferry was known as Big Rock.Hilda lived a couple of doors from Little Rock.
hi jimmy so you are billys brother and did you have a brother Edward did he go and live away ther was another jimmy Edwards lived nere the new chippy .x
Comment by: Jimmy on 25th February 2014 at 21:50
Hilda,had two younger brothers Billy now lives in Platt Bridge,Keith who has lived in Australia about 30 tears.We lived over bridge on Spring View side of St Mary's Church on main rd across from Morris St.Remember you,your Sid and Little Pey.went to Spring View School 1959/1963 think I was 1year above Little Pey.Had some good times in View & Lower Ince.Live near Bury now,2 Sons 1Daughter sad to say eldest Son passed away 4years ago 21/4/2010 Age 35 cancer ( never smoked). All the best to you Hilda And yours (Jimmy)
hi jimmy I remember you all I still see your billy around I still live in ince sorry to here about your loss very sad,its nice to talk I av 2 girls 2 boys 8 grand kids love them all, take care. xx
Comment by: Jimmy on 28th February 2014 at 22:51
Your right it's nice to have a natter ,Daughter Husband1son live between Bury&Bolton Youngest Son,Wife,2 Lads,2 Girls in Sydney Youngest lad is a Aussie.His middle name is the same as our eldest sons first name.Eldest Son 2 Girls aged 2&5 when he passed away.We both should have gone in December but my Wife has been under Christies and had her Left Lung removed 5 weeks ago.A long job in front of us now but she will get there.Talk to them on FaceTime couple of times a week miss them all ,not had chance to hold the little one yet.Be next Year before we can fly ( if we can get Insurance ? ) Take care Hilda
aww I am sorry about your wife,sad hope she gets well soon the you can be off to oz,to see them all will be lovely you never no might end up living there.
god bless and take care, xxx
Hi. I a John Cummings. On who knows the Cummings family, Spring View, you named many of my friends, Andy Vizard, Cliff Mason, Moe Holgate etc. It was nice to see someone who remembers our family. Someone asked who was Paddy. Well Paddy was our father but our Tommy was also called Paddy. Just to clear it up. I live in Bulgaria now the rest of the family are in and around the Wigan area. Cavan lived in London but is now back in his home town. There was a group of us who used to hang around together as kids. There was Kevin Hogg, Cliff Mason, Andy Vizard, Our Cavan (Cummings)& myself (John)Cummings. We were like the Enid Blighton five. Sometimes Melvin Taylor would join us, when he was not full of oil from his motor bike. They were god times. We were poor but rich in friendship.
Comment by: Jimmy Edwards on 28th November 2014 at 21:31
John,go on to ( Schools) Spring View,3 Class ones 1Rugby team.left you a note on one. Remember all your family had some good laughs me and your cav send him my regards.
Comment by: gibo on 19th May 2015 at 17:51
not sure about the name of pub in the picture but across from it was the big rock and the rock ferry (little rock)is still there further down the road towards spring view .