Photos of Wigan
Photos of Wigan
Album Contents
Album Contents
Wigan Album
Lamberhead Green
17 Comments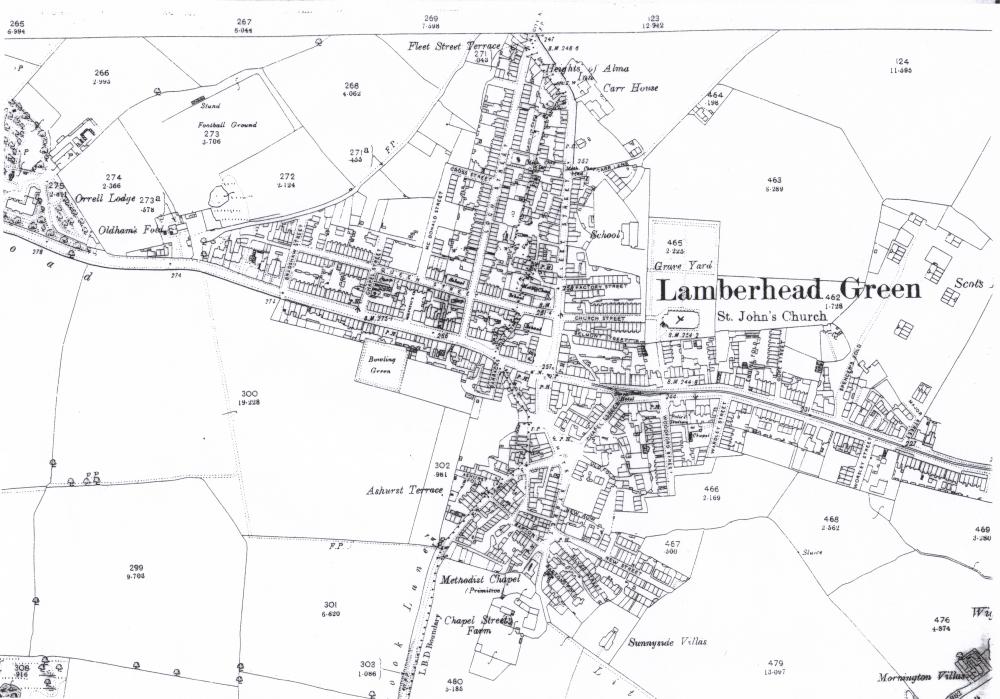 map of old lommera green
Photo: t darbyshire
Views: 3,374
Item #: 10372
I do not no the year.
Comment by: John Jarvis on 10th April 2009 at 08:38
Can't see Pig ont wall....
Comment by: dave johnson on 10th April 2009 at 11:17
John band must already have gone past, if you`ve seen the postcard?
Comment by: Tricia on 10th April 2009 at 11:26
Personally, ah reck'n thin etten it!!!!
Comment by: David on 10th April 2009 at 15:57
Comment by: Jimmy on 10th April 2009 at 16:27
I think it's earlier than 1984 David
look at all the buildings where there is now just the White Lion and the club. Do you mean 1894?
Comment by: David on 10th April 2009 at 17:01
Ooops! yes I did mean 1894. It's from the 1:2500 series on Old Maps

http://www.old-maps.co.uk/indexmappage2.aspx
Comment by: dave johnson on 10th April 2009 at 17:08
1984, Where is Norley Hall?
interesting , st john street was called factory street then, was there ever a factory ?
Comment by: Mick on 12th April 2009 at 19:34
Perhaps something to do with Brickcroft nearby Christine?
Comment by: SJH on 28th May 2009 at 22:52
I have been trying to find information about the pig on the wall but without success - does anybody know a little more detail - I remember coming across the story when I was little
Comment by: Tricia on 29th May 2009 at 17:54
Hello SJH

My dad came from Lamberhead Green and my mother used to tease him about this. It may not be fact, but the story is that someone put a pig on a wall to watch a band go past.
my mum is 96 years of age , she allways used to talk of pig on wall ,though she thought before her time .there was a farm at the bottom of fleet street , forgot their name , people used to say they put the pig,on the wall there ,would be very interesting ,to know the true story ,also mick you could be right regarding factory street , brickcroft never connected that
Comment by: christine bishop needavies on 23rd June 2009 at 12:15
dave johnson .where carr lane is or was is norley hall ,used to be allotments there
We moved into 74 Helvellyn Rd around 1951/52 when I was just 6 years old. Across the field was a footpath leading to Fleet Street, there still is, but on the left of the footpath I seem to remember a farm, so that would be almost opposite Loch St entrance. The present houses on Saddleback Cres were constructed soon after.
Comment by: Ann A on 21st March 2012 at 11:32
I believe the story of the pig on`t wall concerned the Carter family from the Fleet St. area. I met an old lady in sheltered accommodation who delighted in telling the story of her family and the pig.
Comment by: Malcolm on 30th October 2015 at 18:12
Scott's fields in around 1904 buffalo bills Wild West show came to pemberton and wigan .
My Great grandfather Thomas Heaton of Fleet street put the farms pig (next door) on the wall to watch the band go by.