Photos of Wigan
Photos of Wigan
Album Contents
Album Contents
Wigan Album
Princes Cinema, Wigan
7 Comments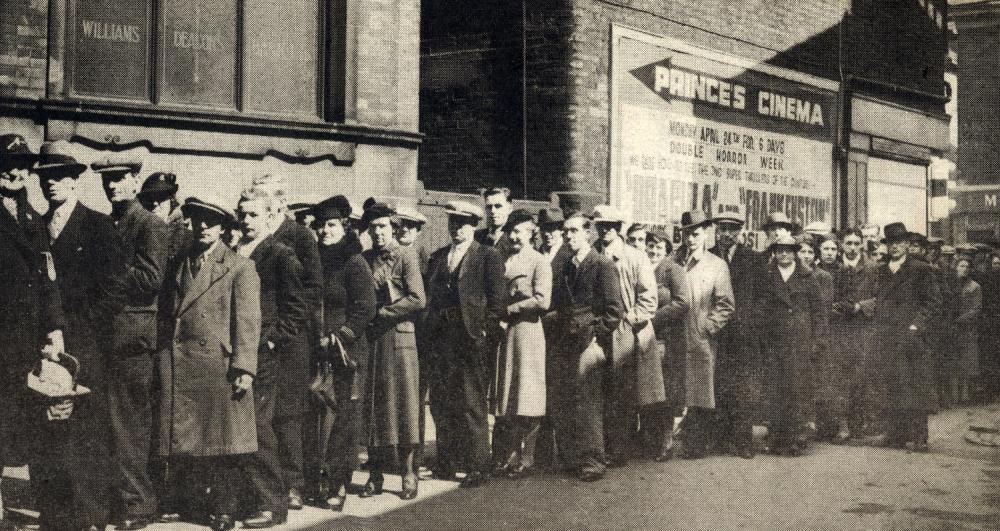 Princess Cinema Queue. 1940's
Photo: RON HUNT
Views: 3,611
Item #: 10118
Cinemagoers, queue to watch the double horror films, Dracula, and Frankenstein, at the Princess Cinema, in the late late 1940's
Comment by: bluesfan on 26th March 2009 at 18:36
Flippin' brilliant!

Two of my favourite films and the scene of my Saturday morning picture shows. We used to get sixpence pocket money in the 60's, two pennies went to the Princes, two pennies for toffee and two pennies for the Beano or Dandy, happy days!
Comment by: RON HUNT on 26th March 2009 at 19:09
Are you sure it wasn't the Ritz Miners, you went to on Saturday mornings? I can't remember the Princess having a Saturday morning show? I could be wrong though ????
Comment by: Bluefan on 26th March 2009 at 22:28
Pretty sure Ron, I lived in Wallgate, down Miry Lane. The Saturday morning shows would be circa 1962/63.
Could be wrong though, it was a long time back!
Thanks for all the photos Ron.
Comment by: DAVE MARSH on 27th March 2009 at 17:44
The Princess Cinema had a Saturday show just like The Ritz,Ron.My favourite weekly serial there was "The Scarlet Horseman" early fifties.
Comment by: Gerry on 4th April 2009 at 18:48
From the sign on the wall Monday April 24th it was either 1944 or 1950 if it was 1944 wouldn't most of the men be away at war?
Comment by: Ian Millar on 19th May 2011 at 11:30
In 1944 most men in Wigan were coal miners. Mining was a reserved occupation, which meant that they didn't get called up to fight. They were more important to the war effort digging coal.
Comment by: Marcus on 6th March 2014 at 13:01
... and probably in more danger down the mines that if they'd been at the front Ian !