Photos of Wigan
Photos of Wigan
Album Contents
Album Contents
Wigan Album
Leyland mill lane
7 Comments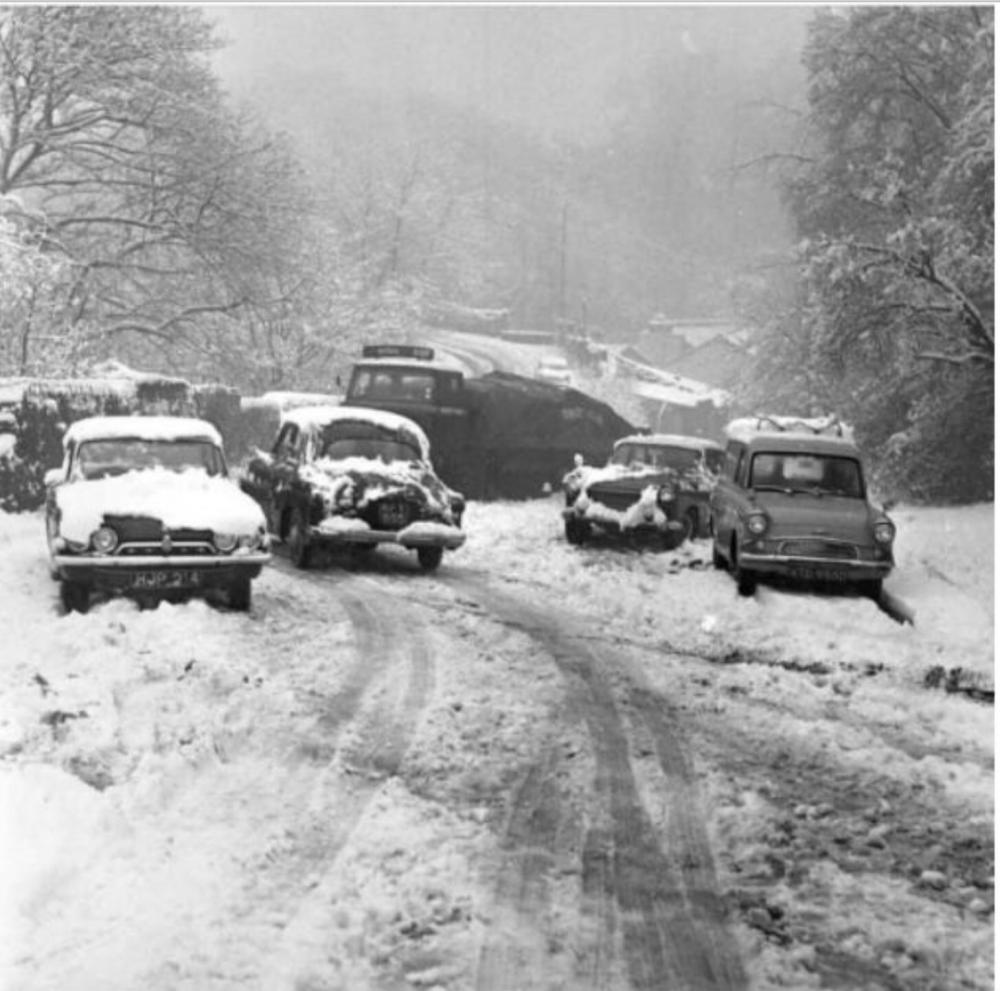 Leyland Mill lane
Photo: . Ozy .
Views: 1,074
Item #: 33596
This photo turned up on a truck related site recently. The caption on the photo merely states " Wigan snow scenes in February 1968 " , no specific location is given.
My guess would be Leyland Mill lane with the entrance to the old foundry being on the right hand side of the shot, although I stand to be corrected.
Comment by: LB on 17th March 2022 at 12:34
The lorry is carrying newsprint reels of paper for the Post and Chronical, at Brock Mill, the Leyland truck will be owned by Bowater Paper Mill at Ellesmere Port. Bowater Paper.
Comment by: Veronica on 17th March 2022 at 13:35
It's a lovely view despite the deserted cars and lorry.
Comment by: CJAlan on 17th March 2022 at 15:24
This photograph is taken at the bottom of the hill from Wigan Lane. Just behind the HGV is the bridge over the River Douglas just before the junction with Pendlebury Lane & Hall Lane.

I think there's been a few more scenes like this one in the 50 odd winters we've had since 1968.
Comment by: Edna on 17th March 2022 at 21:22
I remember scene's like this in the 60s.It seems in another lifetime now!! Thanks for the memories 0zy.
Comment by: Cyril on 18th March 2022 at 20:05
You're correct Ozy, it is the entrance to Valley Gate and Haigh Foundry on the right, wonder if the loaded lorry made it to the top, though I do remember also in the 1960s a loaded coal lorry going up the snow covered hill of Leader St from Kirkless St, I don't if it had stalled or had lost traction, but it suddenly began to slide backwards down the hill and into a house on Kirkless St, I doubt the owners would have been happy especially with the icy weather.
Comment by: Mr X on 19th March 2022 at 00:43
Leyland Mill Lane in the snow, and there is a Ford Anglia van, possibly a Standard, and Ford Consul. And the Ford Classic, HJP214 (eleven Wigan Corporation double deckers were HJP1 2 3 4 5 6 7 8 9 10 11 and later repainted in GMT orange and white).
Comment by: Aspey on 19th March 2022 at 14:23
would it be a slorrin lorry or a lorry slorrin