Photos of Wigan
Photos of Wigan
Album Contents
Album Contents
Wigan Album
Transport
6 Comments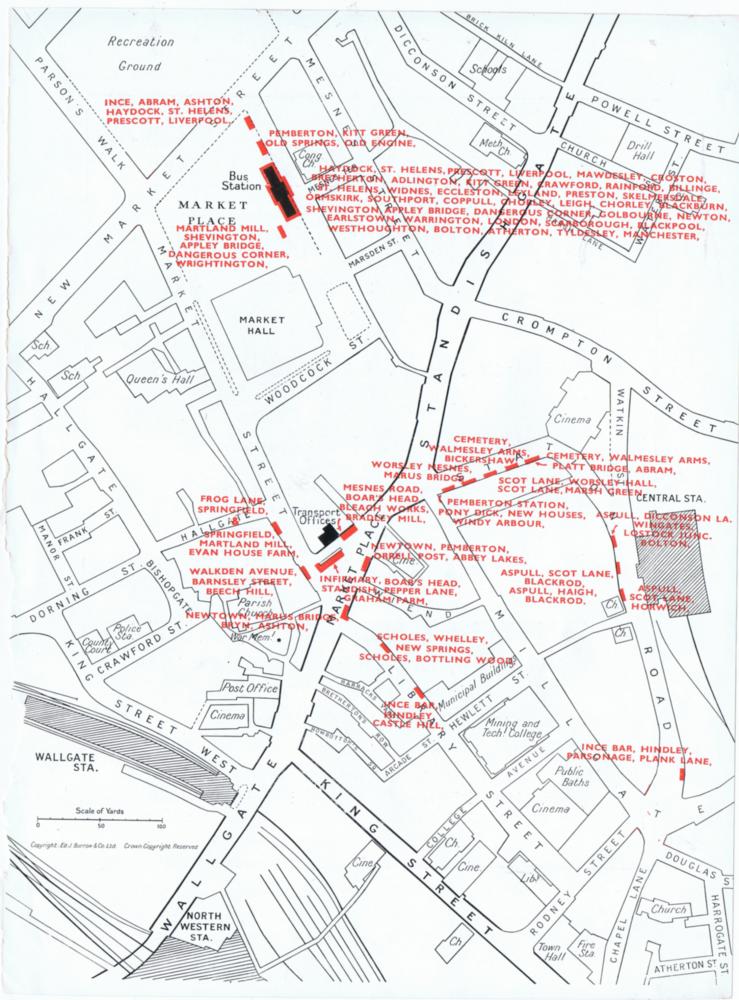 Page taken from a 1950's Wigan Handbook
Photo: RON HUNT
Views: 551
Item #: 33399
1950's Map showing the Bus stops in the town centre.
Comment by: john on 5th November 2021 at 12:04
Comment by: RON HUNT on 5th November 2021 at 13:29
I've just noticed the map is missing the Norley Hall stop in Library Street.
Comment by: Ray on 5th November 2021 at 15:09
Ron, If this map was early 1950s, and from what I know having lived at
Norley Hall since 1966, also my wife and her family since 1957 when their
house was new, then Norley Hall was still farmland in the early 1950s.
In particular, I looked at this map for Norley Hall and noticed it not there.
From 1966, I was a bus driver with Wigan Corporation for 2 years, and there are some destinations on this map which I dont recall ever seeing
when changing the destination blind, e.g. Pony Dick & Parsonage.
A vey interesting picture, Thank you Ron. Cheers, Ray.
Comment by: RON HUNT on 5th November 2021 at 19:37
We moved from Wigan to Pemberton, into a new council house, in 1953 and Norley Hall avenue and most of the estate as it is today was there then.
Comment by: Ray on 6th November 2021 at 08:49
Ron, Obviously, your 1953 date is correct. My semi detached former council house and the adjoining house were built on a piece of land
that I learned years ago had been intended for a different use, but
someone on the council decide to build 2 three bedroom houses
on this site. That is why my house and next door were new in 1957.
Comment by: Farrie50 on 8th November 2021 at 16:04
Just noticed that there isn't a depiction of Makinson's or little arcades shown