Photos of Wigan
Photos of Wigan
Album Contents
Album Contents
Wigan Album
Mining
18 Comments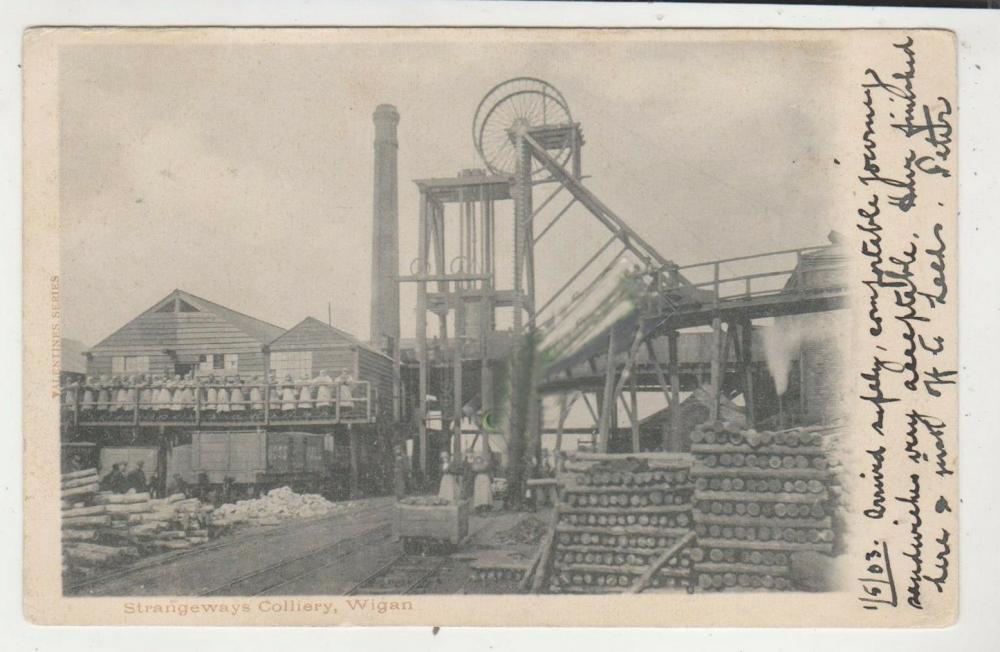 Strangeways Colliery 1903
Photo: RON HUNT
Views: 606
Item #: 33185
Postcard dated 1903
Comment by: Cyril on 3rd July 2021 at 20:42
And pretty maids all in a row, they look to be very clean too so must have been taken before their shift, as I doubt they were paid for the time taking the photo.
Comment by: Albert.S. on 4th July 2021 at 11:27
Where was this Colliery situated?.
Comment by: John on 4th July 2021 at 16:08
Albert, it was between Hindley and Platt Bridge off Liverpool Road.
Comment by: Pw on 4th July 2021 at 18:00
Played and used to fish here in the 50/60's. I remember the big pit rucks used to combust and set on fire giving off sulphur fumes.All been reclaimed now
Comment by: Albert. S. on 5th July 2021 at 09:15
Comment by: Chris Southworth on 5th July 2021 at 10:41
Strangeways Hall Colliery, to give it's full name, was the largest and deepest colliery in Hindley and the last one to close, in 1937.
Comment by: Mike Barton on 7th July 2021 at 13:12
Hello all, and thanks to Ron for posting the post card image.

Hi Chris: just looked at my copy of George Hickling's book "Sections of Strata of the Coal Measures of Lancashire", published in 1927 and it contains the shaft section as measured at Strangeways Hall Collieries - Trafford Pit, which appears to have been a staple shaft sunk from pre existing workings to access the seams lower down the succession.

Hickling states: "Sinking commenced 28 feet below the Wigan 9 Feet Mine, or 1,364 ft and 5ins below surface." The shaft intersected the succession from the King through to the Arley which was found at a depth of 787 feet from the top of the shaft, making it some 2,152 feet from the surface.

Best regards

Mike
Comment by: Chris Southworth on 8th July 2021 at 10:29
Morning Mike, unfortunately I don't have a copy of Hickling's book to check it out but I can assure you that Trafford pit was definitely sunk from the surface straight down to 2153 ft deep. I may have a copy of the full shaft section somewhere but just a quick glance at my six inch geological map confirms it. Also have a look at the Coal Authority interactive map.
Comment by: Chris Southworth on 8th July 2021 at 13:02
In fact, Mike, that headgear in the photo is Trafford Pit.
Comment by: Mike Barton on 8th July 2021 at 18:09
Hi Chris, thanks for your reply. Hickling's account did seem odd to me when I read it and I jumped to the conclusion that it would have been a staple shaft, but on reflection I suspect that (if Hickling's description is correct) that the shaft must have been deepened down to the Arley at some point in its lifetime?

I did a quick internet search to see if his book has been uploaded but couldn't find it, but I did find this article about him on line:

Sorry but I can't work out how to insert a hyperlink in this message.

https://royalsocietypublishing.org/doi/pdf/10.1098/rsbm.1956.0011

The article is worth looking at as on page 151 it describes the contour map of the Trencherbone that Hickling constructed for the Lancashire and Cheshire Coal Association and goes with the book.
The map is about 6ft by 3ft in size and shows the Trencherbone (and its equivalents , correlated across the entire coalfield from Prescot to Ashton under Lyne.
Might be worth checking to see if the reference library or the archives have a copy of the map, as I am sure that you would find it fascinating.

Mike
Comment by: Albert.S. on 9th July 2021 at 09:33
Now that deep coal mining will most likely, in the future, be a distant memory, it may be an appropriate reminder of the versed contents of the below poem.

The Miner, by Bob Richardson, a Durham miner.

They have no workers' playtime, no music while you work. Theirs is but long hard labour, that all but heroes shirk. Yes a miner is a hero,and should any doubt my word,let me mention just one danger,though of many you have heard. Have you ever lain in a confined space with a constant water flow, a broken roof above you,a sodden floor below. Heard the voice of tortured strata,as the earth gives threatening growls, to the puny helpless humans hacking at her bowels?

Have you ever sat in the gleam of a lamp, and heard the timber creak,like the hinges on the gates of Hell, and you dare not move or speak. Have you watched a comrade dying as stones have crushed his frame, praying for the sunlight he'll never see again. Yes, it is easy to die with the sun on your face,while the gifts of God surround you, than to die in slime, and dust, with no family beside you.

So when you speak of heroes,and speak of them with pride. Give some thought to the miner, and how many of them died. They have no place in history,no glory to their deeds, but Britain gained her national pride because of men like these.
Comment by: Chris Southworth on 9th July 2021 at 10:07
Comment by: Chris Southworth on 9th July 2021 at 10:33
Morning Mike, Strangeways Hall was a very old pit with two of it's 4 shafts dating back to around 1810. These were fairly shallow shafts, 272 and 479 feet deep. When Crompton and Shawcross took over the pit in the 1880's they sunk the other two shafts, Trafford and Dukes. There are 23 workable seams present in the shafts from Riding down to Arley due to the pit being sited in the trough between the Great Haigh and St. Catherines faults. There are 14 just from Riding to Trencherbone. So they must have just sunk down to Trencherbone initially, resuming sinking to Arley as they were working out the higher seams. In all, Strangeways Hall worked 20 of the 23 seams available in the shafts. The deepest Arley workings went down to around 2900 ft deep.
The Hickling map of the Trencherbone contours sounds interesting but I doubt the council archives will have a copy. If they do, it will be stached away somewhere gathering dust. Wigan College library may have had one but again it will be stored away somewhere dark and dusty, if kept at all.
Comment by: Mike Barton on 9th July 2021 at 12:30
Albert: Many thanks for the poem, I haven't come across it before. Both my grandfathers (and other relatives) were miners, the elder brother of one of them was killed in the Garswood Hall No 9 disaster.

Chris: Thanks for all the extra info. If you let me have an e mail address
I will send you a pdf scan of the Strangeways Hall Shaft Section.

Are you still in touch with Tony France? By chance, a couple of years ago, I met a geologist who worked for Wardell's in their Bolton office who knew Tony quite well, as he still does some consultancy work for them. I would bet that Tony has a copy of the map and the book, and if you can touch base with him it might be possible to have a look at it that way.

Mike
Comment by: Chris Southworth on 9th July 2021 at 13:17
Hi Mike, My email is chris@cjsouthworth.co.uk
I haven't seen or spoken to Tony France since I left British Coal in 1988. However I have a mate who still works for Wardell. He told me that Tony is still about but doesn't work for them now.
He is still pottering about though, last heard of he was consultant to West Cumbria Mining for their proposed new mine.
Comment by: Albert.S. on 9th July 2021 at 13:30
Chris, Mike. Thanks to each of you for your appreciation of the definite trueness of the poem.
Comment by: Mike Barton on 9th July 2021 at 15:04
Hi Chris

Scans are on their way.

Mike
Comment by: Pw on 9th July 2021 at 22:22
Thanks everyone,I am enjoying all this information and comments.