Photos of Wigan
Photos of Wigan
Album Contents
Album Contents
Wigan Album
Wigan War Workers
15 Comments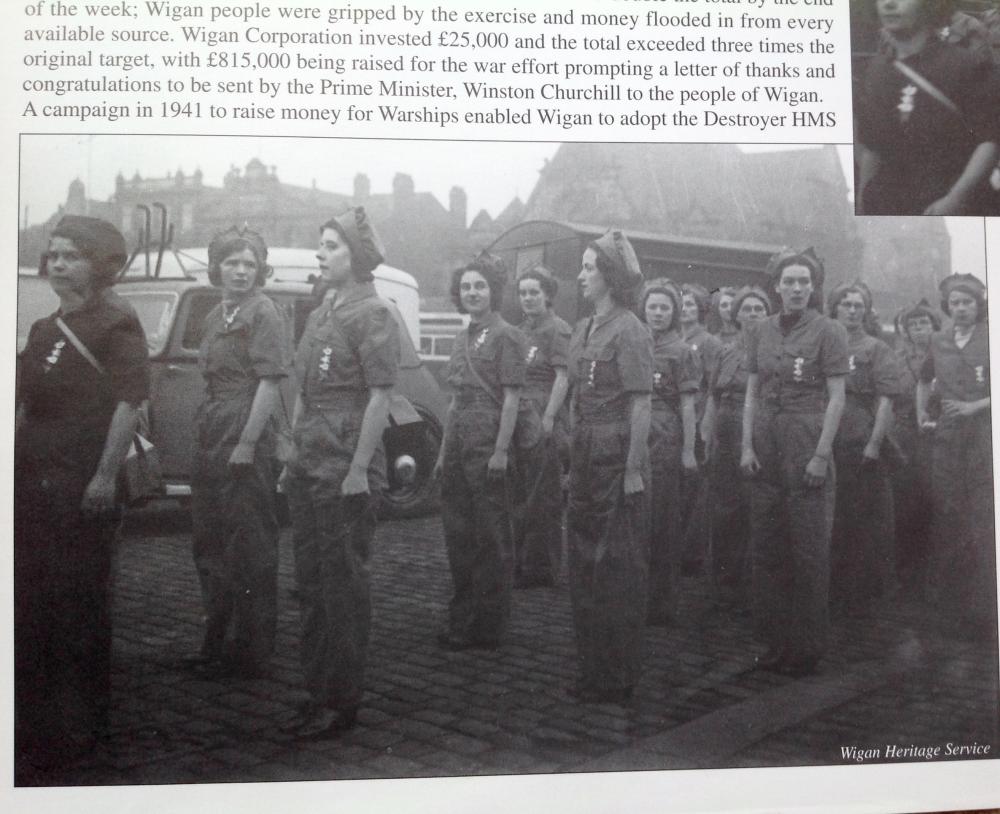 Beech Hill Munitions Factory
Photo: Veronica B
Views: 626
Item #: 33167
1941 the workers took part in a Parade which took place on the Monday of War Weapons Week in Wigan. My aunt at the front.
Comment by: Edna on 10th June 2021 at 21:36
Good photo of bygone days Veronica, and lovely for you to see your Aunt. Would she be your dads sister? x
Comment by: Veronica on 10th June 2021 at 22:24
Cousins and brought up in the same household Edna, but she was always known as my Auntie. I posted it to link up with today's PAD regarding the Ordnance Facory at Standish.
Comment by: Philip Cunliffe on 10th June 2021 at 23:13
Am I correct in thinking that the munitions factory was in Beech Hill was were the old Tupperware factory used to be. I don't know what the premises are used for now
Comment by: James Hanson on 10th June 2021 at 23:44
" £815,000 being raised for the war effort prompting a letter of thanks and congratulations to be sent by the Prime Minister, Winston Churchill, to the people of Wigan".

The people of Leeds contributed £7 million.
I wonder what Winston sent them?
Comment by: DerekB on 11th June 2021 at 08:25
Phillip, the ROF factory in Beech Hill did become a Tupperware site. It is now the premises of a company named Milliken (Carpets?)
Comment by: Veronica on 11th June 2021 at 09:30
I remember quite a lot of people who had worked at Beech Hill and Standish Ordnance who moved to Chorley ROF and worked from wartime to retirement.
Some of the women on the photo I recognise as well from around Scholes. Probably had to work there at the time.
Comment by: a .winstanley on 11th June 2021 at 13:12
James Hanson ;; I hope you was not casting aspertions on the good folk of WIGAN ,after all trying to compare WIGAN to leeds is strange when one considers the yorkshire a city in size to the small town of wigan i am totally proud of the peole of WIGAN and always will be ...
Comment by: Veronica on 11th June 2021 at 13:45
Agree with you
a. winstanley. The very same thought occurred to me. Leeds v Wigan indeed! The money that was raised was only the beginning I presume and certainly not the end of it.
Comment by: Tom on 11th June 2021 at 14:24
Veronica do you know we're the photo was taken it looks like the market square in wigan
Comment by: Veronica on 11th June 2021 at 15:04
Yes it's the Market Square Tom. There's another of the same women just walking down to where the bobby used to stand. You can only see the women on the front. I'll see if it's worth posting.
Comment by: Albert. S. on 11th June 2021 at 15:24
A sizeable contribution was made by Wigan residents to the Spitfire fund. As a child, I contributed fifteen shillings that I had saved in silver three penny bits, in my money box.
Comment by: Veronica on 12th June 2021 at 09:53
That was a huge amount to give Albert - what a sacrifice to give that away from a child saving up for something you really wanted.
Comment by: The Real James Hanson on 13th June 2021 at 21:02
A sizeable contribution was made by the residents of most towns to the War Effort and the Spitfire fund.
The Durham miners alone contributed no fewer than two Spitfires, named 'Durham Miners 1' and 'Durham Miners 2' respectively.
Comment by: Jarvo on 15th June 2021 at 13:23
Only the attractive ones were told to march at the front. Apparently, they were hand-picked by the film director John Schlesinger in his early forays directing the camera. Notice as you go backwards the glamorous faces are not so glamorous. Fact.
Comment by: Veronica on 15th June 2021 at 14:43
I think my aunt who is at the front must have been a chargehand/ blueband as her work attire is a darker colour.
Hers would have been navy blue and the other girls were a denim colour. That would have been the reason she was at the front I think.
I must admit she wasn't a bad looker. Her husband was in the airforce, I know she was married at the time. The lady behind looking around was a natural redhead, so there might be something in what you say Jarvo. Or probably the younger ones were at the front!