Photos of Wigan
Photos of Wigan
Album Contents
Album Contents
Wigan Album
Thomas Airey Brewers
10 Comments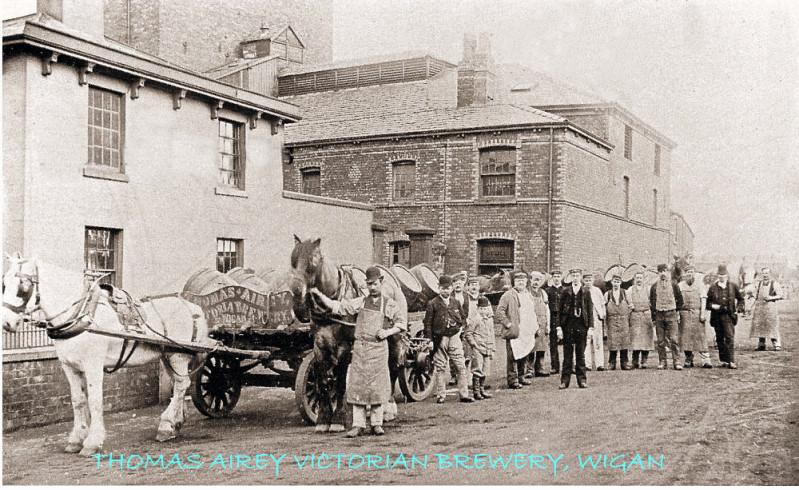 BEWERY STAFF
Photo: RON HUNT
Views: 972
Item #: 33107
POSTCARD SHOWING THE STAFF OF THE BREWERY LATE 1800'S. THE BREWERY WAS AT BRITTANIA BRIDGE
Comment by: Albert.S. on 22nd April 2021 at 10:34
Just thinking of the taste of their bitter. It was an extremely delightful taste. Took me back to 'bobbies' meeting, on pay day, in the White Horse, on Standishgate. So long ago.
Comment by: Frank Allslopp on 22nd April 2021 at 16:19
Airey's Brewery Ltd, Victoria Brewery, Westwood Road, Poolstock, Wigan, Greater Manchester.

In 1864 Thomas Airey listed at Pemberton and brewed at various sites before the Victoria Brewery site was acquired by 1898.

Thomas died February 1900 and his son George inherited.

Registered November 1906 with George as chairman, until his death in 1918.

Acquired by Walker Cain Ltd. in 1926 with about 40 tied houses that were transferred to the Oldfield Brewery Ltd. in 1933

The photo is of the brewery in 1910.

[url=http://breweryhistory.com/wiki/index.php?title=Airey%27s_Brewery_Ltd]Link[/url]
Comment by: Cyril on 22nd April 2021 at 19:15
Isn't the white painted house still there and now Arthur Bithell's scrap yard office?
Comment by: James Hanson on 22nd April 2021 at 20:38
Ron says the brewery was at Britannia Bridge, which is in Ince.
Frank says it was in Poolstock, which is in Wigan.

One of them has to be wrong. And I think it's Ron!

And, Bert, for you to remember the taste of Airey's bitter, you must be either over 100 years old, or started drinking bitter as a toddler.
Comment by: RON HUNT on 22nd April 2021 at 21:18
J.H. YEP YOU'RE CORRECT IT WAS AT POOLSTOCK JUST BEEN CHECKING THIS IMAGE IS ALREADY ON THE SITE WITH THAT ADDRESS.
Comment by: Albert.S. on 23rd April 2021 at 09:40
Sorry James, I should have put the comment under Almonds Brewery, Standish. Must again blame brain malfunction.
Comment by: cindy on 25th April 2021 at 12:37
Was the name of the brewery that was further down Poolstock Lane Howcrofts it became Thompson's food warehouse.
Comment by: Angela on 26th April 2021 at 17:40
Comment by: cindy on 27th April 2021 at 12:58
Comment by: Peter on 8th May 2021 at 19:42
If you drive along A49 towards poolstock.400 yds past the Range DIY the white building is still there.