Photos of Wigan
Photos of Wigan
Album Contents
Album Contents
Wigan Album
St Michael & All Angels, Swinley
6 Comments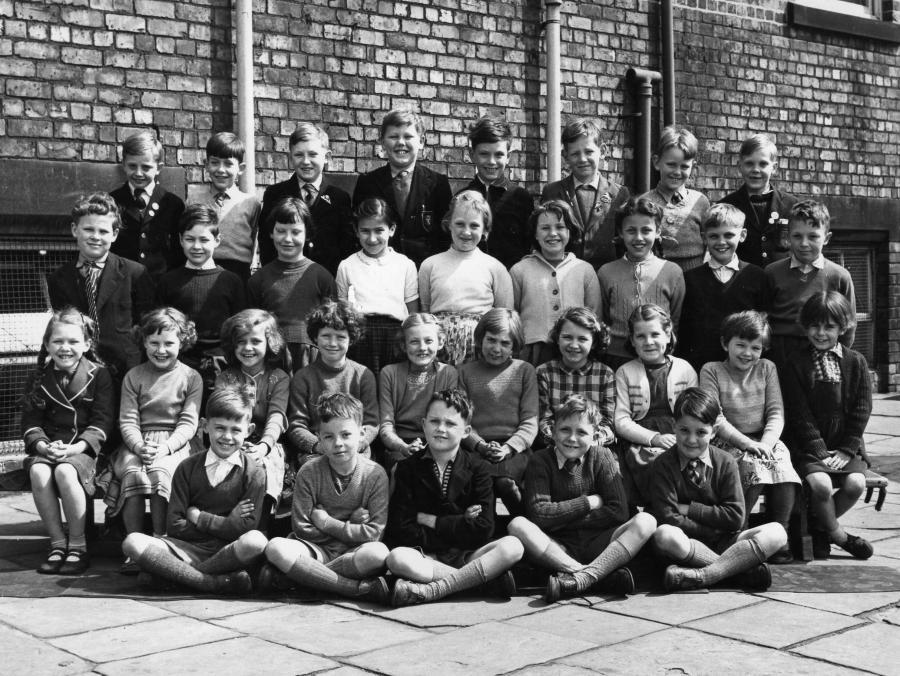 St Michaels & All Angels, Swinley, 1959.
Photo: Susan Hayes
Views: 6,341
Item #: 401
St Michaels & All Angels, Swinley, 1959.
Comment by: K Hope on 1st October 2008 at 15:44
Third from the left on the back row is Peter Ellis who moved to south Wales.Fifth is robin grundy the girlwith the checked top third from the right, second row is Silvia Hayton who sadly passed away last year
Comment by: Alastair Brown on 24th March 2010 at 15:24
Yes - and that's me, Alastair Brown on the end of the front row - on the right.Top row on the end left is (I think) Alan Stankey; top row on the right is (I think) Ralph Coates; second to top row second from the left is Andrew Marflow; second to top row fourth from the right is (again I think) Susan Iddon ;front row second from the right is Dennis Bamber. Happy days of trainspotting and four chews for a farthing! - but there was no roof on the boys' toilet so you got wet when it rained!
Hello Alistar. I can add a few names. Top row L to R. Alan Sankey, Andrew Marflow, ?, Malcolm Ryder, William Grundy, (Steve) Turner, David Linfoot and me Chris Coates. I'll work on the others and come back. I dont trainspot anymore but I do research on it from around that era. You didnt keep your books did you?

Chris Coates
Gosh you lot have got rotten eyes or rotten memories or both. But then it was all over 50 years ago, and I have to admit that there are a few facces I can't put names to. When I get a moment I'll post the names that I know for certain. By the way I'm second row from the back second from left.
Here are all the names I can remember. When I can put my hands on my copy of the 1959 picture I may be able to fill in the missing names as most of the class signed it on the back. So here goes:
Back row: Alan Sankey, ? , David Reid, Malcolm Ryder, Billy Grundy, David Turner, David Linfoot, Christopher Coates.
Next to back row: ?, Me (Andrew Marflow), Susan Tice, Jean Wilkinson, Lynne Taylor, Susan Iddon, Joan Naylor, Terence Cullen, Stephen Melling.
Seated on bench: ?, ?, Kathleen Eccleston, Thelma Hall, Rosalind Garner, ?, Sylvia Hayton, ?, ?, ?. (Sorry, girls!)
Front row sitting on mat: Colin Green, Christopher Molesworth, Philip Whitter, Dennis Bamber, Alastair Brown.
Presumably one of the unidentified boys is the K Hope who posted the Oct 08 comment?
If you're reading this, please feel free to get in touch with me. I'm still living in the Wigan area (Standish).
seated row judith lawton judith entwhistle kathleen eccleston thelma rosalie margaret harmer sylvia hayton elizabeth horner elizabeth davies delia kennedy.