Photos of Wigan
Photos of Wigan
Album Contents
Album Contents
Wigan Album
St Michael & All Angels, Swinley
9 Comments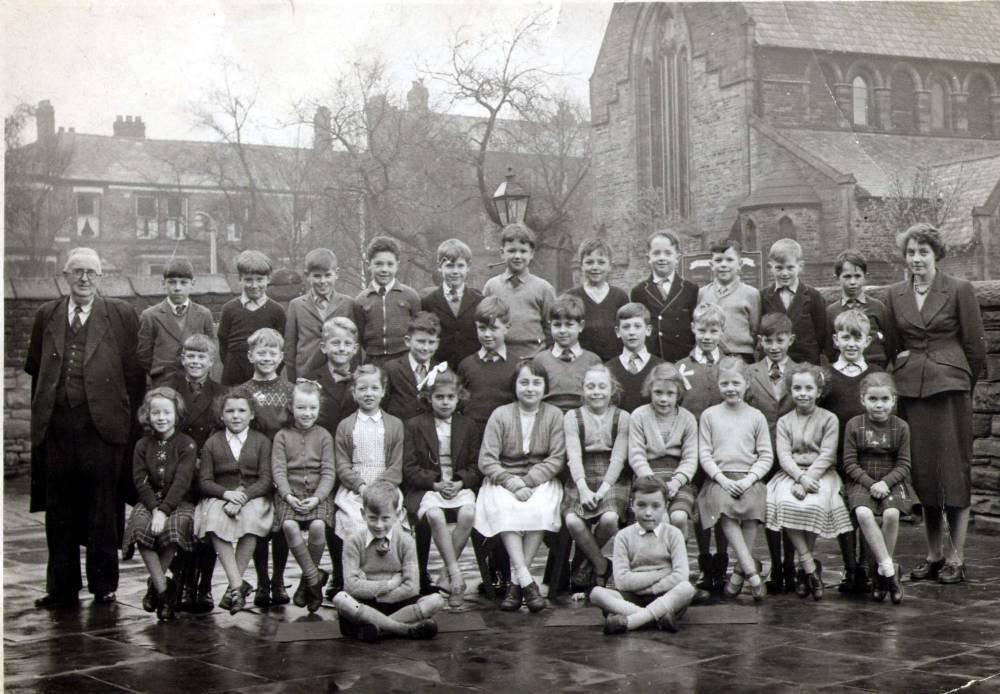 St Michaels & All Angels, Swinley, 1959.
Photo: Kathleen Rowe (nee Thomas)
Views: 8,006
Item #: 396
St Michaels & All Angels, Swinley, 1959. I am in the middle front row, my name then was Kathleen Thomas.
Hi, my name is Roy Smith (Back row, second from the right). In addition to Kathleen, I remember Raymond Langton, Trevor Taylor, Harry Hall, Robin Grundy, Andrew Marflow, Terry Chadwick, Peter Wall, Harry Moorfield (His dad had a brewery in Millgate), Ian Crawshaw, Peter Litherland, Martin Hayes, Jennifer Webb (I think there were two Webbs), Patricia Simpson. I now live in Scottsdale Arizona USA. I would like to hear from anyone in the class. Kathleen, many thanks for the photo, it brought back a lot of memories. I remember you, I think you were in charge of the class, when our teacher (I think it was Mr. Taylor in our last year) was not around.
This is Roy Smith again from Arizona. I remembered some more names. Back row, fifth from the left, I think is Allan Richardson. Middle row, third and fourth from the left are Kevin or Keval Smith and Dennis Holland,I think. It has been nearly 50 years. Wow !! Again, hope to hear from anyone in the class.
The two sat on the floor are Dave Gardner and myself on either side of me is Pamela Richards and Susan Green
Browsing through Wigan World, I came across this school photo from 1959. Thats me, top row right. A couple of names to add, are Sylvia Brown (bottom left), Phylis Payne, Lorna Webb,(usually the one with plaits, if I remember right) jeffrey Ewitt? (middle row, far left). I still see some of the class, mainly keith Hope, Dave Gardner, Dennis Holland, Tricia Simpson (now Payne), Harry Hall, and I know Trevor Taylor still lives in Standish but would be good to here from others,
I'm Rob Grundy, middle row behind Kathleen and between Dennis Holland and Clive Marflow (Andrew was his younger brother). Trevor Taylor was the athlete of the class, Jeff Ewart and Harry Hall the football stars, while the brains were Kelvin Smith, Alan Richardson and Pete Wall - whom we called Rocky at Grammar School, after a tv wrestler. Last I heard he'd lived up to his name, working as a geologist in Rhodesia (as it then was).
This pic certainly brought back memories. I do remember Rocky Wall, Harry Hall, Robin Grundy and his brother Billy from Lessingham Ave. Head master Harris and his cane, Later Lez Taylor and his son Peter.
Yes I can confirm that it's my older brother Clive and not me on the picture. I was also at St Michael's and there's a picture of my class with me on it on another page of this marvellous website.
Hi Rocky here alias Peter Wall...still alive living in the Netherlands...Maastricht....having started off in Zambia where I met my wife..we then moved to South Africa and now as I said abov living in Holland..am considering attending the Wigan Grammes school old boys dinner on the 28th April..any chance of meeting up with any of the class of 59?
I was Shelagh McGee then ...I am seated fourth from the right, Jennifer Webb is on my right and Christine Golding is on my left. I can remember a lot of the others - Elizabeth White, Sylvia Brown, Lorraine Ellison, Deborah Davies and Kathleen of course, who lived in the same street as me as did Terence Chadwick. I moved to Southport shortly after this photo was taken and lost touch with everyone. Gob smacking to realise this was 60 years ago!