Photos of Wigan
Photos of Wigan
Album Contents
Album Contents
Wigan Album
St Michael & All Angels, Swinley
16 Comments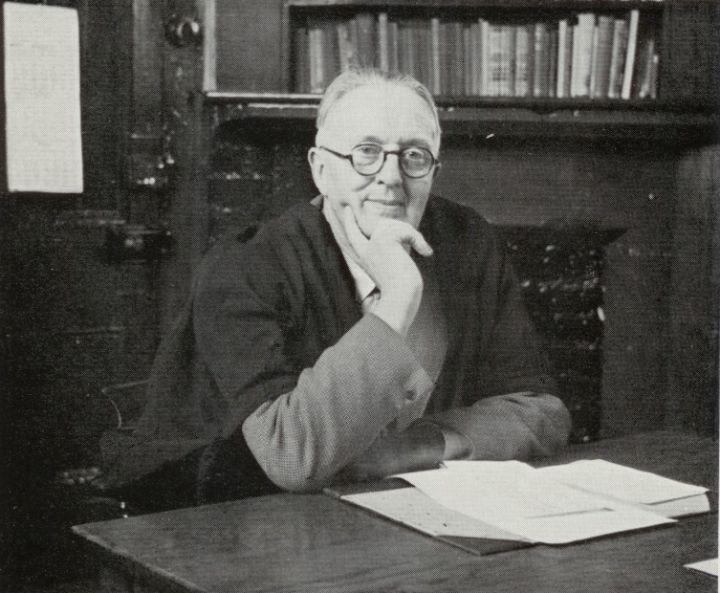 Mr. Arthur Harris, headmaster 1925-1958.
Photo: Brian Elsey
Views: 5,113
Item #: 392
Mr. Arthur Harris, headmaster 1925-1958.
I spent 4 very happy years in the Junior School, leaving in 1954. I never really "knew" Mr Harris except for being caned twice, once for pushing sneezing powder up John Hargreaves' nose! Fond memories also of Joe Boggis who used to whizz the board duster at you and Miss/Mrs(?)Hampson who was a forceful thigh slapper!(I had a few red thighs!)
(Sent one previously but I think it failed -my fault!)
A good photograph of my father. Esther Hampson, mentioned in the comments, was my godmother. I was taught by my father and a great time it was.
Comment by: Irene Fox on 12th April 2010 at 23:15
I remember Mr Harris with great affection. He was strict but fair and a great teacher. I think the year of his death is incorrect as he played the organ at my wedding in 1962!
My 4 years ended in 1960, by when Miss Hampson had become Mrs Wolstenhome. Class numbers then were back to front so the oldest were in class 1; I remember watching some of them at cricket one break - dustbin for wickets - when Mr Harris came and joined in. Happy days!
mr harris retired when i was in junior 1 with mrs wolstenholme my auntie was hilarys godmother and visited him in retirement at college road.
Comment by: Roy on 28th March 2012 at 12:00
I remember Mr Harris well, i was also on the receiving end of his cane on a couple of occasions, if i remember rightly he used the bottom 3 ft of a snooker cue to administer his punishment,no hard feelings though as i must have deserved it. Also i remember being 'caned' by Joe Boggis he used a cricket wicket on me, which i remember having to get it out of his cupboard,hand it to him and then bend down on command. Imagine things like that happening today, mind you that,s what some of today,s kids are short of.
Many memories of Mr. Harris, Miss Hampson, Bernard and Hilary Harris and others as I'm busy transcribing the St. Michael's Baptism Registers for Lancashire On-Line Parish Clerks group. I left Class 1 in 1942, and UK for Canada in 1954> If my memory serves me correctly I last visited my old friend Arthur Harris in Upholland in 1978 after my own father's funeral, but it could have been earlier.
Comment by: Roy on 19th April 2012 at 10:06
Another of Joe Boggis' tricks was to pinch your 'sideburns' with between his finger and thumb and then proceed to lift you out of your seat by pulling upwards. No one has mentioned the dreamboat that was Miss Butterworth.
Yes Mr Harris I also was at the receiving end of his cane when I was put out of the dinner room because I did'nt like the pudding.He was walking across the hall and saw me!
I knew what to expect and put a handkerchief down my trousers ....he saw the bulge and hit me below it...I left in 1949 to go to boarding school....so sad and left in Mr Boggis's class.
Anyone remember Tom Leather,David Beatie.John Swift,Audrey Daniels,Christine Ellis. Also a boy from higher up maybe Miss Aspeys class called Wallace Edwards!!
Mr Harris retired the year I finished class 3. Les Taylor then re-numbered the classes to ascending order, we were class 3 again. Alan Boggis was my godfather, never understood where 'Joe' came from. He took a year off to train for teaching slow learners, only to find that LT planned to take the proposed slow learner class himself. 'Joe' left for Warrington Lane, where he taught until retirement. He died 8-9 years ago, remembered outside school as a keen bowler and long-time secretary of Wigan Chess Club. As for dreamboats, in top infants I'd a crush on Miss Cronshaw, who taught 1st yr juniors. But when I got there, tragically she'd gone off sick, never to return - cancer. At that age our emotions were mercifully undeveloped.
I have very fond memories of being at St Michaels, only had the cane once, but remember wonderful Mr Harris would prowl the playground to catch late comers. Remember Mrs Dixon, and Miss Lamerton who had what was then called the dunces class, and Miss Aspey who was also bob on throwing the board duster, think she could have played cricket for England. I left in 1952, Happy Days
Comment by: Ivor on 24th January 2017 at 16:36
If "Roy" is Roy Huxley then I've just realised another link we have after trying to place him in my vague memories... we both had the cane from Mr Harris! Nevertheless, I can still remember how sad I felt walking out of those large gates for the last time.
I have some comments above but continuing ...remember well playing marbles on the cobbles just outside the school gates....anyone remember a boy called Wallace Edwards..(Biggy) was his nick name. A friend of mine was John Kelly who even in those early days played the trumpet and I think moved on in music.
SPENT MANY HAPPY YEARS AT ST.MICHAELS FIRSTLY IN THE INFANTS AND THEN LATER IN "BIG SCHOOL" WITH MISS LAMERTON(THINK THAT WAS HER NAME),MISS ASPEY,MISS HAMPSON,JOE BOGGIS AND ARTHUR HARRIS WHO WAS NOT ONLE HEADMASTER BUT ALSO CHURCH CHOIR MASTER.
With reference to the earlier comments by John Barbour.Tom Leather,David and Martin Beattie,John Swift,Audrey Daniels and Wallace Edwards were all in my year.Where are they all now?
Comment by: John Randall Barbour on 21st April 2022 at 09:43
So interesting the above comments,and quite a number mentioning the corporal punishment so many of us received. I wonder how many of the teachers reacted when all that was stopped !..did they feel a little guilty I wonder ? To Malcolm F above pleased you knew the names I spoke of...Now as I write 83 years old there may not be many of us around now who remember those years.