Photos of Wigan
Photos of Wigan
Album Contents
Album Contents
Wigan Album
Unknown
8 Comments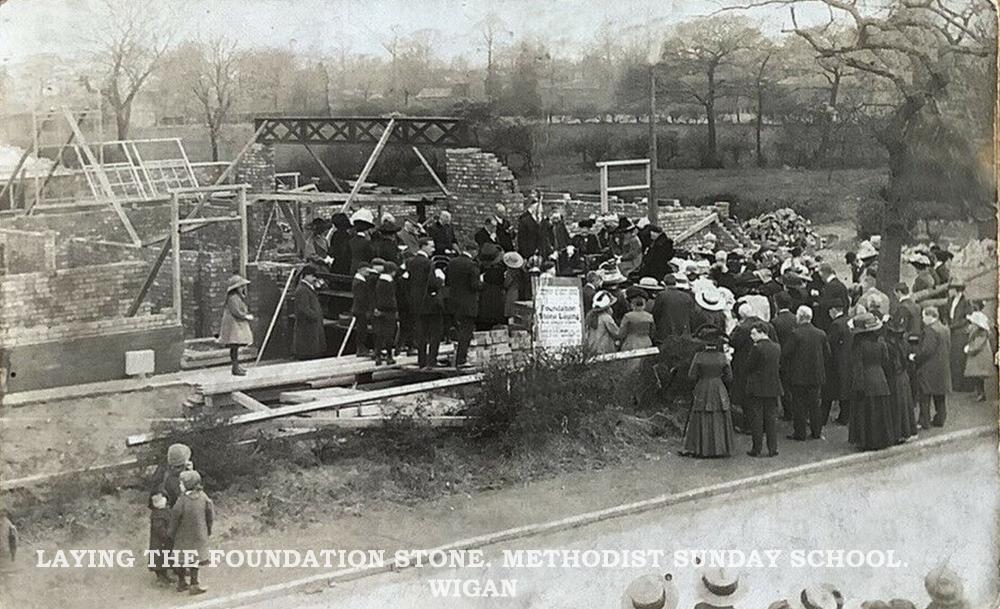 FOUNDATION STONE LAYING EARLY 1900'S
Photo: RON HUNT
Views: 913
Item #: 33480
Laying of the Foundation Stone for a Methodist Sunday School in Wigan. Has anyone any idea of where it is?
In the background there looks to be a church with a squat tower and a graveyard stretching out to the right. If anyone know which church that is, the scene might be placed - but I can't think of any local churchyard looking quite like that.
Comment by: Helen of Troy on 8th January 2022 at 08:29
On the IWM website ( Imperial War Mus.) there is a Wigan Methodist Sunday School listed but they have no image of it, which is a pity. It was in Station Rd, Wigan.
Comment by: Albert.S. on 8th January 2022 at 15:34
There is a Methodist Church, shown in Station Road, Helen. #:33425
Comment by: Cyril on 10th January 2022 at 00:01
A wild guess - could be Downall Green Methodist on Victoria Road Garswood, with Holy Trinity Church on Rectory Road in the near distance and which does have a graveyard in front, this church also has a squat like tower and in 1900 the majority of houses around there wouldn't have been built, there looks to be a lodge or lake in the background too. In this thread on Communicate Dougie has posted photos showing a lake, reservoir on Dodgers map, in that area of Downall Green. https://www.wiganworld.co.uk/communicate/mb_message.php?opt=f2&opt2=&msd=1127239&offset=0&subject=Factory%2520Houses%2520Garswood
Comment by: Helen of Troy on 10th January 2022 at 07:39
Now we are getting somewhere. Its a pity that the noticeboard is not legible, might tell something.
Comment by: helen of troy on 10th January 2022 at 14:57
This pic is bugging me.
At a guess perhaps the wording on the sign says...Foundation Stone Laying, but where was it being laid ?!
Comment by: Cyril on 10th January 2022 at 15:02
Another clue, the topmost bell tower of Holy Trinity church was added in 1938, see link below, so in 1900 the tower would have been like the one shown in the above photo, and if you look on a map it is more than likely the photo was taken from Victoria Road.

https://britishlistedbuildings.co.uk/101199341-holy-trinity-church-seneley-green#.YdxHgWh_o2w

Helen of Troy, the first word on the noticeboard under a magnifier looks to be Zion the other words aren't legible.
Cyril - I don't think Holy Trinity fits - it only has a short section of old, mainly sandstone, graves in front of its West end - and they're obscured by a wall. The graves here are in full view - and look like new, white stones. Also, the Methodist Church would have had to be on Leyland Green Road for it to fit the orientation - not Victoria Road - which is long way away in the opposite direction - with housing in between it and Holy Trinity.