Photos of Wigan
Photos of Wigan
Album Contents
Album Contents
Wigan Album
standish Lower Ground
6 Comments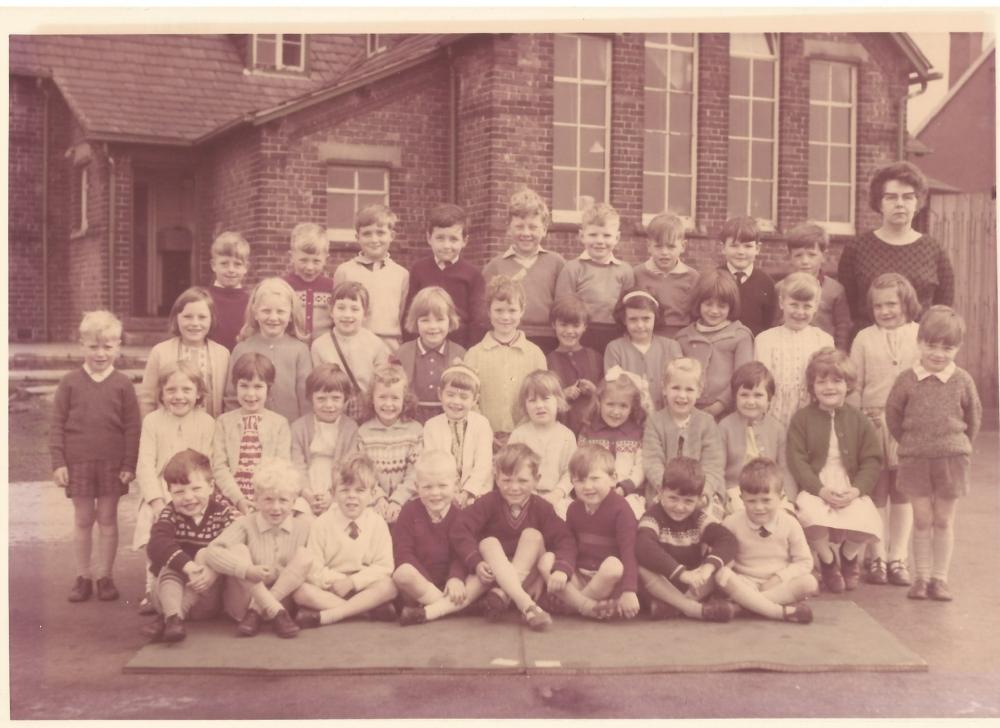 SLG Classes of 1967 - 6, 7 & 8 year olds ?
Photo: Ian Davidson
Views: 726
Item #: 33202
1967 photo is mix of classes 6, 7 & 8 year olds ?
Back row from left - Leslie Crooke, David Bennett, Mark Bowen, Carl Fairhurst, Ian Davidson, Trevor Mayren, David Whittle, David Causey, Paul Aspinall, Mrs Disley.
3rd Row - Robin Kenney, Susan Jones, Lynne Bishop, Susan Garner, Susan Howcroft, Helen Lowe, Margaret Kenney, Lorraine Tolley, Elsie Tomlinson, Yvonne Cherrington, Ann Buckley
2nd Row - Angela Green, Karen Telford, Angela Noonan, Wendy Freeman, Janet Fishwick? Julie Howcroft, Linda Clarkson, not sure, not sure, Kim Taylor, not sure
1st Row - James Cottom, Derryck Gill, Stephen Fouracre, Andrew Miller, Clive Priestley, Michael Gallagher, Michael Tolley, Martin Shaw
Sorry couldn't remember 3 names so put not sure
anybody help with this ?

Comment by: Ian Davidson on 10th July 2021 at 17:22
Sorry, in hindsight I dont think the girl 3rd from left 2nd row is Angela Noonan !
Comment by: Dave Causey on 21st July 2021 at 21:25
I think the girl you thought was Angela Noonon is Gillian Macintyre, and I think the 2 sat together may be Cheryl Shaw but not sure and Anne Darbyshire. The one on the end could be Sheila Cottom
Comment by: Ian Davidson on 21st July 2021 at 22:14
Hi Dave, Think your right Gillian Macintyre, Cheryl Shaw is that Martin's sister ? Anne Derbyshire ? Dont think Sheila is on this, could the girl in the middle be Janet Fishwick ?
Comment by: Dave Causey on 21st July 2021 at 23:14
Hi Ian, yes Cheryl is Martin's sister and I think that is Janet Fishwick in the middle
Comment by: Ian Davidson on 22nd July 2021 at 09:14
Dave, Any idea who the lad on the end is stood next to Kim Taylor, Dont know why but the name Anthony springs to mind
Comment by: Dave Causey on 22nd July 2021 at 18:14
Sorry Ian don't know who is on the end.