Photos of Wigan
Photos of Wigan
Album Contents
Album Contents
Wigan Album
Wigan Grammar Schools
8 Comments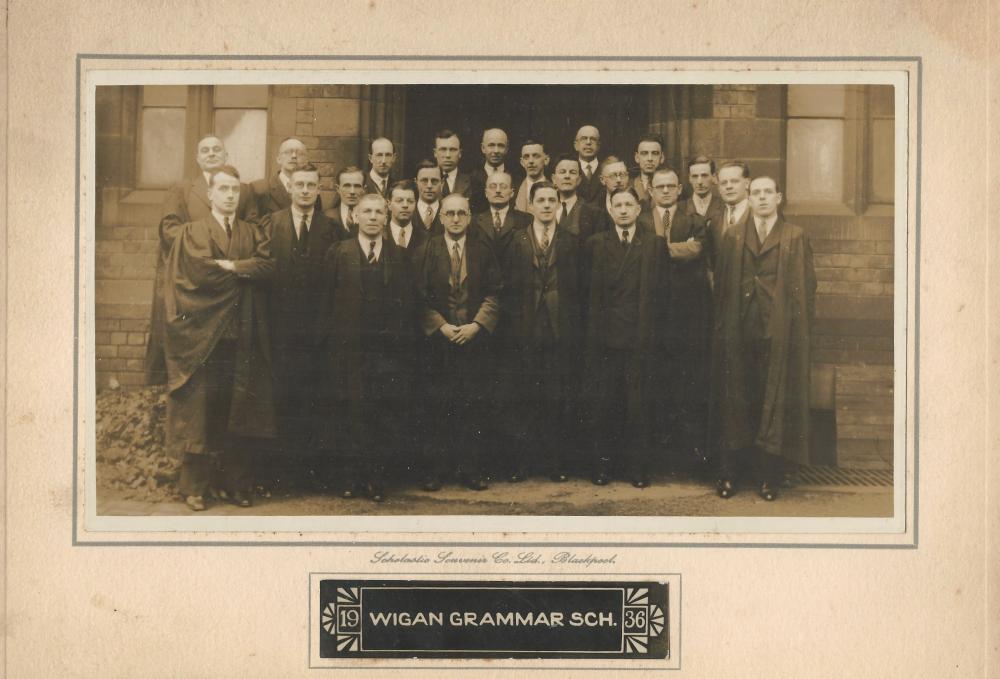 1936 Wigan Grammar School Staff
Photo: Helen Stewart
Views: 567
Item #: 33182
Back row, 2nd from left is Herbert W ("Pat") Lemon
Middle Row, 7th from left (without glasses) is Mr Skirrow
Comment by: Albert.S. on 1st July 2021 at 17:27
The year the controversial Olympic Games were held in Berlin. Having been awarded to Germany in 1931, before Adolf Hitler rose to power.
Comment by: Ranger on 1st July 2021 at 17:56
4th one in from the right, with glasses, is Paddy Gore. Third from left on back row Joe Boswell? Just in front of him to the right Dickie Nutt?
Comment by: Josh on 1st July 2021 at 23:37
I agree with you Ranger, could I add, 2nd in from left Tommy Walker (Geography), on Dickie Nutt's left "Pop" Denning and directly above him the face of "Teddy" Johnson and on the left of "Pop" Denning is Skirrow. All the ones mentioned were there some 14 years later when I started at WGS.
Comment by: Carolaen on 2nd July 2021 at 17:52
Josh. Pop Skirrow and Dickie Nutt were still there in 1963 when I started !!
Comment by: Carolaen on 2nd July 2021 at 17:59
Josh I just realised that Paddy Gore is in that picture. He was there in 1963 as well. I quite liked Latin but I gave it up as soon as I could just not get on with him shall we say.
Comment by: Josh on 2nd July 2021 at 23:09
Hi Carolaen, well at least Paddy was consistent. I started some 10 years before you at WGS and found him an odd character, didn't seem to relate to any student as far as I could see.
Comment by: DerekB on 3rd July 2021 at 12:40
Boswell was still there throughout my period at WGS between 1949 and 1954 and I was always so tensed up in his presence that I would never have learned anything from him. He delighted in ridiculing you systematically in front of everyone if maths wasn't your strong point. A real sadist.
Comment by: Donald Underwood on 5th July 2021 at 15:50
I entered in 1943.Most of these were there or like Savigny & Wolfendale2 W S Smith returned after war serviceOthers as yet unmentioned are Eric Wallace,the dreaded art master Bulmer little Aige Arthur Thompson,bill Williams who boasted that he had not read a book since laving the Universityand
W G Allanson Physics master
One who should be there is Rev E D Preston but I cannot recognise him

But where is Miss McCartney who taught the First form from 1908 till the Education Act phased
her out in 1946