Photos of Wigan
Photos of Wigan
Album Contents
Album Contents
Wigan Album
John Rigby Grammar School, Orrell
12 Comments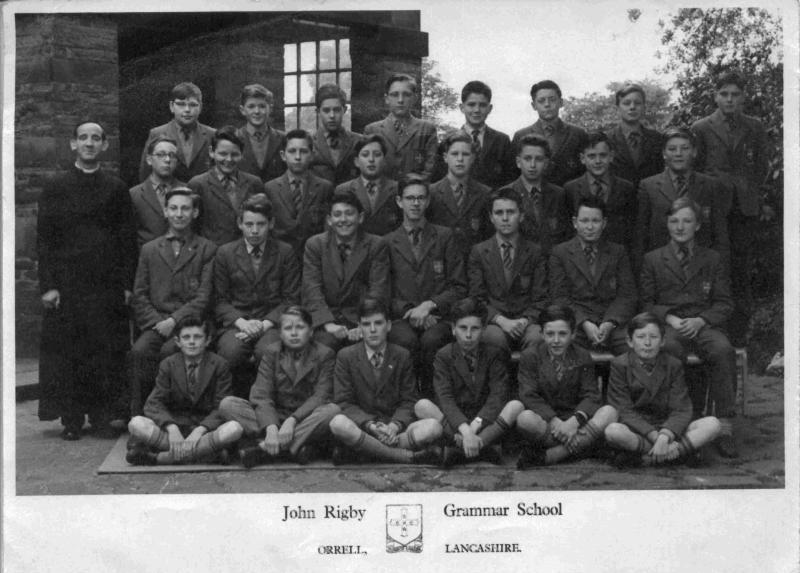 John Rigby Grammar School, Orrell, c1960.
Photo: Eddie Marshall
Views: 7,161
Item #: 292
John Rigby Grammar School, Orrell, c1960.
I am front row - third from the left seated next to Eddie Marshall.
Comment by: Pat Heys on 8th August 2008 at 22:31
Peter Moran bottom right....? 90% sure
Hi , All identified except 2nd from r 2nd from bottom! Authorities still searching for form master!
Comment by: John lydon on 15th March 2011 at 20:48
I am sure that the brother is Bailer or Baylor. Not sure of the spelling.
Comment by: Victoria Moran on 11th May 2011 at 20:40
Bottom right is my dad, looks just like my brother! Will show him this, sure to make him smile.
Comment by: Peter Moran on 18th August 2011 at 20:08
Brother Bailey was form master. Second line, second right I think is Brian Winters from Billinge, think he became a bank manager in Wigan. Peter
John is right Peter!
back row L-R: Bro EJ Baylor; John McDermott; ??; ??; Geoffrey Hall; ??; ??; Tony Day; ??.
next to back row L-R: ??; ??; Frank Pennington; ??; Mike Horrocks; ??; Brian Jackson; Philip Berry.
next to front row L-R; Peter Moorcroft; Michael Sweeney; Philip Wareing; ??; ??; Brian Winter; Peter Swindlehurst.
front row L-R: Antony Peet; Eddie Marshall; Jeffrey Croston; John Sharkey; Georgie Spain; Peter Moran.
That's me right enough, a much slimmer version, between Peter M and Phil W. Still in touch with Chorley contingent of Phil Waring and Phil Berry. Nice to hear you're all still out there.
Blimey - 50 odd years on and I still recognize most of these guys. Put on to this archive by Mike Sweeney. This was the 'A' stream of year 1960/61 I think. Happy days - mostly!
My brother Gerard Davies,second row up centre