Photos of Wigan
Photos of Wigan
Album Contents
Album Contents
Wigan Album
Highfield Junior School
17 Comments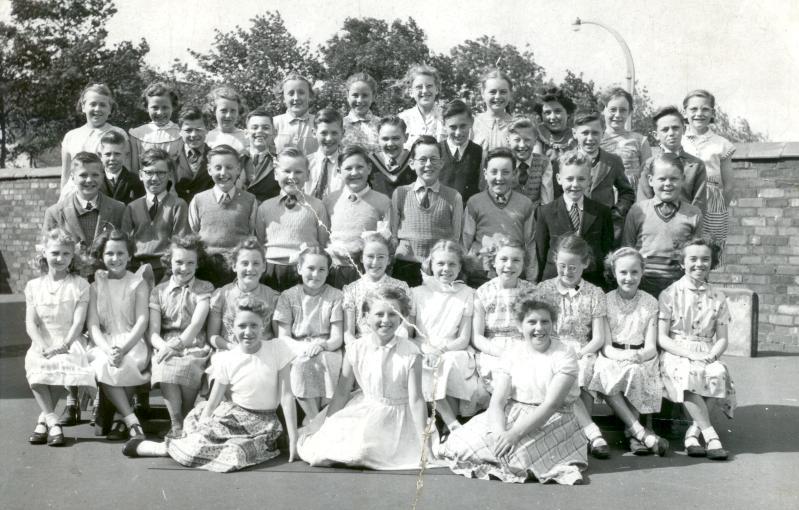 Highfield Junior School, 1956.
Photo: Ron Hunt
Views: 5,841
Item #: 271
Highfield Junior School, Class 4, 1956. Ron Hunt, 3rd row from back, left on end.

Recognise anyone? Please email me if you can help.
Comment by: tricia on 19th January 2008 at 17:44
Seated front middle Margaret Taylor
1st row 6 right Christine Sellars 9 right Marlene Aspey At end Gillian Tyldesley
Comment by: RON on 14th February 2008 at 22:23
Same people as on previous photograph except for,
Back Row five from left Judith Nolan( Was I in love with her...)
Third row 4th from left Melvin Morton.7th from left Ernest Clayton. 8th from left Raymond Catterall.
Second row 2nd from right. John Noble.
On floor on right. Heather Manley
Comment by: RON on 14th February 2008 at 22:28
This photo. should be dated 1957
Comment by: Tricia on 18th February 2008 at 12:08
Would never have recognised Melvin from this
Comment by: jan on 7th April 2008 at 22:20
is that ron hunt who worked at plessy
Comment by: RON on 20th December 2008 at 01:09
Yep I am the Ron Hunt who worked at Plessey.
Comment by: gg on 16th August 2009 at 14:58
can anybody tell me if david grimes it on this pic i know he was in same year as ernie clayton and keith taberner
Comment by: Tom on 1st October 2009 at 17:47
Ron are you sure about the year,I used to take Judith out when we were at Pem Senior school in 1959
Comment by: Marlene on 2nd October 2009 at 17:37
David Grimes isn`t on this picture .The year is 1957 .
Young Pupil 3rd row 5th in Is my father, the one I have never spoken too in eight years, now he lives in billinge
Comment by: Ron Hunt on 11th April 2010 at 00:23
Hi Mike,that's very sad. Not having spoken to your father for so long. I remember him very well. He lived in the houses on the left as you go up to Winstanley just passed where the traffic lights are now. I remember going up to his house one Saturday. Him and his friends had built a 'Hut' in a small wood opposite to where he lived I was fascinated with it as it had a carpet on the floor. L.O.L.
Comment by: I. Whitaker on 30th June 2012 at 18:55
2nd row 3rd right, Booth. Only chap managed to get to Grammar school.
Comment by: RON HUNT on 30th June 2012 at 20:03
There were six other boys, on this photograph,(including me)who passed their 11+ but went to the Thomas Linacre Grammar School. Melvin Morton, Raymond Catterall, David Santus, Ronald Daniels, and Steven Bland
Comment by: I. Whitaker on 4th July 2012 at 16:41
Hhmm!..........yes!

I think it was the border line cases, wasnt it, who went to that technical school. It was, sort of, a proto type for the comprehensives that were to come.
Hi Ron, thats me middle back row my dad was a manager at plessy what a great photo
Hi Judy Guess nee Nolan
How are you remember i served my time as an apprentice at ATE Plessey from 1960-1968, then onto an electronics company in Brighton, Sussex, then i finished up as an Engineer working for Norweb United Utilities. I took early retirement in 2002 and now work part time as a Health & Safety consultant for myself. How is Barry Guess i have not seen you both since you emigrated.
Comment by: RON HUNT on 16th December 2016 at 13:31
I Whittaker, No the Thomas Linacre was a PROPER GRAMMAR SCHOOL on a par with Wigan Grammar School but was more Technically biased with regard to the curriculum. We had a choice of the TLS or the Grammar School. I along with the other five boys who passed their 11+ chose the TLS.