Photos of Wigan
Photos of Wigan
Album Contents
Album Contents
Wigan Album
Hindley & Abram Grammar School, Hindley
5 Comments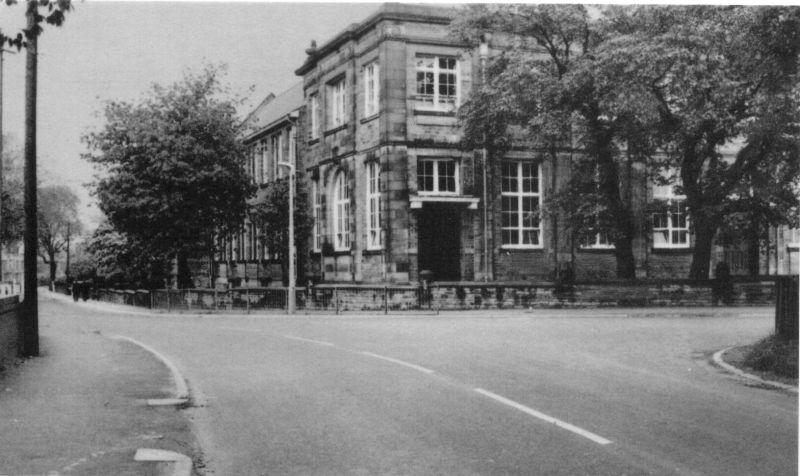 Hindley & Abram Grammar School.
Photo: Derek Bell
Views: 5,047
Item #: 260
Hindley & Abram Grammar School.
Comment by: Jeff Carroll on 25th March 2008 at 13:26
This view would welcome us back from the footy field in the afternoon. It doesn't of course give any sense of the smell from the nearby pig farm, located down the road on the right. The two sets of double doors led into the hall where morning assembly was held. Happy memories!
During WW2 we did not go to the public baths but we had swimming lessons in this school hall. Yes, we learned how to do the breast stroke, stood on one leg on dry land! We stood in lines in the hall, raised one leg,and to a count of "One,Two,Three, Four",moved our arms,kicked with the raised leg, and breathed in & out correctly, occaisionally changing legs. When I went to Leigh Baths on a Sat'morning I went bobbing along in the shallow end with one foot bouncing on the bottom, after a while I kicked out with both legs and it worked. EURICA.
From Susan Williams that was: This is the view I recognise. On fine days I'd sit with pals on the steps by the double doors, sunbathing with skirts pulled up....very risque...I hated sports and well remember that games field, but not in a good way. It's lovely to find this site and exchange happy memories. Does anyone remember Mr Dowell, the music master who had curvature of the spine and was a composer too. I have him to thank for a life-long love of music.
Remember my time here the 'bog cram' initiation on the first day wasnt a good start, but made lots of friends and lots of laughs. Should have worked harder though and not messed about as much. Tick & pass in the playground at lunch times was a highlight not always a good idea on tarmac though had a few bumps & bruises !!
Comment by: Geoff Partington on 3rd August 2020 at 09:29
I was at HAGS from 62-66 (left after 4th form as we moved to Yorkshire).
I remember the view. Vernon's farm round the corner iirc. I'd often walk or ride home to Hindley Green across the fields to save the three ha'pence busfare!

I'm not wanting to spoil the memories of those who look back fondly on schooldays, but have you considered those who hated school? The bog crams were a form of bullying, which, to someone like me was the whole culture of the school. Perfects growled and threatened detention if you didn't fill a milk crate with empties properly, or wear your cap on the bus.
In games periods, the two teachers played football with the best 22 players, leaving the rest of us to our own devices on the other field (I was Billy Casper in goal). Then Jack Lord pushed me under a cold shower because I'd been too quick getting washed.

Sorry folks, enjoy your memories, but don't think they were the same for everyone. I hated every single day at the place.