Photos of Wigan
Photos of Wigan
Album Contents
Album Contents
Wigan Album
Gidlow School
6 Comments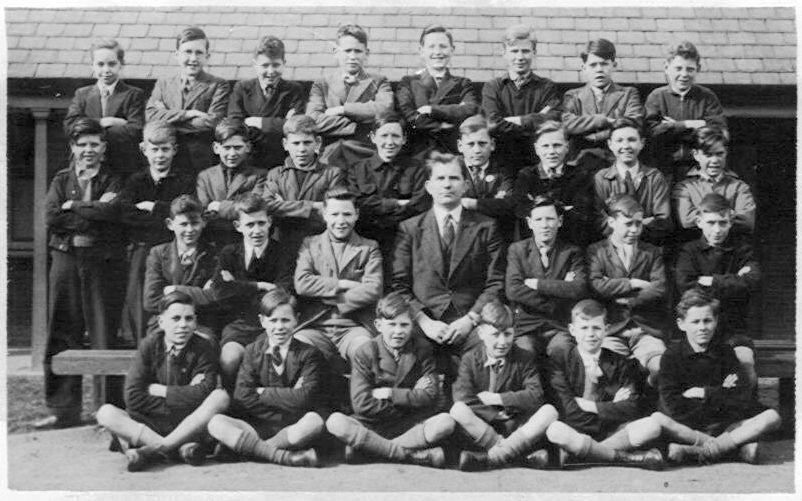 Gidlow School, class 2A 1946.
Photo: Jeff Ritson
Views: 6,159
Item #: 251
Gidlow School, class 2A 1946.
I AM THIRD ROW UP ON THE LEFT (REMEMBER THE RAF JACKET).CAN ALSO SPOT JOHN BENNETT SAME ROW FAR RIGHT.FRONT ROW LEFT JEF MARTLAND.NOT SURE ON THE REST BUT IT IS 60 YEARS AGO!
Comment by: Raymond Smith on 20th December 2007 at 22:52
Front row left is Joe Woods, back row right is Ian Mcenzie and two across is Dave Brimlow
Comment by: Fred Sentance on 27th June 2008 at 13:43
Jack Ashley.Remember you and also John Bennett.I would be 13 at the time and was also in 2A.Do you remember me.
Comment by: Derek Robinson on 16th August 2009 at 11:29
Just been introduced by my grandson - this photograph appeard. To my knowledge starting front row on the left are;
Joe Woods, Jimmy Rob, ???, Geoff Ritson, Dennis Mckracken, Louis Partington
Second row from left;
Harold Rothwell, ???, Harry Holland, Mr. Wilson, John Hutchinson, Frank Telford, ???
Third row from left;
Myself, Colin Nurdin, ???, Bill Taylor, Roy Davies, David Chamberlain, Tom Shawcross, Brian Farmworth, ???
Back Row left;
John Taylor, ???, Brian Ashton, Alf Ricketts, David Brimilow, Cliff Jenkins, Les Page and Ian Mcenzie...

Hope im right - apologies to them i didnt know!!
Third row, third from the left could be Carl Sherry. I am his cousin and we lived at 271 Gidlow Lane with my granny. Brian Farnworth, Ian McKenzie, the Partington brothers, I remember them well. I had already left and was working at the Peppermill brass foundry. I now live in Melbourne, Australia. I returned to Wigan to attend Carl Sherry's funeral and remember most of those faces at the gathering.