Photos of Wigan
Photos of Wigan
Album Contents
Album Contents
Wigan Album
Belle Green, Ince
4 Comments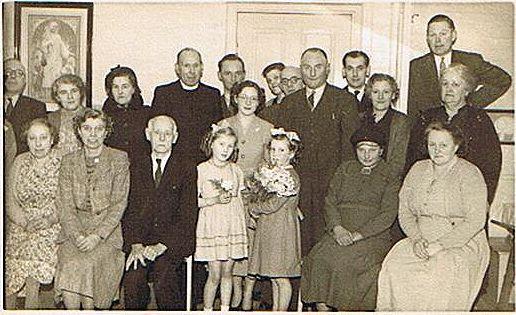 Old Scholars Reunion Presentation, c1954.
Photo: Brian Thurston
Views: 3,795
Item #: 239
Some of the people in the picture are Mr Watkinson ? Mr G F Barnes (Headmaster), Rev A Stoneley, Mr & Mrs Aron Roby, Mrs Phebe Daniels.
Comment by: Maureen Rutter on 11th January 2009 at 19:21
My Dad Harold Green is pictured on the back row second from the right at the side of George Barnes (Headmaster) back row from left as I remember Mrs McCabe (who lived under the bridge right at the top of Petticoat Lane) Rev & Mrs Stonley, Norman Ashurst (who lived near Joe Mosses shop in Belle Green Lane) Tommy Aspinall (Caretaker of Belle Green Old School lived in Bryam St) Annie Hill,(dont know the bigger gentleman)my dad Harold Green(dont know the next lady and gent then Mrs Smith(Norman Ashurst's Mum in law)(bottom Row from left Miss Kirkman(lived opposite the Bush Hotel Belle Green Lane)Nellie Atherton (nee Tilston) Aaron Roby (dont know the lady and 2 girls) Miss Eastham! and Phoebe Aspinall (nee Daniels married to Tommy - caretaker)
Sorry remembered the lady on the bottom row second from the right next to Phoebe Aspinall was Mrs Barnes the Headmaster's wife and not Miss Eastham
Comment by: Jean Minett nee Pennington on 5th September 2018 at 12:11
The tall gentleman whose name you can,t remember is my Dad Jack Pennington. He died wnen he was 49 in 1957.I remembe ?rmost people although I am 80 this year .I think you lived in Petticoat lane ?
Comment by: P Coventry on 24th May 2022 at 14:46
My dad Brian Coventry says he knew Harold Green. Dad went belle green in mid 40s and lived on Smith Street at the time.