Photos of Wigan
Photos of Wigan
Album Contents
Album Contents
Wigan Album
All Hallows School, Roby Mill, Upholland
7 Comments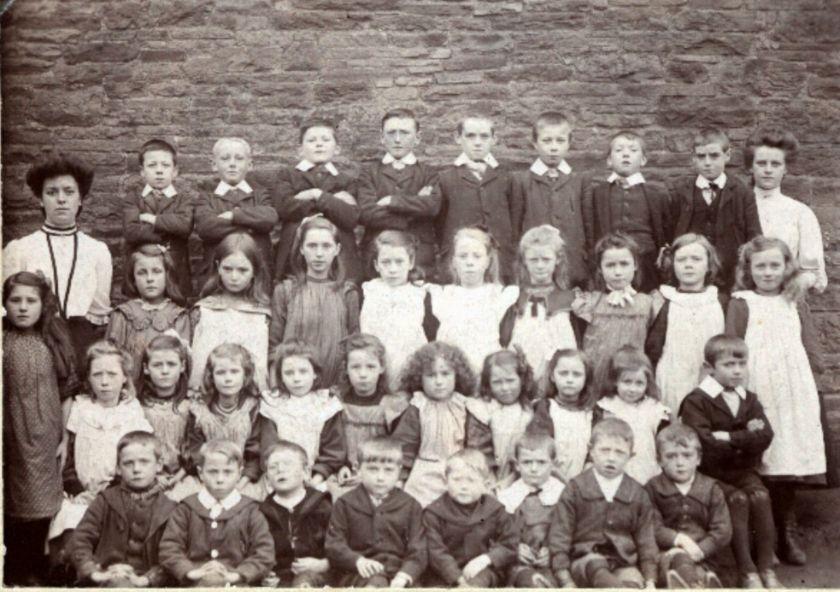 All Hallows School, 1910.
Photo: Bernard Greaves
Views: 6,697
Item #: 210
All Hallows School, 1910/11.

Left to right back row: John Roscoe, Joe Halliwell (my uncle), ...Benson, Jim Hart, Joe Speakman, Tom Roscoe, George McNamara, Joe Rigby, Mrs Smith neé Webster

Second to back row: Miss Speakman, Mary Ellen (Polly) Halliwell (my mother), Eunice McNamara, Mary Hart, Polly Chisnall, Mary Pennington, Liz McNamara, Cissy Kenny, Annie McNamara, Lucy Valentine.

Third from back row: Esther Barton(standing), Theresa Pennington, Alice and Mary Rigby, Annie Hart, Kathleen Kenny, Nellie Valentine, Mary Barton, ...Hart, Mary Roscoe, Maggie Barton, Joe Hart.

Front row: Frank McNamara, Billy Pennington, Jim McNamara, Tom Greaves, Billy Greaves, Jack Rigby, Leo McNamara, Fred Hazell.
Comment by: Margaret O'Neil on 4th March 2012 at 14:19
Miss Speakman was my Great Aunt Bessie, my Granddad Hugh Speakmans Sister. They lived in Appley Bridge.
Bernard, if you know which Joe Speakman is on the photo, anything about him at all, it would very much help my Speakman family history searches. I don't think it is the Joe from Johnson's Farm in Lafford Lane, rather before his time.
Nellie and Lucy Valentine are my father's (John Valentine's) Aunties. They both died 15-20 years ago
My paternal grandfather's name was Joe Speakman. I wonder if it's the same one? He lived in Beggs, OK before moving to Petaluma, CA in the late 30's, early 40's. I believe he died in 1966(?). In any case, we're probably related!
I think his photo is amazing and my Nan's brother is in the front row. My nan's name was Nellie Mcnamara and her brother was James (Jimmy) Mcnamara. Any further info would be really appreciated! x
I seem to have pinned down the Joe Speakman to a son of William Speakman and Margaret Agnes (France/Wynn). He was born Joseph Francis in 1905, and was the only one to survive a sister Frances Mary (1903-1913), and brothers Thomas (1908-1916), William (born & died 1910), and Hugh (1913-1926). Anyone wanting more info please Email me.