Photos of Wigan
Photos of Wigan
Album Contents
Album Contents
Wigan Album
Bamfurlong Methodist Church
4 Comments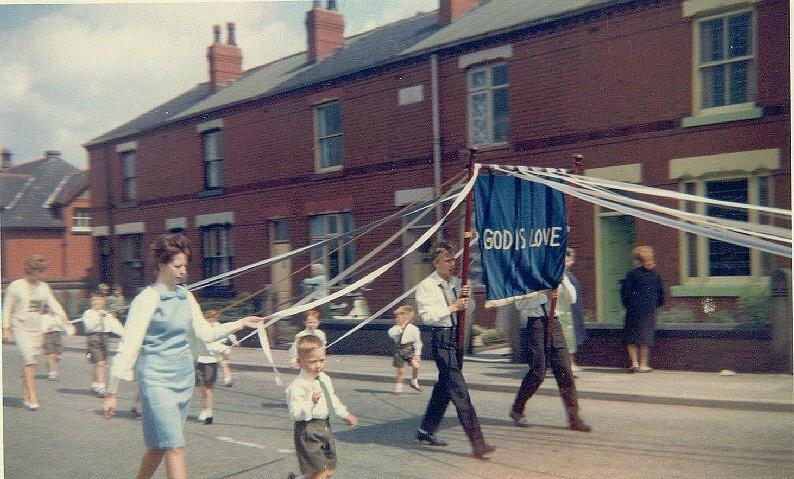 Bamfurlong Methodist Church Walking day, 1965.
Photo: Stuart Naylor
Views: 3,086
Item #: 9
Bamfurlong Methodist Church Walking day, 1965 on Lily Lane at Bamfurlong. In Bamfurlong today, there are two streets named, Enid Place & Dorothy Walk. These streets were named after two ladies who ran the sunday school, at the methodist church in Bamfurlong in the early 1960's. Enid was the Sunday school teacher and Dorothy used to play the piano, and help Enid look after the children. Enid died during the 1960's I don't know what happened to Dorothy.

The lady in the foreground wearing the light blue dress, white cardigan and holding a ribbon in her left hand was Dorothy.
I LIVED IN ENID PLACE FROM ABOUT 1962 TO 1969 WHEN WE CAME TO PERTH WESTERN AUSTRALAIA. NOS. 11 ENID PLACE I,LL GUESS NEXT DOOR TO THE HAYDOCKS MARIA I REMEMBER WELL AS HER PICTURE RESIDES IN MY PHOTO ALBUM TO THIS DAY. SHE HAD A BROTHER PHILLIP THEY OWNED A MAUROON HILLMAN?? SORRY ABOUT THE NOSE PHILLIP. THANKX FOR THE CAR RIDES WE NEVER DID OWN A CAR UNTIL WE CAME HERE.
Comment by: Rita Robinson. on 23rd March 2010 at 22:41
I think the woman in blue is Rita Conway.
Definitely Rita Conway in blue dress. Remember her well.
I believe Dorothy's last name was Lavery. Can't remember Enid's.
Comment by: Jean Stanley on 11th July 2021 at 14:20
Dorothy Lavery married and became Dorothy McCandless. She and my mum, Dorothy Stanley, shared organist duties at Bamfurlong chapel with Sue Poynton.