Photos of Wigan
Photos of Wigan
Album Contents
Album Contents
Wigan Album
St Pat's
6 Comments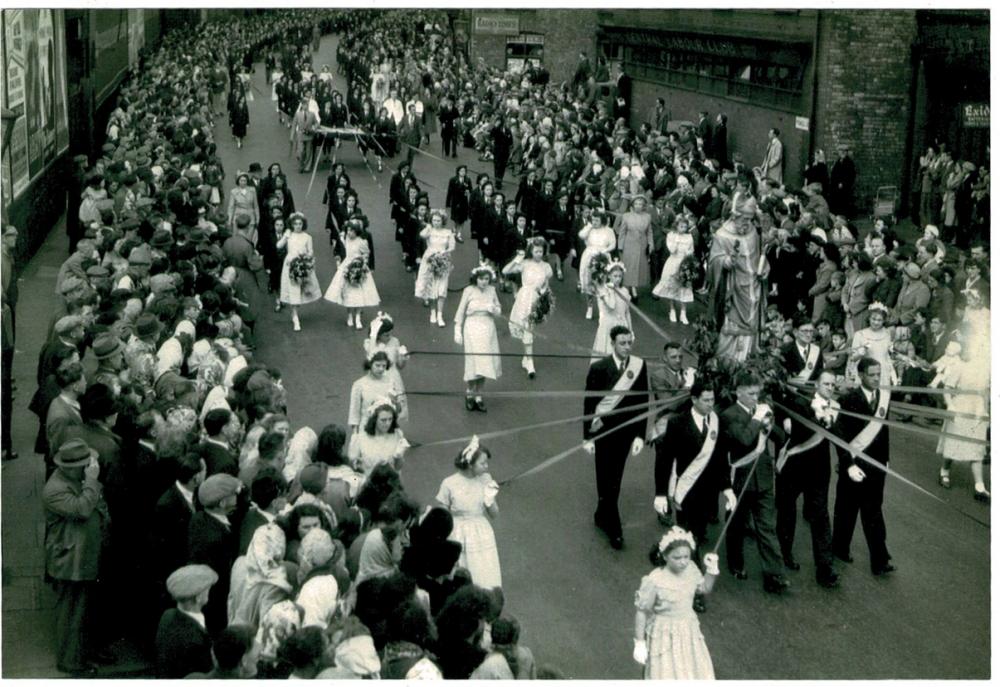 Greenough St. 1950's
Photo: TOM WALSH
Views: 457
Item #: 33930
Gerard Naylor front left, carrying St Patrick's statue
Comment by: Veronica on 28th July 2022 at 10:16
I remember walking in the bottle green uniform ranks! I must be somewhere amongst that lot. I think they made us walk in uniform so that we could wear it all through the year. It wasn't as exciting as wearing a frilly frock!
Comment by: Tom on 28th July 2022 at 13:47
They were never short of a good crowd veronica all gone now ,we didnt have much round scholes but they all did a smart turn out
Comment by: Veronica on 28th July 2022 at 15:52
You're right there Tom it was a big day in the Church calendar.. Scholes at every point was bursting, I think it was the skirrrl of the bag pipes, especially when the pipers did a bit of a dance. I think they saved themselves for coming through Scholes on our own territory. Whit Monday was a proud day.
Comment by: Peter Walsh on 28th July 2022 at 18:06
I was an altar boy at St Marys and one year lead the procession up Greenough street alongside a lad called Terence Hyland. In 1951 we lived in a flat at 3 Greenough Street, Dr Johnsons surgery and felt proud walking past the front door.
Comment by: Pete Barker on 28th July 2022 at 19:16
I could be in this lot . I was living on Gaskell street in 1956/1957. Though I was very young then.
Comment by: Tom on 29th July 2022 at 10:18
Remember Dr Johnson just below Reggie Sutton ,I lived in bolton st