Photos of Wigan
Photos of Wigan
Album Contents
Album Contents
Wigan Album
St Thomas's Walking Day
8 Comments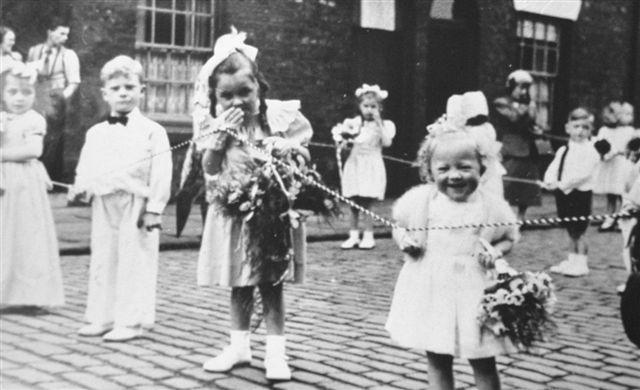 St. Thomas's Church Walking Day, York Street, c1951.
Photo: Dave Marsh
Views: 3,836
Item #: 165
St. Thomas's Church Walking Day, York Street, c1951.
kNOW THE GIRL AT THE FRONT DOROTHY and the little girl laughing
Comment by: Christine Caunce on 26th April 2010 at 11:00
I think that is me with the pigtails and ribbon at the front.
Comment by: dave marsh on 9th June 2010 at 19:46
The little boy is my brother John and the little girl laughing maybe Mrs. Tyldsleys daughter.The photo is in York St. and Mr.and Mrs.Hewit are stood at their front door.
Comment by: jean on 28th June 2012 at 10:29
Could the girl at the front be Dorothy Marginson? I think her hair may be in ringlets. I remember my mother wrapping my hair in strips of cotton cloth to make ringlets.
Yes Jean that is me,Dorothy Marginson,the girl next to me is Eileen Pugh.Happy days
Comment by: Brenda pennington on 26th January 2013 at 22:56
The first girl on the left is Brenda Oakes
yes i knew hewitts my dad was sol worthington singer we lived in swann st i walked in the ranks i remember brenda oakes n dorothy marginson i did lead the banner out one yr as christine warburton got a needle stuck in her foot n it moved dangerously she had loads of ops thus i wore a totally lst minute pretty dress i was chuffed but i think that wasaround 54/55 nice memorable pics
Comment by: Elizabeth on 6th May 2018 at 20:22
The little girl at the front laughing looks adorable.