Photos of Wigan
Photos of Wigan
Album Contents
Album Contents
Wigan Album
Birkett Bank
12 Comments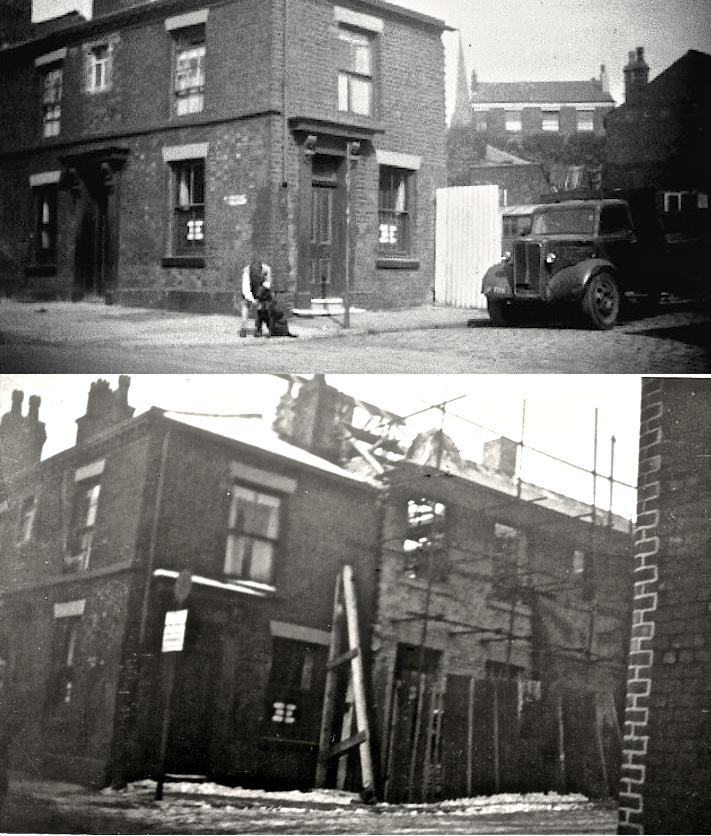 Birkett Bank & Birkett Street Corner 1955
Photo: Keith
Views: 2,769
Item #: 22431
This shows how the Crispin was built with two thirds demolished, one third continued serving customers and when the new part was ready business continued there.
Finally the rest of the pub was demolished and the project completed. The top photo may be of interest because I believe, rightly or wrongly, that the building seen "alongside" the spire of St Catharine's Church may be the Lodging House referred to in previous posts.
Comment by: John Gormally on 14th January 2013 at 21:40
Another interesting picture. The building to the right of St Catherines' steeple is definitely the Lodging House. It does appear to be larger than I recall it being, but I have no doubt that it is the Lodging House.
Comment by: Maggie K on 14th January 2013 at 22:01
I think you could be right about the lodging house. I was born next door to it. I would love to know why such a nice large house was built there before it was lodging house. Great to see a photograph of it.
Comment by: AB on 15th January 2013 at 09:39
The law was such in those days that a pub would lose it's licence ,if closed. This law was changed later after a pub in Preston, The Greyhound, I think, collapsed during alterations and several customers were killed.
Comment by: Keith on 15th January 2013 at 15:20
Thank you for that info' AB, all I know is that what was left of the Crispin, the part that was operating as the pub, used to shake every time a lorry passed. We were very aware it was an unsafe structure, especially after the workmen told us the building never seemed to have any proper foundations. I think we were lucky to get away with it.
Comment by: jim holding on 15th January 2013 at 17:32
John,,

I dont think it is the lodging house,that was situated more to the right and as you say it wasnt such an imposing building.
I think it was the little block of 3 or 4 houses at the end of Leader St viewed from the back.
The Lodging house was at the very end of BB Terrace just before the slope that led down into Birkett Street.
Its probably worth checking the same view now >It just might be possible,(or when spire is rebuilt that is)
Comment by: Maggie K on 15th January 2013 at 18:45
Looking at it again, I think you could be right Jim. - the Lodging House had a door in the middle with widows at each side. I believe it had a big garden, I never went in it. I think David Carnforth lived at the beginning of Leader Street and possibly the Sunday School teachers the Misses Shacklady and possibly the verger from the Church.
Comment by: Keith on 15th January 2013 at 21:01
Hi Maggie and Jim, I have absolutely no idea if it is the Lodging House or not. I offer this only as a comparison and perhaps a feeble one at that, If you look at,
http://www.wiganworld.co.uk/album/photo.php?opt=4&id=22019&gallery=Birkett+Street%2C+Scholes&offset=360
then you see the side wall of the actual house in question and it has a white chimney not unsimilar to the white one we can see in this photo - I told you it was feeble.
Comment by: John Gormally on 15th January 2013 at 21:36
I am convinced that it is the Lodging House. It is much too close to those bushes in front, which ran along Birkett Bank Terrace, to be the backs of houses on Leader St. It would also be hard to explain how three or more houses would have chimneys only at the ends of the block.
Comment by: jim holding on 16th January 2013 at 13:45
Maggie/John/Keith

I wouldnt like to argue either way its just that I dont remember the lodging house being such a big building and I take your point about the chimneys,
Maggie ,,George Rudd who was the verger did live in on of the houses(Eddie Rudds father who was a teacher at St Catherines as has been mentioned before in class pics with Keith)and yes David Carnforth did live in one as well,had forgotten about him and I do believe the Mizz Shackladys were his aunties
Comment by: Maggie K on 21st January 2013 at 23:26
Jim, I have a great photo of my brother with David Carnforth. And I remember Mr Rudd. I have Sunday School prizes that the Missess Shacklady wrote in.
my name is paul higham i was born at no 15 birkett bank on 24 of sept 1967 i was brought up with anne n chris higham i recognise the lodging house and i really think it is it if anyone has any more picturesof birkett bank i would really like to see them my email is higham2000@hotmail.com if you want to contact me. Or just post them on wigan world if you remember any of my familly i would like to hear from you
Comment by: Methinks on 26th October 2015 at 23:01
Hello everyone, just seen these pics, I'm sure it is the Lodging House, which became the White House Youth Club,
Miss Shacklady's house and Mr Rudd's would have been more to the left and set further back nearer to the vicarage and church. Regards