Photos of Wigan
Photos of Wigan
Album Contents
Album Contents
Wigan Album
Chapel Lane, Wigan
13 Comments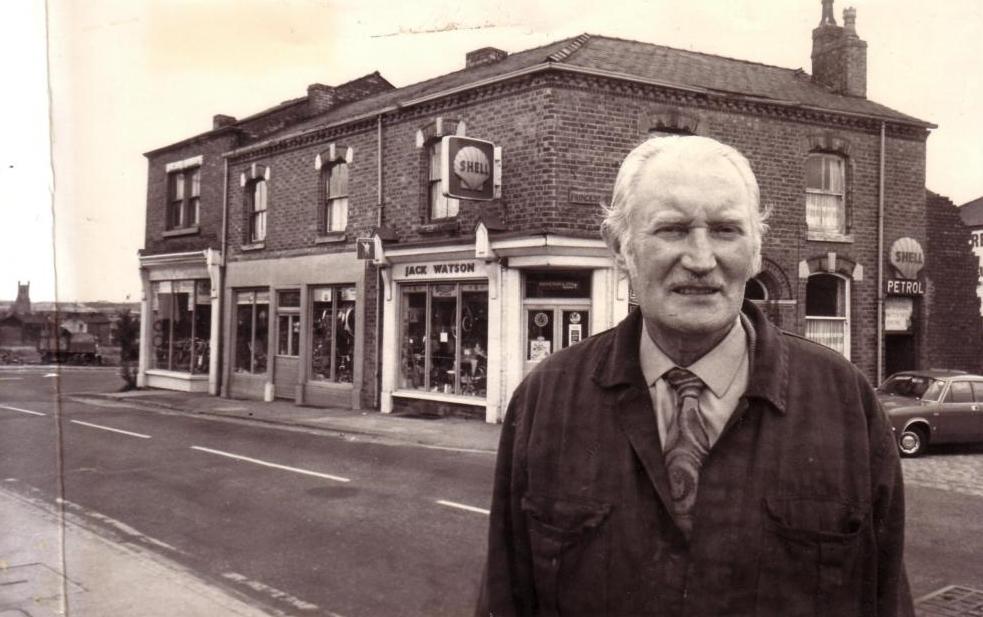 JACK WATSON'S BIKE SHOP
Photo: RON HUNT
Views: 1,833
Item #: 32172
Another photograph I found on the site. Jack Watson outside of his Bike Shop Which was on the corner of Princess St and Chapel Lane.
Comment by: DerekB on 8th May 2020 at 13:09
Don't remember this at all. Was wondering why the Shell sign was there until I noticed that petrol was also sold from a pump at the side.
Comment by: Mr X on 8th May 2020 at 13:56
I don't remember this bike shop in Chapel Lane. These buildings were demolished in the early 1980s. There used to be Comet electrical store behind. St James church can be seen, and the car is an early Morris Marina 1971-75 model on account of the wheel trims. There were two facelift models in 1975 and 1978, before the restyled Ital in 1980.
Comment by: Thomas(Tom)Walsh. on 8th May 2020 at 16:55
Mr Watson was a gentleman. The petrol pump came out on a sort of hinge from the entry at the side. The building you can just see on the right was Mawdsley's Jam Works later Princess Mill Furniture store by Berwick James Lowe.
Comment by: Cordy on 8th May 2020 at 18:48
Yes, I remember Watson's cycle shop. Fr. Cronin a priest at nearby Saint Josephs Catholic church purchased his bike there.
He bought it on instalments -- Seven shillings and six pence a month
Comment by: Maureen on 8th May 2020 at 19:33
Oh..Fr Cronin,that brought a smile to my face...he was full of it..every Sunday morning he would take all our beret off just before mass was due (there was always five of us girls)then he'd throw them into the road,we'd get them,make a dash to one of our friends house who lived four doors away from Church to straighten them again..then in the pulpit he would always make a reference to the girls who were continually late for Mass..
Comment by: jed on 8th May 2020 at 19:37
Got my raleigh racing bike late sixties for Xmas, used to go to jacks for donkey elastic to make catapults
Comment by: Garry on 9th May 2020 at 01:01
The photo was taken by the Wigan Observer in 1976 and is in item number 242 by Darren Atherton. Another great photo from a golden age.
Comment by: AH on 10th May 2020 at 12:59
got tricycle and first bike [Phillips] from here 1950s.jacks son went to all saints sec mod ;also jack watson
Comment by: Pw on 10th May 2020 at 16:59
I remember Jimmy Watson from Horwich loco works,Jacks son.
Comment by: AH on 11th May 2020 at 08:52
Pw:jacks son, who was at all saints will be aged 69/70 today.could be same person as jimmy who worked at horwich loco: called jack at school for obvious reasons
Comment by: Pw on 11th May 2020 at 10:03
AH. The age is correct.Jimmy had a minivan when he worked at Horwich.We went on holiday to Spain,early 70's,three of us flew there but Jimmy went by train on his own and met us there,also had a holiday in Jersey with him.He was always good for a laugh.
Comment by: JM on 11th May 2020 at 10:25
A real gentleman know both sons John Malcolm (deceased)and James was a Millwright at Horwich and then Prison service.