Photos of Wigan
Photos of Wigan
Album Contents
Album Contents
Wigan Album
Whelley
7 Comments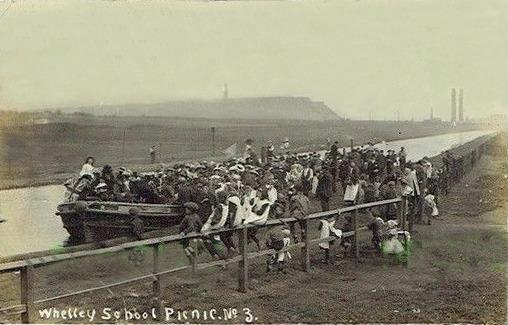 WHELLEY SCHOOL PICNIC
Photo: RON HUNT
Views: 1,634
Item #: 31314
HEALTH AND SAFETY WOULD HAVE A "FIELD DAY"
Comment by: irene roberts on 8th July 2019 at 12:06
You are so right, Ron! You climbed on a crumbling old wall with about with twenty other kids. You fell off and grazed your knee. You ran home yelling. Your Mam said "You're not dead", put a plaster on, gave you a jam butty and you got back on the wall. Job done. No-one rang the council and the wall continued to crumble and continued to be your playground. Forget X-boxes, computers, I-pads etc. etc......health-and-safety has done more to ruin childhood than anything else.
Incidentally, my Mam used to tell me about canal-boat trips to Gathurst when she was young....apparently, there were swings and you could get a cup of tea at a little wooden hut.
Comment by: RON HUNT on 8th July 2019 at 12:16
IRENE MY DAD TOLD ME THE SAME THING ABOUT GATHURST I BELIEVE PEOPLE WENT THERE FOR THEIR HOILDAYS I CAN REMEMBER IN THE 1970'S SEEING 3 OLD RAILWAY CARRIAGES ON TOP OF THE HILL OPPOSITE THE TOW PATH I BELIEVE THESE ARE WHAT THE PEOPLE STAYED IN. I HAVE A POSTCARD SOMEWHERE?? SHOWING KIDS PLAYING AT GATHURST IN A STREAM EARLY 1900'S
Comment by: Poet on 8th July 2019 at 13:33
A boiling hot day. No cloud over Glover's pond. You once had to arrive there very early to get a place to fish especially during the school holidays. Sometimes the rods were so plentiful they almost touched in the middle like spokes on a wheel.
I went there yesterday and disturbed a huge heron , but saw no kids. I don't think they fish anymore.
Comment by: AH on 9th July 2019 at 08:35
Ron; where is the location ?
Comment by: Jarvo on 9th July 2019 at 11:53
That barge is dangerously overcrowded.
Comment by: RON HUNT on 9th July 2019 at 21:56
AH sorry I have no idea.. Probably up towards the TOP LOCK area???
Comment by: AH on 10th July 2019 at 08:08
Thanks RON ;looking again possibly between NEW SPINGS bridge and TOP LOCK ; WUTCHY slag heap in the back ground ALBION STEEL WORKS chimney top right.