Photos of Wigan
Photos of Wigan
Album Contents
Album Contents
Wigan Album
Bryn
28 Comments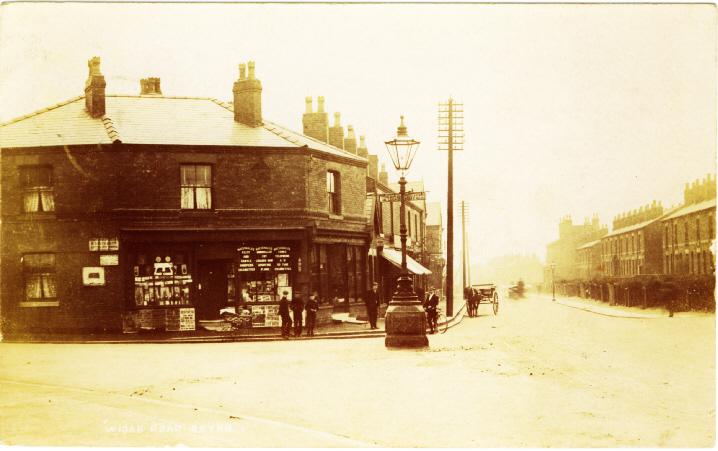 bryn cross
Photo: Allan Hughes
Views: 3,611
Item #: 16294
Bryn cross looking toward ashton, date 1903. that gas lamp would be a traffic hazard if it was still there! photo by pemberton photo co.
Comment by: janet on 8th November 2010 at 22:27
My Great aunt and uncle lived in the first row of Terrace houses.. I used to love going there..
My wifes family used to have the shop,her brothers and sisters were all born there in the adjoining house which extended over the shop.Brilliant photo never seen this one before.You can just make out the Britannia pub which was the Railway hotel in those days.
Comment by: Karen on 8th November 2010 at 23:51
Well!!! I never knew "The Britt" was called the Railway.
Great photo. X
Comment by: Mrs Jones on 8th November 2010 at 23:53
Comment by: spectre on 9th November 2010 at 08:46
Karen-I had a photo of the brit that had the name Railway hotel written on the side facing the railway,can't find it anywhere.Mrs Jones-Sam Green was my father-in-law.
Comment by: Gerry on 9th November 2010 at 10:12
My mate Brian Cunliffe lived in those houses on the right he lived with his aunt.
Comment by: atlas on 9th November 2010 at 13:22
i was born in Bryn and my mother told me about the gas lamp and can see it for myself now, thanks for posting a great picture Allan
Comment by: Jackdog on 9th November 2010 at 16:46
Britannia = Wally Bishop's
Comment by: Karen on 9th November 2010 at 17:00
Its a pity that spectre i would have liked to see that.
Comment by: nyce horse on 9th November 2010 at 22:12
My old boss used to tell a tale of somebody climbing up onto the push-bike above the shop in the picture, sitting pedalling away.
Comment by: Vicky on 9th November 2010 at 23:12
my husband was born in that house on the 14-11-1958 in the room above the shop. WONDERFULL
Comment by: spectre on 10th November 2010 at 00:07
Karen-if you look under places of Bryn on page 2 at the map of Bryn railway station the name of the pub is The Railway Hotel,date 1901.
My Mom was from Bryn - and I vaguely remember Bryn Cross - does anyone have a more recent photo? My Mom just recently passed away - she was raised at #21 Whitledge Green. I'm remembering that this wasn't far from her home. Thank you for your help.
Comment by: spectre on 12th November 2010 at 07:32
Was in Dave Brogans butchers yesterday he has an almost identical photo hung up behind his counter,the horse and cart is there but there are a few children in the road and the man on the bicycle isn't there.
I remember as a kid we used to travel from Aspull to Bryn Cross then walk to Downall Green to my uncle and aunts the Lowes, sond jack, Billy and Leonard.
Great times.
Another fascinating photo Allan , i don't know where you get them all from !!!
Comment by: Allan H on 14th November 2010 at 17:38
17 years of collecting old photos Scott, local photo history just appeals to me, they are getting harder to find now.
Comment by: Paul H on 14th November 2010 at 20:00
Hi Allan - do you happen to have any photos of the houses opposite the Bath Springs my grand parents lived there in the 60's and I am trying to find a pic Cheers Paul
Comment by: Paul H on 14th November 2010 at 20:02
Message for Scott - is that the same Scott who's Mum was Joan?
Comment by: Allan H on 14th November 2010 at 23:04
Hi Paul, sorry I can't help with that, maybe someone has a walking day photo with the houses in the background?
Message to Paul H , yes my mum was named Joan , sadly she is no longer with us , she died 8 years ago .
Hi Scott - I thought it was you ! how is your Dad? hope he is OK I went mithering him the other year for some family history pics of the Stirrup's that your Grandma may have had but he didn't have very many - you dont happen to have any do you? I have got the Stirrup family tree back to the late 1500's on one of the branches - let me know if you want a copy
Hi Allan,do you have any more old photos of North Ashton / Downall green or Garswood ,I like old photographs as well , and i am particularly interested in photos around North Ashton and if you have any of North Ashton Village club that would be great. Janice Ryder also puts fascinating pictures of area on .
Hi Paul , long time no see !! . I would be very interested in seeing our family tree as well as any old photos that you have that i may not have . Nice to hear from you , Many thanks .
Comment by: david on 5th December 2010 at 09:54
I remember the first shop as Green's and the second as Morton's the grocers, I rode the order bike for many years, the manager was a Jack Houghton who lived in Landgate.
Comment by: JOSEPH767UK on 9th December 2010 at 23:46
I WAS BORN IN THIS HOUSE 1958. REMEMBER HELPING JACK HORTON TO PUT SUGAR IN BAGS. THE BIKE I SEEM TO REMEMBER WAS MADE OF CAST IRON WITH A BIG BASKET ON THE FRONT.
Comment by: JOSEPH767UK on 10th December 2010 at 14:14
I JUST REMEMBER THAT I SAW JACK MORTON IN NEWS AND CHEWS NEWSAGENTS IN ASHTON MAYBE 8 YEARS AGO. HIS SON IN LAW USED TO OWN IT BUT IS NO LONGER THERE. JACK WAS LIVING NEAR THE JUBILEE PARK ON WIGAN ROAD. HE WAS IN HIS 90S AT THAT TIME DONT KNOW IF HE IS STILL AROUND.
I was born in Eddleston St Rose Hill.in the forties. I remember Mortons I used to shop there for my mum. the person who served me was a Persy??i think.Does anyone remember the Gregorys from Rose Hill