Photos of Wigan
Photos of Wigan
Album Contents
Album Contents
Wigan Album
St John's, Pemberton
9 Comments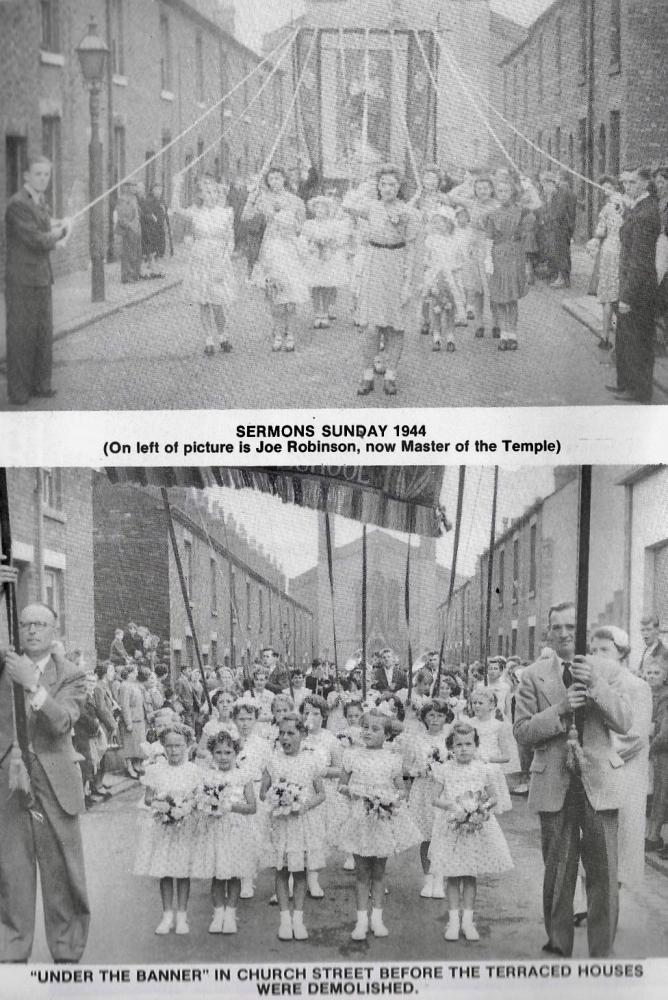 "Under the banner" in front of St. John's Church, Church Street, Pemberton
Photo: Michael Ardern Mason
Views: 921
Item #: 33546
On the left of the top photo is a St. John's old boy, Joe Robinson, who was later ordained and became Master of the Temple Church in London. Both of the photos were taken before the Church Street terraced houses were demolished.
Comment by: Edna on 15th February 2022 at 15:56
My sister in law lived in one of the houses on the left, in the middle of the second row going down.She married my brother, in this church. They have been married 65 yes next month..Did you know anyone called Lancaster Michael ?
The top photo mentions "The Sermons". I lived in Ince but Walking Day was held in all areas of Wigan, and "The Sermons"was an open-air Service, usually on the second Sunday of "The Walks" as a kind of "finale" until the following year. We always seemed to have a guest speaker who didn't know when to stop, and my Dad would mutter, "Owd Mon.....that corn't PORR 'im off!" Eventually the speaker would run out of steam and we all went to either Ince Park or a local playing field for the "field treat". This consisted of pop and crisps, or maybe tea and biscuits, a good gossip for the Mothers, and games with prizes for us children. I once won a little autograph book at Rose Bridge field-treat and pestered the neighbours all week for their autographs, as well as the lollipop man and the road-sweeper. Even our coal-man signed it with a sooty flourish! Such happy days, everyone, weren't they?
I have put a comment on here but it has not been added. Will try again later.
Comment by: ttd on 16th February 2022 at 13:20
Ronnie Lancaster lived in Church st.
Comment by: Edna on 16th February 2022 at 15:08
ttd Richard ( Dick) Lancaster lived there as well.He had a daughter, my sister in law, and a son Leonard Lancaster. But sadly Leonard passed away.
Comment by: Edna on 16th February 2022 at 15:13
They are lovely memories Irene. I remember going to the field treats with my friend, who wa.,Ed with St Catherine's, on the Rec, at the bottom of Lorne St.They used to walk Sat and Sun.
Comment by: Donald Underwood on 22nd February 2022 at 13:41
I knew Joe at the Temple Church

He passed away some years back

I don't know if Ann his widow is still here.She was a Kitt Green girl ,maiden name Antrobus

Joe's parents kept the Miner's Arms(or is it Miner's Lamp) on Orrell Road
Comment by: Mick LD on 23rd February 2022 at 09:53
Donald Underwood - I have been told Joe Robinson's widow Ann is no longer with us.
They were both friends of my late mother, who worked with Ann (or Annie as she knew her) in the office at Colliery Explosives, Hawkley Hall, in the 1950s.
Comment by: Donald Underwood on 23rd February 2022 at 11:02
Mick LD Thank you for letting me know