Picture Post 1939. Kindly submitted by Ron Hunt.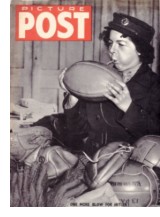 Picture Post was a magazine that pioneered photojournalism, it was first published in 1938 by Edward G. Hulton. The magazine was an immediate success and after just four months was selling 1,350,000 copies a week.
In the magazine published on November 11th 1939, an interesting 9 page article about Wigan was included as a pictorial feature. The article titled "LIFE IN WIGAN" included text and 30 photographs of places and people not long after Orwell's visit to the town.
LIFE IN WIGAN:
Select a page below:
[Page 1]
W I G A N
[Page 2]
Pier, School and Park
[Page 3]
Keep-Fit, Shopping Centre and Parish Church
[Page 4]
The Territorials, Jimmie Sullivan, James Starr, The Rector and Major J.S.A. Walker
[Page 5]
Mill Girl, Pit-head Baths, Municipal Committee
[Page 6]
The Men Who Stand and Wait, The Men Who Dream About Coal
[Page 7]
The Boy Who Wants to be a Miner, Shelters Against the Bombs, and Shelters Against the Rain
[Page 8]
Evening Class, A Talk on Tactics in the Changing Room, In a Cotton Mill, A.R.P. Drill at Whelley School, Dancing at the Empress Hall
[Page 9]
Cowheel Pie, A First-aid Squad Stands By, Wigan Library, Clog-Maker, Wigan Grammar School

Click any photograph for a larger view.