Wigan, The "Borough" Guide. c1910. Kindly submitted by Ron Hunt.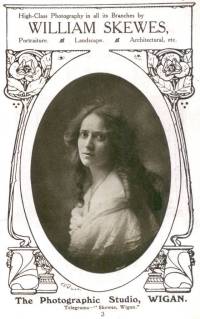 Probably the earliest Wigan Borough Guide printed. Adverts have superb old photographs of shop fronts etc. Lots of interesting text including possible origins for the name of Wigan, population, c91,000.
Select a page below:
[Cover] Poor scan, black on red.
[Inside cover] Borough Guide Series for other towns
[Page 1] Rigby's Footwear (photo ad)
[Page 2] J. Gregory, Tailor (photo ad)
[Page 3] William Skewes, Photography (photo ad)
[Page 4] Winstanley & Son, Jewellers (photo ad)
[Page 5] A Guide to Wigan
[Page 6] Swales & Son, Jewellery (ad)
[Page 7] Photo, Market Place
[Page 8] R. Platt, Ltd. Booksellers (photo ad)
[Page 9] Photo, Wallgate
[Page 10] J. Penningtonm Dispensing Chemist (photo ad)
[Page 11] Photo, Royal Albert Edward Infirmary
[Page 12] P. A. Kinley, Speciality: Neckwear (photo ad)
[Page 13] Text, WIGAN
[Page 14] Text, WIGAN
[Page 15] Photo, Market Place
[Page 16] Text, WIGAN
[Page 17] Photo, The Market Square
[Page 18] Text, WIGAN, MODERN CHRONOLOGY
[Page 19] Text, COMMERCIAL FEATURES, THE PARISH CHURCH
[Page 20] Text, THE PARISH CHURCH
[Page 21] Photo, The Parish Church (All Saints')
[Page 22] Text, OTHER PLACES OF WORSHIP, MAB'S CROSS
[Page 23] Photo, The Grammar School
[Page 24] Text, FREE PUBLIC LIBRARY, READING-ROOM AND CARNEGIE LIBRARY
[Page 25] Photo, The Municipal Offices
[Page 26] Text, TECHNICAL COLLEGE, THE INFIRMARY
[Page 27] Photo, The Mining and Technical College
[Page 28] Text, RECREATIVE, WIGAN AND THE NEIGHBOURHOOD
[Page 29] Photo, Entrance to Mesnes Park
[Page 30] Photo, Mesnes Park
[Page 31] Photo, Entrance to Haigh Plantations
[Page 32] Text, WIGAN AND THE NEIGHBOURHOOD
[Page 33] Text, WIGAN AND THE NEIGHBOURHOOD
[Page 34] Text, WIGAN AND THE NEIGHBOURHOOD
[Page 35] Text, Swales & Son
[Page 36] Barnes', Restaurant (photo ad)
[Page 37] The Premier Toilet Saloon (photo ad)
[Page 38] Hotels Recommended (ads)
[Page 39] Photo album, Pocket Guides (ads)
[Page 40] Will Smith, The Postcard King (photo ad)
[Inside back cover] Motor Index Marks - Wigan is EK
[Back cover] Poole's Central Warehouse (ad)
[Rear of map 1] R. V. Swarbrick (photo ad)
[Rear of map 2] Lace and Co., Ironmongers, Cutlers... (photo ad)