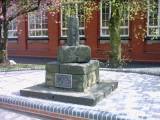 Mabs Cross
The legend dates from 1295 when Sir William Bradshaigh married Mabel Norris de Haigh. According to the most popular version, William was absent for so long in the Holy Wars that Lady Mabel assumed him dead and married a Welsh knight.

After seven years Sir William returned, disguised as a palmer, pursued the Welsh knight to Newton-le-Willows and killed him there.

As penance for her bigamy, Lady Mabel regularly walked barefoot and sackclothed from Haigh to the cross in Wigan Lane, which henceforth became known as 'Mab's Cross'.

Shame the vandals can't leave anything these days...