1272 people listed, click an area of the map:

or click here to join them.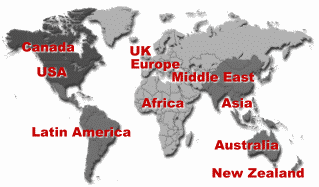 New Zealand (61)


Dennis Dickinson from Palmerston North

Comments: Originally from UpHolland, i left in 1967 to move first to Toronto, Canada for nearly 6 years, then to South Africa (going 'overland' from London to Capetown). Then in 1974 i moved to New Zealand.

I miss: I miss the Wigan sense of humour, good bacon, watching the mighty Wigan R.L.F.C. and of course my family. I don't miss the crowds, traffic jams, wet cold winters :) lol
Stephen Parkinson from Masterton

Comments: I used to live in Wigan as a lad. Mum, Dad my brother Tony and me moved to New Zealand in 1974, when I was 6 yrs old. All my Dad's side of the family are still in Wigan or thereabouts. I'm now married with 4 kiddies of my own. I work for Toyota, but I also do a bit of freelance jingle writing for radio stations. I've been playing in bands since I was 16 and love my music.

I miss: My Nan still lives in Wigan and I've always missed seeing her and my 4 uncles, one Aunt and many cousins that haven't seen since they were nippers. What I also regret about not being in Wigan is the chance to pop down on a weekend and watch the mighty Wigan Warriors. My brother went back to Wigan for a year or so in the late 90's and said that the Rugby League was brilliant. PS Hi to Nan, Uncles Dave, John, Billy and Jeff and Anne. PPS The beer over here is bloody awful!
Brian Darbyshire from Auckland

Comments: I left Higher Ince in 1969 to go to Australia and from there came to New Zealand in 1974. I am a mechanical services supervisor for a large construction, my work takes me all over the South Pacific and of course NZ.

I miss: The close nit community, the local pub and of course Wigan RL
Allan Winnard from Tauranga

Comments: brought up in Newtown and then shifted at age 18 to Orrell near the Old Engine. Moved to Winstanley when i got married. Then to Falmouth in Cornwall for 12 months. Came back to Winstanley then emigrated to NZ in 1974. I am a self employed Draughtsman.

I miss: Pooles and Hampsons pies. Black peas. Steak pudding Chips and peas. Steam railways. Pint of Tetleys bitter. Fishing.
Carol Orr (nee Perry) from Whakatane

Comments: I used to live in Poolstock. I was born in France but my father was english and a Wiganner. Taken to Wigan at the age of about two. Went to Poolstock school. My headmaster was Mr Horrocks. Canal across the road. Caught a pike once and kept it in a bath in the back yard such as it was. Came to New Zealand in 1956/8. Lived in Rotorua 30 yrs now in Whakatane 20 odd years. Growing Kiwifruit on 5.5 hectares.

I miss: Too young to really miss much, but do remember milk brought round by horse and cart-horse had feed bag. Snow outside the door. Lucille Hewitt (barmaid for jack and Annie at rovers return) was our next door neighbour. Walking days.
John Powell from Auckland

Comments: Lived in Wigan from 1951-1988 I was from Pemberton originally then moved over to Wigan Lane area, finally settling in Pemberton again. I moved to New Zealand in 1988 to be with the rest of my family who moved previously. Married in 1996 and have 3 boys . I am into photography and computers.

I miss: MIss friends, family , Wigan Cricket club. Voses pies Rivington pike on Good Friday. Match of the day, etc etc
James Ernest Roscoe from Kaiapoi Nr Christchurch

Comments: Was born in pemberton but lived in standish before emigrating. Iam a self employed painter & decorator. have 2 married kids and 6 grandchildren. my wife's name is Marion (nee pilkington)

I miss: family of course but keep in contact at all times. pies yes i miss them and the wigan sense of humour. family & very close friends would be the most we both miss even after 30 yrs,but would not go back to wigan to live
Ray Bowyer from Auckland

Comments: Used to live in Appley Bridge/Wrightington. Went to St.Peters, then Wigan Tech. I'm working as a Graphic Designer in NZ and loving it. Left UK '95, spent time in Asia and Aussie before settling in NZ!

I miss: My mates from school/college... apart from that... nowt!
Angela Beard nee Chisnall from Papamoa, Bay of Plenty

Comments: used to live in Bryn (Richmond Road) until 1964, then Ashton until 1968 when to live in Zambia for five years. Now in New Zealand since 1974. Would love to hear from old friends

I miss: Definitely miss Pools Pies, mushy peas, Tesco supermarkets, Marks & Spencer but most of all the people
Tony Hart from Auck land

Comments: Been here 4 months at time of writng, originally form LR Ince, but been living in Springfield for last 12 years,working as a ecological restoration co-ordinator in a bush reserve, absolutely lovin it

I miss: Things i miss the most......obviously the pies, although they do sell decent ones over here. Its got to be the humour, there's no where like the wigan sense of humour
Thomas Edward Brian Arrandale from Pirongia. Waikato.

Comments: Born Gidlow 1929.Hindley till 1937 Wigan 1950/51. worked Thomas Crompton. Left for Australia 1952, New Zealand 1955. Work Publishing, then Dairy Farming 1958-89. married with 4 children Now retired and writing articles

I miss: The atmosphere, probably the old days and visits to Central Park, walking in Mesnes Park on a Sunday.
Sarah Ropiha nee Bux from Hawera Taranaki

Comments: Born in Aspull 1975. Moved to new zealand in 1998 after meeting my husband in wigan who is from new zealand. Have two sons one born in wigan and the other was born in new zealand.

I miss: I miss my family so much especially my mum and dad. who both come over here ever few years. I miss the nightlife especially on a saturday night. I used to work at pooles pies and miss the pies and the laughs we had there. And i miss proper rugby from the wigan lads.
Frank Moseley from lower hutt

Comments: lived Kays Houses 1930s then Warrington Road Lower Ince. Emigrated to NZ 1957 now retired

I miss: miss the old markets, meat and potatoe pies. have been back several times, dont miss the cold weather.
Wendy Blakeley-Read from Auckland

Comments: born in Pemberton meet my husband - a kiwi in the white swan pub 17yrs ago come and gone between the countries untill finally setteling here 5 yrs ago.Have 2 children and also work in childcare

I miss: meat and potatoe pies,a good cider and black, the night life, christmas in winter time , the smell of candy floss and donuts in Blackpool and of course family and friends.
janet macmenigall(nee hibbert/worswick) from whangarei

Comments: lived in billinge then winstanley went to st marys billinge & st peters orrell,worked at the mount on & off.Followed my family to nz in 1992 and haven't looked back

I miss: friends, (hated rugby & pies),news of the world,walnut whips,cherry pie filling
Peter Austin Gibbons from Hamilton

Comments: Judy,my wife,and I,used to live in Highgate Crescent, Appley Bridge. We are both retired and moved here to be near our son, Antony, and our grandson, Samuel.

I miss: Greenhalch's bread, pies & pasties. They haven't a clue here. Some great pubs/restaurants though.
Toni from Aukland

Comments: Hay i used to live in Beech Hill, but lived in Whelley till i reached high school then moved to Beech Hill to be closer to John Fisher. At the moment my living is keeping myself well as im pregnant, with my first child. Hes going to grow up a little kiwi hes father is a kiwi so unfortunatly hell be supporting the All Blacks instead of the Lions.lol

I miss: The things i miss alot at the moment are food, Strawberry liquarish wips and rice pudding, oh and Dandilion and Berdock mmmmm... When i wasnt pregnant though one of the things over here is that its hard to fing a decent pint in a decent pint glass.As you cn imagine English beer is quite expensive over here.
graham grange from christchurch

Comments: Lived in henry park st;Hr:ince moved to new zealand in1965 mis watch Wigan rfl. but can now watch wigan athletic regulary went back in 1995 some things changed alot still the same loved it.

I miss: miss marsdens pies in wallgate.miss the old Empress hall
Ann Waterworth (nee Catterall) from Putaruru

Comments: Born in 1969 - Brought up at Orrell Post then married my hubby from Wrightington. Have 2 boys - 1 born @ Billinge Hospital & 1 born @ Waikato.

I miss: I miss nights out at the Riverside, PEMPS, Pooles meat pies, tizer and midget gems....
John Waterworth (Jnr) from Putaruru

Comments: Born in 1969. Farmed at Robin Hood Lane, Wrightington and the family had a milk round. Entire family emigrated between 1997/1998 and love it. Went to Bishop Rawsthorne High School in Croston. I could never get into PEMPS.......

I miss: Pies of any kind - any Maynards sweets that don't cost an arm & a leg coz they're imported, Riverside nights and Wigan Lane pub crawls and a good curry house!!
maureen whelan from auckland

Comments: Used to live in Bickershaw, moved to Mee Brow and then came to New Zealand. Don't work am a marries woman

I miss: I miss everything about Wigan as it was in 1966
Pauline Settle from Christchurch

Comments: Was born and lived in Higher Ince most of my life, then Bickershaw for 15 yrs prior to the big move, at the moment I don't do owt for a living as we've only been here since 2/12/06. It's a great place and we are in New Brighton near the beach (no not Liverpool as my Mum said when we told her) I live with my partner Gary who is into computers for a job as well as a hobby. We both think that the people over here are great - they can't do enough to help you. No regrets so far about the move.

I miss: I don't really miss all that much except the obvious family and friends - it was not that much of a culture shock. One of the gross things that I've personally found is that they put sauce on pizza's -(bbq to be precise) can't be doing with that. Pies are not as we know them - but who wants to eat pies all the time anyroad. You can get all sorts of stuff that you want only it's probably called summat different - Watties is Heinz and Streets is Wall's The only thing I really really miss is a decent cider - have only found some ok ones so far nothing great.
David Pennington from Auckland

Comments: I use to live in Standish until july 26/7/06. Good mate of Andy Gregory and St Pats Rugby Leauge Club.

I miss: Steak Pudding, cold Guinness, my Family and Friends.
Dave Collier from Christchurch

Comments: I used to live Hindley Went to mornington Rd school. I used to write commmodore c64 computer games. I now work as a software test engineer in christchurch. Me and my wife moved to NZ in 2000

I miss: Just the mates cycling in the rain. Old friends amd family.
John Rimmer from New Plymouth

Comments: I was born in 1970 and went to Deanery High School. I grew up in Park Rd, Springfeild (it was nice then though :) ), last lived in Whitley and moved here to NP in 2005. Still work in I.T. at a bit more of a relaxed pace and i am enjoying the lifestyle.

I miss: Things are pretty much the same really, Taranaki has the same type of wet weather. Of course i miss decent pies and crave for a good heap of mushy peas on the side of my plate (not to mention Babiz yed). I actually miss good asian and indian food, things are a bit more bland here and generally accompanied by stuff like Kumera and Pumpkin.... yuk! ooh, must go Surf's up! Awesome!
phil sutton from not sure

Comments: i need to contact douglas heaton who used to live on bolton rd aspull wigan or any of his friends or family who can get a very important msg to him,doug used to go to aspull high school 1980 to 85 worked at culraven haigh for a while and gullick dobson,ta

I miss:
andrew james roscoe from kaiapoi

Comments: moved from standish in 1974 to christchurch new zealand with mum (marion) and dad (JIM) and sister lorraine . have been married for 21yrs to barbara and have 4 kids and im a self employed bricklayer.

I miss: all my family
andrew david newsham from Gisborne

Comments: I was raised in Aspull and went to Aspull C of E primary school and Aspull High and left for N.Z. in 1981.

I miss: I miss going to watch the football and a decent pint of bitter.
Victoria Helen Collier (Vicki) from Auckland

Comments: I used to live in Pemberton Wigan. I've lived in NZ since 1996 although been back a forth for a few years. I'm now a forensic occupational therapist in Auckland.

I miss: Rugby league chicken pasties... Thorntons vienesse truffles... uncle joes mintballs... Prince's night club (probably not called that anymore)
Suzanne Hendon nee Winstanley, Schofield, Brockbank from Takapau, Central Hawkes Bay

Comments: Born in Abram in !957, went to Mornington High till '76, moved to Somerset in 1990, married 3rd hubby in 2002, moved to NZ 2007. both work in the hospital, me as an Audiometrist. have one daughter (11yrs), 2 dogs, 3 cats (brought from UK) 1 horse, 2 sheep, 2 goats, 2 pigs, 2 roosters 5 chickens and 3 chicks. wanted a total change of lifestyle, and got a wonderful one. 1st time i have ever worn wellies!!

I miss: Friends. Saturday or Sunday lunchtimes going to pub for lunch and sitting outside with friends. Shops, Dotty P's, M & S. Certainly not the weather, (went back Dec and had to have lights on in house all day and it never stopped raining or looking dull.
Suzanne Hendon nee Winstanley, Schofield, Brockbank from Takapau, Central Hawkes Bay

Comments: Born in Abram,lived in Kingsdown road with my mum, dad and two brothers, john, and jim, went to Abram school 1962-69, then to mornington high, hindley till '76, moved to weshoughton in 1982, then bury 1985, then somerset 1990 and finally (well possibly) New Zealand. have one daughter aged 11, and on my 3rd husband, mike. working as a audiometrist at the hospital, husband mike is a psychiatric nurse, (might need him one day). Got 12acres of land, 3 cats we brought with us from uk in 2007, 2 dogs, 1 horse, 2 sheep, 2 goats, 2 pigs, 2 roosters, 5 chickens and 3 chicks, worn wellies for the first time in my life, stilletoes and posh frocks don't go well when feeding pigs!!

I miss: miss good clothes shops, decent tv progs, good pubs to go for pub lunches with a beer garden. Don't miss the weather!
alwyn parry from wellington

Comments: I'm trying to contact my niece Sera Parry daughter of my brother Llewellyn wife Gladys who lived in Wigan before retiring in Wales a few years ago .Following his death I have lost touched with the family and someone reading this may like to let her or her three daughters know that I am trying to contact her .Thanks Uncle Alwyn

I miss:
Wendy from Wellington

Comments: I used to live in Aspull and went to Aspull C of E i.e. the Real Aspull C of E before it was demolished. Moved to NZ when I was 11 but still have very fond and strong memories. I now work in the capital city of New Zealand as an advisor in live animal exports.

I miss: Cheese and onion pies - YUM!
Angela Beard nee Chisnall from Papamoa Beach, Bay of Plenty

Comments: Lived in Bryn until 1964, went to St Oswald's Primary school, Ashton then to Notre Dame High School, Wigan. Left UK in 1968 for Zambia and then on to New Zealand in 1974. Have three children and six grandchildren, all in NZ

I miss: Friends, family, shops, pies and pasties, blue ribband biscuits!!
Darren Roberts from auckland

Comments: Joiner working for a small firm in the sunshine year round

I miss: can not find egg custards that taste real or a decent pie
Judith Merwood (Griffriths) from Taupo

Comments: I was born in Wigan, left at 20, in 1968, emigrated to South Africa, then Rhodesia, then Australia and been in New Zealand since 1973. My sister Nadine Hall (nee Griffiths also - funny that!) still lives in Wigan with her family.

I miss: Family of course, having time with my sister and family, walks into Wigan with Nadine (did that Xmas just gone). English pubs are definitely not the same anywhere else in the world that I have been anyway.
Kevin O'Mara from auckland

Comments: born & bred in Pemberton 1949, went to thomas more, worked @ Horwich Loco works, went 2 room @ the top -twisted wheel, mecca, love pies & soul music + r.l.f.c into rugby now, 3 girls + wife wrks as engineer around NZ

I miss: Daughter can make real custard pies, just not enough of them, miss the holland pies, but not the beer,been back a few times - here to stay with my Maori Mates & Poly bros
Sue Latham from New Plymouth

Comments: Born in Wigan and lived there all my life. Started in Scholes, moved to Beech Hill when 2, moved to Whelly when I was 8, then moved back to Beech Hill when I was 17. Got married and moved to Rose bridge, then in 1999 moved to Whitley. Left UK in August 2005.

I miss: I cant say I miss much at all. Family and Friends goes without saying, but the web cam is a wonderful thing, I speak and see mum & dad more on the web than I ever did in UK, even though we did only live a fifteen min walk away. Sometimes I would love a Steak pudding and mushy peas Mmm Mm I love NZ, especially New Plymouth, Visited a few places but would not live anywhere else, New Plymouth is my home now. Cant explain to anyone why it is so good,It just is!
liz haslam from kati kati [tauranga]

Comments: Born in Platt Bridge 1952, moved to Hindley aged 7, married and moved to Tyldesley in 1982 .Emigrated to NZ in 2008 I work in Mental Health at Tauranga hospital Bay of Plenty

I miss: the wigan sense of humour.
liz haslam from kat kati bay of plenty

Comments: Addition to post, forgot to say my maiden name was Cottriall and went to Hindley and Abram Grammar from 1964-1969 just in case anyone in NZ might know me,also used to go to The Mecca, Wigan Casino and the Monaco foroul music

I miss:
Brian Ashcroft from Paraparaumu

Comments: lived in Bryn, Sefton road on Bryn Estate,just a stones throw from Agela Beard nee Chisnall,who is on this link(hi Angela),came out in 1970 thought i would have a holiday for a couple of years,met a Maori girl,that was that.Woked in structural engineering all my life still at it for a Canadian company.

I miss: Miss the atmosphere in the pubs,miss my old dart mates from the Star Hotel & Oddfellows ,although a few have passed on now,no regrets though
Peter Riley from Auckland

Comments: Brought up in Whitley, attended Woodfield,Gidlow & Standish high school.Moved to Auckland NZ in 1993

I miss: Pemps every weekend, Watching wigan with the boys on boxing day, cherry gardens and the rest of the pubs on the lane. Swinley chip shop, and pooles pies.
Tony Corns from Christchurch

Comments: Born and breed in Wigan and very proud of it. Left Whitley High School in 1981. Job took me all over the UK but always ended up back in Wigan.

I miss: Wigan Athletic and the feel of the town as Wigan will be always be home.
james and iris blackburn from wallacetown

Comments: My father james lived in wigan. He did alot of building when he left school.His brother william and tom and sister hilda all went to school in wigan.

I miss:
Lisa Hodson from Auckland

Comments: I lived in Sharmadine street (hope I spelt that correctly) until I was 3 then moved to New Zealand with mum and dad in 1968. Now living in Auckland with my partner and 2 your children Chelsea and Katie

I miss: Family mostly, don't really remember alot about Wigan - did visit in 1997 and loved it. Will deffinately be back with the children one day.
Mark Grimes from Rangiora

Comments: Hi, Originally from Worsley Mesnes in Wigan, Worked for WH Smith for many Years followed by Lancashire county council . Currently working in Christchurch for the father and child trust, moved here Feb 2010 and enjoying it!

I miss: I miss family and friends, The Old Dog in Upholland and going to my Mums on Saturdays!!!
BARBARA HALLIWELL from AUCKLAND

Comments: USED TO LIVE AT 18 PARK RD ASHTON IN MAKERFIELD WITH MY GRANDPARENTS MILLY &SAMMY CROFT DRYDEN AVE BRYN WITH MY PARENTS HAVE BEEN IN NZ FOR NEARLY 30 YRS DOES ANYONE KNOW BARBARA MURTER AS SHE WAS KNOWN SHE HAD A BROTHER KEVIN IAM NOW MARRIED KIDS AND GRANDCHILDREN LOVE NZ BUT WIGAN HAS NEVER LEFT MY HEART STILL MAKE MY OWN MUSHY PEAS AND COULD KILL A HOLLANDS STEAK PUDDING AND A LOVELY MEAT AND POTATO PIE FROM THE LOCAL PIE MAKER IN ASHTON IN MAKERFIELD.

I miss:
Jean Davey from Auckland

Comments: Used to live in Vine St,my mum had a corner shop. When I reached the tender age of 16 (1964) my parents immigrated to Auzzie, bless them. Since then been backwards and forwards to Uk,Oz and now permanently domiciled in New Zealand, And Loving IT. I have my 2 daughters living here and my amazing Kiwi partner who is absolutely fantastic.

I miss: Definitively Pies....... What is it about the English and Pies, simply this...they make the best pies in the world..I think its the pastry. I was over in the UK couple of months ago and boy you cannot get much better than a Pools meat pie. Miss the Olde English Pubs Big Time. Nothing like sitting in a leather snug sipping a scotch and ginger ale.
John Leyland from Auckland

Comments: Bickershaw lad, left in 1982 for South Africa. Moved to New Zealand in 1995. Miss the folk in Bicky, love being a Wiganer abroad. Went to Mornington Road Secondary School in Hindley. I miss mi mate Paul Talbot in Bickershaw, Starkey, Dave Williams, Dave and Paul Richardson. Lovely Lads. Great fun.

I miss: I miss the humour, the area is prettier than most people think. Yates and Greer's Cholesterol (Pork) pies. Living near Leigh, Not in it, near it... Widnes...... met a lad who admitted coming from Widnes, I admire that.
Jacqueline Perrins from Near Featherston

Comments: Used to live off Platt Lane, went to St Patricks school, parents emigrated in 1970, so have been in NZ since then. Work in hospitality now. All my cousins, aunts etc still in Wigan

I miss: I don't miss much, except family. and decent Lancashire cheese, and meat and potato pies.
Jo Durnford from Christchurch

Comments: Iwas born at my Grans 9 Engineer St, Hr. Ince, Wigan, and moved to Top Lock - 86 Leeds Street until I got married and then moved to Leigh. I came to Christchurch (Dallington) December 2001. My son Andrew came out in 2004, married a local girl in 2010, and like his mum loves the place even after all the quakes and shakes. What I love is the way all colours creeds and nationalities mix. I made a new friend a few weeks since she was born not far away in Southport, and lives a few minutes away in New Brighton.There is I am told a street in the suburb of Sydenham here in Chch once known because of the style of houses as 'Little Lancashire.' I am one of the lucky ones after the quakes not to have a lot of damage, but several of my friends have lost everything, in some cases their houses are fine, but the land is severely damaged.

I miss: Apart from family and old friends, not much. As one writer says the pies are different, but who wants pies all the time. I laugh when I walk round the supermarket - the curry lovers needn't worry the shelves are well stocked with Patak's products. I even got a stick of Blackpool Rock last christmas in a local supermarket, so really there's not much to miss.
David Roy Wane from Invercargill

Comments: I lived in Abram and Ince moved to New Zealand in 1994 looking for work

I miss: Chips pie mushy peas and gravy from the fish shop,yorkie bars, friends and cant find my family
Sheila Brown (nee Haydock) from Paeroa

Comments: I didnt actually live in Wigan but attended Notre Dame from 1958 until 1963.I lived in Chorley and I was then Sheila Haydock. I moved to New Zealand in 2007

I miss:
Ian Maskery from Auckland

Comments: I last lived at 7 York rd south, Ashton in Maserfield. Migrated to New Zealand in 1964. Recently retired, I left Ashton as a qualified television technician then joined a NZ company as a medical and scientific service engineer. For the past 20 years being self employed in the same line of work.

I miss: I miss drinking bitter in the White Horse Standishgate. The Empress Ballroom, the County Cinama the dating with the local girls. McCandlishes pies in Harogate st. Wigan Corporation busses.ii
Polly Settle from Waimate, S Canterbury

Comments: Hello again folks, have now been living in NZ for almost 6 years,started off in Christchurch and now live in a wee town called Waimate. It's very small and really quaint and the people are very friendly.

I miss: Have to admit that after going home to visit in July of this year there is not very much that I miss. Only family and friends. Saw the Galleries mall and was not impressed. When I first got back found it very crowded and noisy, must have got used to the quiet life now.
Maureen Mckevitt nee Whelan from Whakatane

Comments: Woked at NW coal board. Had 4 boys in Bickershaw then moved to N3 had a4th boy !! Retired now.

I miss: Walks in Parl and films. gppomg fOr a coffee at coffee shlops and lovely SHOPS !!
Margaret Mitchell from Carterton, Wairarapa

Comments: Lived in Leigh Lancashire moved to NZ Dec 1974. Retired have two daughters Loraine and Linda, six grandchildren 4 girls,2 boys, three greatgrandchildren girls,all in NZ

I miss: the club life of the seventies especially what was called Wigan Rugby Club.
William Gregory from Blenheim

Comments: Lived in Bickeshire Lane,Abram. Throslenest Ave, Park rd, and Standish

I miss: Definitely the pies, but miss going to see rugby, although I do see rugby in NZ now, but the Warriors are special to me so are the Latics.
Shaun Hedley from Wanganui

Comments: Lived in Ashton-in-Makerfield, moved to New Zealand in 2005. Been a psychiatric nurse since 1997 and currently work in Palmerston North.

I miss: The food, pies, pea wet, and of course the mighty Wigan RL.
Angela Beard (neeChisnall) from Papamoa Beach, Tauranga

Comments: Left Ashton-in-Makerfield 1968, went to Zambia for five years, then to New Zealand in 1974 and still here. Love it here but still miss the old faces and friends

I miss: Marks and Spencers, British Home Stores, Littlewoods etc
Joe Bell from Waiheke Island

Comments: Used to live on Saddleback Crescent, Norley Hall. Left to live in NZ on 6th March 2016 age 68. I am a radio communications engineer

I miss: Pies, custard pies, Lancashire folk
[top]

Have you moved away?

Click here to add your details.




Feeling brave, why not email a photo?




Ed Owens met some expats (Bryn Roaders) in Spain and sent these 2 photos, click for larger image: