1272 people listed, click an area of the map:

or click here to join them.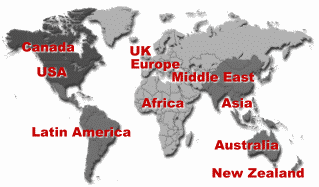 Asia (43)


Captain Vaughan Williams from Medan

Comments: Used to live in the Blue Bell Inn in Downall Green. Now living in Indonesia. Working as Master onboard deep sea ships, world wide trading. Married to a lovely Indonesian woman, and very happy with two children. Still visit the UK, once a year, and see my friends and family when i can. Hello to all who know me, and Hi to those that don't.

I miss: I miss being able to get a pint of Boddy's at night,and the things you can buy in the shops in the UK. We are a little limited in what we can buy in Medan ?? Still follow Wigan AFC on the net, good team at last.
Angela Nolan from Manila, Ph

Comments: Lived in Scholes, went to St. Pats and John Fisher, moved to Manila, Philippines in 1990. Try to get home at least once a year.

I miss: Miss friends and family, Fish & Chips, Dandelion & Burdock!! (don't know if they still make that though) Anyway will be home first week Feb, 2003, hope its not too cold!
Martin Nicholson from Songkhla,Thailand

Comments: I was born in Billinge/Orrell and went to Wigan Grammar School as a boy. Now I have just reired to the South east Coast of Thailand. Will welcome all Wiganers!

I miss: Poole's meat and potato pies. Hunter's chemist shop window-sacrilege knocking it dow. U.C.P. lunches for 3/6pence.Humour. Central Park.
Steve Gilford from Subic Bay, Philippines

Comments: Born and bred in Billinge, moved out to Subic Bay in september 2000 to work as an Engineer. Since then I got married to a local lass and decided to stay for a while.

I miss: Decent beer, pies (of course), clotted cream (although I make my own scones), HP sauce, friendly dogs, family and friends. I try to visit every so often. Last came over in June 2002.
Alan Hardman from Shenzhen, Southern China

Comments: from Ashton in Makerfield. Any one who went to Ashton Cenral school in the mid 1960

I miss: to much to list
Roy Hurst from Balikpapan, Indonesia.

Comments: Born in Old Trafford, Manchester but spent much time with my Grandparents at Lower Barn Farm, Castle Hill Mill, near Wigan. Never returned to Wigan since 1961 and miss the place a lot. Would like to contact my Aunties, Uncles and cousins. I remember Aunty Bessie and Uncle Abe who lived on a small farm on the road from Hindley to Leigh and their daughters. I am working in Indonesia and have been here since 1979. I left the U.K in 1961 and emigrated to Australia. Great place.!!

I miss: Life on the farm, the animals, my family, the Church in Wigan (can't remember the name). Please contact me if you remember any of the Hurst Family from Hindley.
Alan Hardman from Shenzhen

Comments: I lived in Bryn Road Ashton

I miss: .
Gemma Louise Heaton from Quezon City, Philippines

Comments: the exact i address, i can't remember, i was still a kid when we left.

I miss: my nana.
victoria murphy from Hat Yai, Songkhla

Comments: I grew up in Whelley then moved to Beech Hill in my teens. i am now a teacher in Thailand. i'm married with two daughters, i love south east Asia, but i really miss Wigan.

I miss: Pooles pies,walks along the canals,fish and chips, steak pudding,Mesnes park, silcocks fair on bank holiday monday up at Haigh hall, Haigh hall woods, ploughmans lunch at "the Alexandra" in Whelley. I missed the most important thing! thats my family and number one, my dad.
steve boone from bangalore India

Comments: Born in Bickershaw 61, Bolton House road 1951 went to Hindley green s/modern escaped Bickershaw to look for Water Leaks in Zambia, Belize,Abu Dhabi,Yemen Egypt,usa, Botswana and now India.Once a year visit my brother in Platt bridge and my mother in Bickershaw.

I miss: I miss Room at the Top. Wigan Casino,King of Clubs, Rhodi bacon Yates and greers pork pies, pea wet,spare ribs. Perch fishing in Bickershaw,Double 9 Dominoes, Bickershaw car boot sale
John Whalley from Davao

Comments: lived in Northumberland Street, Scholes, went to St Stephens then wigan grammar then to UEA. Worked at British Aircraft Corp. then as freelance computer programmer, currently raising pigs and fruit in Mindanao

I miss: meat and prater pies and gravy,chips with curry sauce, proper beer, uncle joes mint balls watching wigan rlfc.
Roy from Jakarta

Comments: Came from Hindley, near Wigan. My Father was John Hurst, son of Abraham, Lower barn Farm, Castle Hill Mill, Hindley. My brothers are David, Peter, Graham, Michael(deceased) Tony, and Sister Barbara. If this seems familiar to you contact me.

I miss: Nothing!!! been away for too long.
Shaun Dutton from Zhaoqing, Guangdong, China

Comments: I am originally from Ince but I lived in Hindley and Scholes for a short time. I left rose bright high school about 1991 (but I have never been good at remembering dates). I spent most of my teens and twenties drinking in the Tudor and going to maxims (and the pier on Wednesdays)

I miss: I have only been gone for about 6monthes so far but what I would really like is a chip barm.
akhilesh pateraya from bangalore

Comments: i m coming to wigan for my studies in wigwn & leigh college from india ......

I miss:
Carl Ainscough from Krabi, Thailand

Comments: Born and bred in Parbold, Like living in Thailand but my daughter lives in the Caribbean so will probably move back over there some day.

I miss: Bluto's night club, the Warriers and Latics
Roxanne Marie F. Acacio from Marikina City

Comments: I spent my growing up years in the Northern suburbs of Philippines (Ilocos Norte). Iím now in Manila, working as a Buyer/ Product Line Builder for the famous shoe tycoon, Rusty Lopez.

I miss: I miss the green rice fields, mountains, the simple and carefree lifestyle.
Anne-Marie Kelly from Hong Kong

Comments: My family home is in Whelley! Moved to Hong Kong in August of last year, after having taught in the United States for 3 years.

I miss: Uncle Joe's mint balls & crumpets...as everyone should:-) Hanging out in the best den of iniquity...Yes, Pemps!! Fresh air-well, believe it or not the air is a damn sight fresher in Wigan than here in HK! Watching the Rugby whilst freezing your but off...Cold weather and rain:-))
Neil McCartney from Phuket, Thailand

Comments: Was born in Goose Green, Marus Bridge. Deanery high school. art course Wigan tech, library st. 40 now and havent lived in wigan for 20 years. Live in Thailand, musician, sing play guitar and fiddle in an Irish pub called Scruffy Murphys http://scruffymurphysphuket.com/

I miss: Old friends and places, lost touch with many people which is sad.
Jason Parkinson from Nakhom Pathom Thailand

Comments: Born in newtown. Left to work for Bae in the middle east. Now work as an english teacher with my thai wife.

I miss: Harry's bar, My friends
aditya vasudeva from gurgaon

Comments: I use to live in kolkata ,India. now i am in gurgaon. Well i work for an advertising firm here in gurgaon .Im just a freaky person who would love to share his experiences with smart asses and probably meet at coffee

I miss: I miss the bevy in Fridays ..lol
Chirag Shah from Mumbai

Comments: Hi, my name is Chirag Shah. I stayed in Wigan for almost 2 years, was studying in Wigan and Leigh College . Two years experienced in Wigan was amazing. Wigan as a place is quite extraordinary, the ppl are loving and caring. And i am gonna miss Wigan throught my life. I am now waiting for oportunity to come , and then will re visit wigan for sure. cheers

I miss: PUBS-Millstone,Royal Oak,Moon under water,Baa Bar,Bentley and orange house. CLUBS-Liquids,Hub,Jumping Jacks etc SHOPPING-Debenehams,River Island,Primark. Rileys Pool Parlour And Above All TESCOS
Lisa Marie Heaton from Quezon City

Comments: we used to live in Bryn, if I remember correctly it was near Bryn Gate. We moved to the Philippines in 1984 when I was six so I basically grew up here with my younger sister and brother. My Dad (who recently passed away) kept us true Wiganers at heart and would always tell us about Wigan. I'm currently working as a Guidance Counselor but I hope to get to go "home" soon.

I miss:
Jeffrey Rowlands from Kuala Lumpur

Comments: I left Wigan Grammar School in 1972 and went to the Royal Northern College of Music and then to the universities of Liverpool and Surrey. I was in Surrey (Guildford)until 1995 when I left for Malaysia with my Malaysian wife. I lived first In Ipoh and moved to KL in 1999. We now have two children and I'm Associate Professor of Music at a university here. I make regular trips to the UK but less frequently now that the childrens' airfares are much more expensive than when the children were babies. From schoolboy days I have fond memories of a number of places: Maynards Chocolate Cabin; Westheads in King Street( next to the old Court Cinema); the Ritz Cineman before conversion to a multi-plex (seeing Stanley Kubrick's 2001: A Space Odyssey in the vast, empty cavern of that place was a red-letter day for me); the Queen's Hall where I first heard a concert pianist(Semprini)was another. Only my parents remain in Wigan. My sister now lives In Geneva but still has her house in Sittingbourne Road.

I miss: I don't really miss Wigan. Living there always seemed a disdvantage since everything that attracted me was elsewhere ( London mainly, since my mother was from London and all holidays were spent there). Growing up in the 50s and 60s, the divide between North and South was very pronounced and in my estimation Wigan compared very poorly to the metropolis. But I do miss the people, especially shopping in the Market Hall and being asked "What do yu want luv" by someone who doesn't know me from Adam!
Carlos Hughes from Changwon - South Korea

Comments: I was born in Billinge Hospital and grew up in Highfield until the age of 11 and now teach EFL in Changwon South Korea.

I miss: Nowt much - fast food of the beige persuasion probably but BiBimBab is not a bad substitute I suppose!
Carolyn Parkinson Sulaeman from Bandung, Indonesia

Comments: I was born in Shevington, attended Upholland Grammar School from 1971-1978 before going to Sheffield and Cambridge niversities.I have lived in Indonesia for the last 14 tears. I lived in Scandinavia for many years before moving here in 1994. I am married to an Indonesian and have 3 children. I teach English in primary school here.

I miss: I have been away too long to miss many things but still get nostalgic for crumpets, potato cakes, oatmeal cakes and seedy pubs!
Jerry Cayzer from Cebu

Comments: I lived in Ratcliffe St. Springfield, back in WW2 days, but visited a few times before flitting o'seas in 1957, after which I was absent until 2002. I shall be with you all again next July (2008). My obsession nowadays is writing outstanding thrillers. Does anyone know how to nail a publisher?

I miss: Everything about the people, especially forthrightness and sense of humour. I detect a 'US-English' spelling check. Shame on you.
Jerry Cayzer from Cebu

Comments: Ratcliffe St., Springfield, was my spot, during WW2. Most of the time I was at the National Blue Coat school. Then the family moved to Worcester, then Kent. From there I went to Zambia (when it was NR). Then Scotland, followed by Oz, Turkey and New Guinea. Now I'm in the Philippines.

I miss: Mostly the people. their forthrightness and humour. The last word is underlined red, which means your using Yanky English. Shame on you.
Jerry Cayzer from Cebu

Comments: Ratcliffe St., Springfield, was my spot, during WW2. Most of the time I was at the National Blue Coat school. Then the family moved to Worcester, then Kent. From there I went to Zambia (when it was NR). Then Scotland, followed by Oz, Turkey and New Guinea. Now I'm in the Philippines.

I miss: Mostly the people. their forthrightness and humour. The last word is underlined red, which means your using Yanky English. Shame on you.
Ken Sturgeon from Wuxi. Jiangsu China.

Comments: I was born in Harper St,. Wigan. But I lived in Moss Rd,. A-in-M for the last fifteen years before I came to China eight years ago. I work for a USA company in Filtration, (Yes! I know! big job in China). I only get back to Wigan about once a year.

I miss: Pork pies, Black puddings, Walls sausage, decent bacon. Walking around Asda and wishing I could get all the same stuff in China!
Carol Greenall (now Farmer) from Seria, Brunei

Comments: After living with my dad's family in Worsley Hall for 2 years - we moved to Brindley St, Pemberton in the early 60's. My parents are still there and it is my base when I go back. I went to St Cuthbert's, the convent, Tommy More (cos convent closed) and Wigan tech before going further afield in 1977. Had a saturday (and holiday)job at Rathbones bakery, newtown. Worked in Biochem research, then Medical rep before becoming an 'accompanying spouse' with Shell. Lived in Oman & Assen. (NL)

I miss: Chippy tea's on a friday night, live rugby - but preferred Central Park to the JJB. Pubs, cider, decent TV. My mum tapes Corrie! Wiganers.
Warren Shaw from Beijing, China

Comments: Lived in Marus Bridge and Highfield. Went to Marus Bridge primary & middle schools, and Deanery High (did o levels in 1987). My wife and I are teachers, and now live in Beijing, China.

I miss: A good pint of bitter and a quality pie. Friends and family of course, and watching the latics.
Norman Cunliffe from Chiang Mai,Thailand

Comments: Left Wigan Grammar School in 1949. Lived in Millgate, Copperfield and in the Whitley area. Moved to Chiang Mai in 1998 after 40 years teaching in the UK. Worked at Montfort College in Chiang Mai for 8 years.Now have a Thai wife but still have my home in Wigan.

I miss: Luckily,I still spend part of each year in Wigan so I get my share of pies and I'm a Wigan Rugby fanatic.
graham coleman from hua hin

Comments: still live in wigan area born in orrell now at westhoughton spend most of my time in thailand just bought a home 13 kilometer south of hua hin will move there permanent shortly

I miss: nothing at the moment but will miss the rugby,pies and good beer but not the weather
howar john hilton from bangkok

Comments: went to wigan grammar, worked as a chef for years, left wigan around 96 now have a food production business in thailand

I miss: good mates
SHARON COLLIER (WRIGHT) from GOA INDIA

Comments: lived in Orrell, Gordonstoun cres,attended Holgate Junior school, then Upholland secondary,married then moved to Kitt Green,divorced then moved to Kent, which is where i spend my summer months, and winter in my second home Goa India i have a coloured life.

I miss: Yes miss the pies, from the Old Bakehouse in orrell. wigan casino,all nighters, beachcomer, my old school days, and being with parents at the social clubs.
Beulah Sehorn nee Bullock from Hoskins Papua New Guinea

Comments: Had a happy childhood living in Orrell and then Goose Green. Left there in 1988 after completing my educaiton at Abraham Guest High school and St Helens college. bein a christian I wnated to make a differene in the Lives of others and So I persued a carrer in Evanelistic Missions and now work In Papua New Guinea

I miss: Pools pasties, the canal and the view of Rivinton Pike
John Richardson from Angles City Philippines

Comments: I was raised in Billinge untill I was 20 then moved to Goose green in Wigan. Since 2000 I have been living in Angeles city in the Philippines, I am a consultant in garment manufacturing and travel throughout the Asia area but my home is in Angeles city

I miss: Miss my work there had some good times in the early 80s. Pies from Pooles really miss them
Hugh Francis Wilson from Changxing Dao, Dalian

Comments: Born in Wrightington but moved to Haigh when I was 10. Ex-John Rigby Grammar School 1960-65. Now working for a Glasgow-based ship management company supervising the construction of a deep-sea pipe-laying ship in Dalian, NE China.

I miss: More than anything, I miss the people and I'd love a Greenhalgh's pastie.
Santo Prattico from Shenzhen, China

Comments: I lived in Ince Green Lane, Lower Ince, from 1970 to 1980. Now in China to start a new life... again! I'm a freelance consultant in the electronics industry.

I miss: The old stomping grounds, my old friends, although we're all just a wee bit different now...
Brian Heaton from Tianjin

Comments: Just moved to Tianjin about 3 weeks ago working for Airbus on a 13 month contract would love to meet with any fellow Wiganers, I went to St Cuthberts then Tommy Mooore Left 1974 so aged 53.

I miss: Pies,Rugby and being able to buy something in the food shops I could readn
Mark Hempstead from Bangkok

Comments: Grew up very near to Blackpool. Resisted the Mecca and found Northern Soul via Lytham Football Club. Was a regular Casino goer between '76 - '79. Last Nighter I went to at The Casino was a Motown All-Nighter & was lucky to come out alive. Still love the music and still good mates with most of the people that I knew in the day.

I miss: Miss those moments when a fave tune was playing and my spins were spot on. Miss watching someone nail a tune and own the floor. Miss Mr M's. Miss the buzz. Miss the atmosphere and the camararderie at every venue that I went to.
Martin King from singapore

Comments: Briefly: st.pat's, Thornleigh, UC London.Teacher at ashton Grammar school, John Fisher, Whitley High.Worked in Germany, forces school, played for the RAF station team in Gutersloh-got to 3 cup finals as hot favorites, lost the lot.been in Singapore since the 80's

I miss: CentralPark, Billy Boston, Brian McTigue,The Empress(Pre Casino),The Whit walks, Haigh Hall, the canal walk -up to top Lock, down to the DW, St pat's rugby club,the pubs (too many to mention)Andy Farrell, TrentBarrett ,Andy Gregory, shaun Edwards,joe Lydon,the singing Gleesons, oh, and I like rugby too
Chris Silcock from HK

Comments: I went to St. judes school then Thomas More. I lived most of my life in Pemberton and Highfield. Played Football and rugby in my time and also still on WAFL committee.

I miss: Meat and tatoe pies, pea wet and the rugby
[top]

Have you moved away?

Click here to add your details.




Feeling brave, why not email a photo?




Ed Owens met some expats (Bryn Roaders) in Spain and sent these 2 photos, click for larger image: