1272 people listed, click an area of the map:

or click here to join them.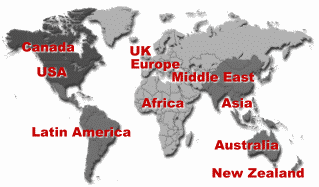 Middle East (20)


Michael Dean from Dubai

Comments: Higher Ince, Wigan. I am now a commercial producer.

I miss: People, nightlife,Family, freinds.
Martin Southern from Dubai

Comments: used to live in Aspull, then Orrell - rugby player now enjoying year round sunshine in Dubai. getting married here in april

I miss: not a great deal!!! pemps!!
Hugh Carey from Abu Dhabi

Comments: Worked in Ince, lived out at Appley Bridge. Still a true Latics fan.

I miss: Match day, especially stuffing Preston.
mark mc nicholas from Israel

Comments: lived in scholes then worsley mesnes left over 27years ago married 2nd time 5 kids great life

I miss: wigan rugby curry and chips most of all mushy peas
John Crompton from Al-Jubail,Saudi Arabia

Comments: I use to live at Shevington now I am living at Appley Bridge I am now working in a Steel Mill been working overseas for 25 years.

I miss: I really miss the pie shop down Wallgate were you could get really pies also miss the old Wigan Rugby grounds.
Jase Parkinson from Tabuk

Comments: Born and bred in newtown,joined the RAF in 1987, finished in 1993. worked for British Aerospace in the middle east ever since. Oman, Abu Dhabi, Dubai, Egypt, Saudi Arabia. married a russian girl i met in Dubai in 2004. Thinking of moving to Thailand.

I miss: Harry's Bar !!!!
Carl Dunne from Istanbul

Comments: Higher Ince I moved in 2000 to Istanbul/ I teach English here.

I miss: I missfriends and family mushy peas and pies of course
Tim Hardacre from Istanbul, Turkey

Comments: Whitley High School 1976-79 punk rock and bad haircuts! Work in oilfield in Kazakhstan and live on polar bear steaks and vodka hahaha! Just spent 6 crazy years in Brazil, owned a restaurant for a year which was insane, and rode 10,000 miles round S.America on my Harley. Just moved family back to Turkey for good hopefully (lived in Ankara 90-93).

I miss: Miss the 'Wigan kebab' (3 pies on a stick) and my Harley Davidson which I shall be riding to Turkey in Spring 2006 if anyone fancies a blast across Europe...happy days If you're passing through bring me some Uncle Joes Mintballs...
David Greenwood from Kuwait

Comments: Used to live in Scholes, then Whelley, then Standish. Went to St. Catherine's(til 1980), Whelley Middle(til 1983) then Standish High(til 1986). Lived all over UK with work and now in the Middle East!

I miss: Friday and Saturday nights out starting in the Beed Knees at 8!!!! Maximes, Wigan Pier, Blairs, Underground,Turnkey, Happy Days!
Carl Dunne from Istanbul

Comments: Hi My name is Carl Dunne I was born in Wigan and brought up in higher Ince. I attended St Williams junior School and Cardinal Newman High School. I'm 48 and looking to meet up with old friends from the 60's and 70's. I now live in Istanbul Turkey

I miss: I miss the pies (of course) mushy peas and a pint down in the town centre with mates
Terry Lavin from Riyadh

Comments: went to Rosebridge in the very late 60's early 70's then on to St helens tech , Bright chef career for 18yr and now in saudi Arabia managing residential Resort property.

I miss: once a rosebridger always a rose bridger - who said that...old Wink i guess. I miss the friendliness of wigan and the Pies. dont miss the rain,winter slush and the cold. what happened to everyone? jenny meds first class, who remembers Purcel and Shenton, Holmes and all those great teachers. god bless them all.
Janet from Dubai

Comments: used to live in Wigan nr Mesnes Park. Met my husband in Sussex Have lived in London,Sussex, Bahrain Singapore, Tokyo and currently in Dubai.

I miss: Uncle Joes Mint Balls!
Abigail Kay from Dubai

Comments: Born in Billinge in 1976 and grew up in Haigh. Left to go to university down south and in Paris, lived in London for several years before moving to Dubai a year ago.

I miss: My family, Haigh Hall, rugby league, Latics, egg custard and the brilliant humour of the people!
David Greenwood from Dubai

Comments: Used to live in Scholes, Whelley and Standish. Left St. Catherine's(1980) Left Whelley Middle (1983) Left Standish High (1986). Lived all over UK with various jobs then Middle East since 2005.

I miss: Pies(Pooles ofcourse), Friday and Saturday nights out starting at 8pm in the Bees Knees! Wigan Pier, Maxims, Blairs etc. Happy Days :) Hope everyone is OK.
Peter Bowden from Sakarka (Saudi Arabia)

Comments: Was born in Billinge in 81 and lived there until I went to university. Moved to Saudi Arabia in 2008 and been here since, working on a railway project.

I miss: Not much as I get back regularly.
christopher simmins from Dubai

Comments: I am from hawkley hall but lived aboroad for ages, now in Dubai. Just been to Oz wgere they know all about the Wigan

I miss: I miss DECENT pooles pies, they are shit now. Cant get a babies head owt here, specially not with cap on (advanced)Mushy pea deficiency has set in and need some decent chips
Dawn Seddon from Al Ain, UAE

Comments: I moved from Wigan about 22 years ago to teach abroad. I went to Pemberton Middle, Whitley High School and Wigan Tech where I did art foundation and A levels. I now live in Al Ain (near Dubai) and am still a teacher.

I miss: Gosh, I miss... Pea wet, pies, proper fish & chips... Pubs... Wigan Market... friendly Wiganers...
Martin hassett from Abu Dhabi

Comments: Grew up in Orrell, lived in Sheffield, London,York and based in Tyne Valley. Work in power industry.

I miss: Of course the pies, Old Bakehouse sadly no longer with us. Watching the latics sticking it up the big ones - live!
Ian Hornby from Al Ahsa (Saudi Arabia)

Comments: Grew up in Shevington, left Shevington High in 1994. Moved to Camberwell Crescent in Whelley, married with 2 daughters. Currently work as a Technical Trainer in Saudi Arabia since March 2015.

I miss: Things I miss are my family, pies, beer and all of the normal wonderful things about Wigan.
Graham Clayton from Doha, Qatar

Comments: Originally from Wigan Rd Hindley, then Orwell and Pem. Had three years working in UAE now in Water as an electrical design engineer. Would be great to bump into any ladies fans out here ..

I miss: Getting to latics. My wife naked great pies and I certainly don't miss the weather!
[top]

Have you moved away?

Click here to add your details.




Feeling brave, why not email a photo?




Ed Owens met some expats (Bryn Roaders) in Spain and sent these 2 photos, click for larger image: