1272 people listed, click an area of the map:

or click here to join them.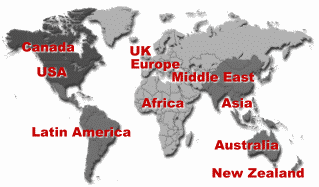 Europe (132)


Patricia van Vliet (nee Johnson) from Zutphen

Comments: I was born in Wigan in 1947 and lived in Lamberhead Green. In 1968 I worked for about a year in Amsterdam where I became engaged to a Dutch-man. We married in Wigan in 1969 and lived there until 1974 when we moved back to Holland and we have been living here ever since.

I miss: What I miss a lot is the social life, pubs, clubs. You can have a good night out here, but it's different. Foodwise - pies and pasties of course!
James Foster from Madrid

Comments: Brought/dragged up in Springfield. Went to the Blue Coat, Gidlow and Deanery schools and Wigan Tech. Moved to Spain in 1994. Married to Amalia and have 3 kids, Michael (8), Claudia (3) and James (2). At the moment I am working in a bank.

I miss: Cold Indian buffet and warm cans of beer in Pemps on Sunday nights, sessions "on`t lane", bouncers, Wee Willy Winky (or did he only visit my house??) and Frost on the ground in winter. Along with all my family and friends, of course.
Jane Roberz (nee Falla) from Altnau, CH

Comments: I used to live in Glassbrook St, but then left in 1982 and went to live and work in Mallorca. I was there for almost 20 years, in the meantime I met and married my German husband and moved in with him in Switzerland. We now live by Lake Constance near the border with Germany.

I miss: Wigan Folk, Wigan Pubs and Wigan friendliness, not forgetting Ice Buns and Barm Cakes.
Glenda Woodcock-Caroli from Pepinster

Comments: I used to live in Spring view, I now live in Belgium, since 1971. I do a little teaching job, I have three children who all know Wigan very well. They speak English and French fluently.

I miss: What I miss about Wigan is family, friends, rugby, pies, fish and chips, the friendliness of everyone, I try to go back to Wigan at least once a year.
Carol Coates née Brown from Moscari, Mallorca

Comments: I was brought up in Widdrington Road, Monument Park and taught art at John Rigby Grammar from 1969. After marriage in 1972 we emigrated to Palma de Mallorca. We raised our family in Northants, staying for 22 years. I taught in schools and later worked in police community involvement there. In 1999 we moved to Moscari, Mallorca. I'm looking forward to returning to Wigan in 2003! Any interesting jobs for the computer literate out there?

I miss: Friendly Wiganers (I miss the most), Mesnes Park, Haigh Hall, train trips out (yes!), the Family History Shop, the shops, Wigan Pier and the canal walks, Uncle Joe's mintballs, even the rain!
Stephen Baxter from Skatval near Trondheim Norway

Comments: I used to live in Up-Holland and moved to Norway summer 1980. I met and married a norwegian girl. I work for an international produser of newsprint. I am working with IT systems and business processes. The paper that the Wigan Observer is printed on comes from us.

I miss: I miss the following. Dialect. Rugby, Cricket and the Latics. Wigan people.
Neil Cooper from Algeciras (Spain)

Comments: Was raised in Swinley (Walkden Ave. then Kenyon Road) and moved to Spain in 1989 when I met my wife, Antonia, at Coventry Polytechnic. Founded a private language school with 2 other associates in 1996, after working in Education beforehand. My family and I return to my parents' house every summer and Christmas.

I miss: Apart from family and friends, I miss the food and drink - pies, curries, mild - and the sport - playing cricket down at Bull Hey and watching rugby at Central Park: how anyone let a supermarket desecrate the home of rugby league is beyond me... Don't desperately miss the weather, really.
John Howarth from Munich, Germany

Comments: Left Tameside for Wigan in 1971 and lived on Wigan Lane (Greenhill) between then and 1979. Attended Gidlow Middle School, then Whitley High (with Kay Burley! - why is she not mentioned on this site?), before moving away to study Modern Languages in Coventry. I then did a post-grad. diploma in translating / interpreting and got my first job in North Germany in 1984. Have been living in Bavaria since 1987 and working as a translator (occasionally as a freelance) for much of that time. Married to Sue, with 2 kids - Matthew 13 and Lisa 10. Have very, very fond memories of my formative years in Wigan, e.g. school life, footie at Springfield Park, local discos, great friends, walks in the Plants etc. Would love to hear from anyone who remembers me. Still an avid Man United fan (thank heavens for satellite footy beamed to Germany). TTFN. John

I miss: Er, yes, pies, beer, good laughs, sense of humour, friendliness, wierd dialect, nice house, beautiful surrounding countryside, nipping across the M61 with mates to stand in the Stretty End (I know, showing my age!). All the best, John
Breedeen Matthews from Ireland

Comments: Hi, I used to live at Orrell Post from 1961 - 1974, then in Shevington until 1984. I moved back to Ireland in '84 & I work with adults who have learning disabilities, I'm married with one son. I went to St. James's RC school at Orrell then went to St. Peter's at Orrell Post, then on to John Rigby. I trained at Wigan Infirmary & then worked at Billinge Hospital.

I miss: I miss the John Bull, Park Hotel, meat pies, Jimmy's chinese on Wigan Lane, the Little theatre, the market & shops, Newcastle brown ale & Theakston's old peculiar! And I miss my friends too, don't get to see them too often.
Crispin Holden from Zurich

Comments: Used to Live in Swinley near the rugby ground but was not a big fan more a latics mon. Moved to Switzerland in 1999, and am working for a Telecomms Company.

I miss: Miss the friendliness, the beer fish and chips, a good curry, Barbara and Pemps, but of course not the weather.
joanne wray (aaron) from mancesther

Comments: i used to live in spring view in wigan and used to go to rose bridge high school and i am 31 now and have 4 kids

I miss: all my old mates i used to go out with
kate conroy from madrid

Comments: moved to spain in 1972. interested in contacting old acquaintances

I miss: .
Sinead Flynn from Tuam

Comments: i am 21 moved from Whelley to Irelad when i was 12. i work in accounts.

I miss: Meat and Potate Pie. Miss not keeping in contact with firends
neil marr from menton

Comments: Proudly of Wigan. Nearly forty years a writing professional. Currently editory in chief and co-publisher of BeWrite Books (look in any search engine ... never a bad word). No promises other than we will seriously look at any submission for full international publication. In paperback, we do work on POD -- but with never a whiff of author subsidy. As you will see from over 7,000 mentions on the web, we're Kosher. Neil

I miss: Wigan.
Yvonne Wade nee Byrne from Spain

Comments: I used to live in hindley, but moved over here about 21years ago. Went to mornington road school, worked at jet set travel in wigan arcade, and Blutos at night. Would love to contact Christine Smith who married Liam who was in the army, lost contact with her. Also Brenda Sumner who used to live in Ince.

I miss: My mum, and yes the meat and potatoe pies and Barons pork pies. The good old days !!!
paul gannon from münster

Comments: i used to live in upholland when i was a young lad.went to st peters high school and wore that nice brown uniform that everbody loved,.,.NOT. my parent still live in up holland i am in germany working for a uk catering company am currently 32 years of age.

I miss: miss pooles pies and other pies.,.the nice friendly people to as there well stuck up over here i visit once a year if i can
Marilyn Taylor from Chania, Crete

Comments: Tony & I used to live in Upper Dicconson St. I lectured at Edge Hill College, Ormskirk, Tony was Chief Youth Officer, Wigan Metro. We moved out here 5 years ago. Biggest change was from town centre living to the edge of a very small Greek village!

I miss: Rugby league - top of the list! Predictably, real ale comes a close second.
Pat Markun (Bithell) from Albunol Granada

Comments: Born in Wigan as were my parents, left when a baby but still have my roots there having spent all my hols there. Now live in Spain and teach scuba, as well as being retired

I miss: My aunts, Uncle and cousins, love them all.
Gillian Boursiaki nee Hughes from Athens Greece

Comments: I lived in Taylors Lane Spring View went to St. Mary's then onto Hindley and Abram Grammar, worked at the GPO in Wigan as a telephonist before moving to Greece in 1976 where I later married a Greek and had twin boys. After various jobs I am now a partner in a translation agency.

I miss: I miss the Hindley folk club in the Bird, pooles pies,fish and chips with mushy peas and all my freinds from Wigan many of whom Iam sadly no longer in contact with anyone who wishes to contact me please do so.
Wendy and Colin Hamilton from Gibraltar

Comments: Wend is from Worsley Mesnes, Colin is from Upholland. We have spent most of our married life (18 years) in different postings around the world. Colin has been serving in the Army for the past 21 years, currently we are living in Gibraltar where Colin is now a Captain.

I miss: Pies, Beer. Smokey pubs where you can arrive on your own, and leave as part of the gang. Family.
Darren & Davina Gale from Malaga

Comments: We are from all over Wigan area in paticular Appley Bridge and Ince areas. We now live in Malaga, Spain and would like to here from others in same area.

I miss: Pies,Pies,Pies............ mmmmmmmmmmmmm Pies!
Paul Wilcock from Málaga, Spain

Comments: Lived in Orrell near Orrell RU. Now PE Teacher in Malaga and love teaching in the sun. Now living with a Spanish latina who eats less pies and drinks less pints than women from Pemps.

I miss: Pemps, Santibag, King Street, watching Wigan RLFC and my family!
carol wettwer from stade

Comments: originally from newtown, wigan. went to st.marks, pemberton middle and mesnes high schools. been in germany almost 13 years. married to a beltin german man and have 2 lovley kids. at the moment working for a large supermarket chain.

I miss: the obvious has to be pies! then, uncle joes, picalilli, branston, crumpets. the wigan dialekt and humour and crusts in the bread! and of course , my family and friends.oh no , almost forgot, lancashire cheese!!
Andrew Lomax (aka Germ) from Tromsø, Norway

Comments: Grew up in Hindley and Aspull, went to Hindley & Abram GS. After 9 years at BAe. Came over to Norway as a professional DJ in 1987, initially for 3 months....that was 18 years ago. Married to a Norwegian lady, 4 children and now back in engineering, project work on oil safety equipment. Still DJ as a hobby.

I miss: Believe it or not I miss Hindley a LOT! Pubs and that. "Going out for a pint" is an unknown thing here, you're either out (as in full-on party mode) or you're home. Rain and humid English summers have a certain appeal too, snow is a bummer sometimes. Good for skiing on! Looking forward to a trip home soon.
fred bryan from mahon menorca balearics

Comments: ashton in makerfield. retired from makerfield timber ltd liverpool road a-in-m

I miss: my friday nights out enjoying a pint or two
Dannealle Glasmeier from almere

Comments: Born in Billinge Hospital. Lived in Worsley Mesnes. My family lived in Pemberton. Aunties live in Orrell and Kitt Green. Went to the brookhouse a lot.

I miss: the humour, chippy, santibags curry after a night out. Lancashire cheese, meat and potato pie. Mostly miss my family.
warren william ashcroft from alicante

Comments: I am cheating a little as i am the son of a wigan father grandfather,and aunts and uncles ,all sadly now gone.also i never never new the address of any ,but it was near coppul?

I miss: Getting to know the area while my folks were still around. I still make wigans results one of the first scores to look for .(footy and rugby)any ashcrofts that might be related, drop me a line
Ruth Audrey Dehne from near Hamelin

Comments: Born in Gathurst/Shevington in 1930. Ashton Grammar School from 1940-1948.Married POW and went to Germany in 1948. Now Mother of 6 wonderful people, 13 grandchildren and five great-grandchildren. Translator & Pensioner.

I miss: miss the second hand bookshops, being called "Luv" in the bus. Northern Dialect.
Katey Lewis / Charlotte Peet from IJmuiden / Amsterdam

Comments: We are 28 years old and have been living in the Netherlands for quite a few years now. Loving it so won't be returning to Wigan. Both grew up in UPholland but moved over here after meeting boyf. in Spain. Sorry Wigan guys but have to say the Dutch remain more handsome haha.

I miss: SUPERMARKETS!!!! Pubs, miss nights out in Wigan (oz bar / Bar ibiza!), clothes shops, a good curry, spicy veg soup from Greenhalghes!! Friends goes without saying....
Diane Stott-Duggan (nee Stott) from Onchan

Comments: Hiya to all the good folk of 'Wigin'!! I'm originally from Hindley but left when I was 18, joined the Army, left after 5 years and ended up in Horwich (near Bolton), trained to be a Paramedic with Greater Manchester then moved to Isle of Man in 1996 and and been here since. My mum and dad are still living in Hindley so I get over to see them as often as I can, but they're hoping to retire over here this year, so although I'm looking forward to them coming over it'll be a bummer for my regular visits, I'll just have to 'hotel' it. Married to a Manx lad, have a 3 year old daughter and I'm still working as a Paramedic here.

I miss: The people, listening to my accent (I still have a strong accent and endeavour to keep it that way!!), meat and potato pies from Hampsons and any pastry from the 'Whist' bakery!! Nights out round Wigan (King St, Bees Knees pub). Remember that bronze statue in Wigan park, you'd rub his toe and make a wish?
Demetrio Laganà from Reggio Calabria Italy

Comments: Hi I lived in lower ince in the 70'S and left in Wigan in 1980. My address was 24 Delegarte Street and my father was An ice-creamer (Magicream). Who wants contact me at this addrss: dimitri.lagana@tin.it.

I miss: All my mate's and the persons who know me
fred bryan from mahon

Comments: from ashton - in- makerfield retired 2002 moved to menorca to live in the sun after being electrician, refrideran engieer,& timber merchant

I miss: i miss about wigan a cracking good friday night out with all my old mates for a couple of pints followed by a bag of fish & chips from the old road chippy or the bryn cross chippy
Mark Malone from Darmstadt

Comments: Lived in Whelley and Winstanley.

I miss: Sausage dinners
Philip Marsden from Wiesbaden,Germany

Comments: Used to live in Appley Bridge but moved to Germany in '92 for a planned 2 yrs.As I met Anne here those 2 yrs have turned into 13!Work on a busy ICU as a staff nurse,having trained in Wigan and Billinge.

I miss: Apart from family,I miss Orrell RU,Greenhalgh's pasties and British TV.I miss the Pound too:for goodness sake don't choose the Euro,nobody I have met likes it!!
Christine Derby from Dortmund. Germany

Comments: Lived and grew up in Worsley Mesnes,went to the Deanery.Left the UK after I left school.That was 1976.Have lived here ever since.Learned Physiotherapy and now I´m a nurse on a detox ward in a psychiatric Hospital.I married and divorced a German and have got an 20 year old sohn,that speaks english with a german and wigan accent,(so do I actually).My Sister and her family still live there and I visit Wigan about every 18 months.Normally to Marriages,christenings or funerals.

I miss: Cornish Pasties,Custard Pies,Hot-Pot,Cider and black,the chippy on the corner and pudding ´n chips with pee wet and hearing the awful accent that wiganers have.I´ll have to stop now,otherwise I´ll start wanting to go back again.
Gillian Jones from Tipperary. Ireland

Comments: I was born in pemberton and i lived there till i got married then moved to ashton in makerfield. After 38years living in wigan i moved to tipperary, Ireland with my family. I am now enjoying the country life with a great vieiw of fields and hills around our house. I am a nursery nurse and working in a playschool in town.

I miss: there are a few things i miss one big one is my parents and my sister and family.Uncle joes mint balls,crumpets, steak and kidney puddings and pies, vimto.
gillian swift from Ireland

Comments: I was born in pemberton went to highfield primary,pem middle,and mesnes high. worked at morrisons in ince. Got married (jones now) lived in ashton then moved to ireland four years ago.

I miss: family and friends. a good chipper, vimto, uncle joes, steak and kidney puds and crumpets mmmmmmmm
Paul Thomas Parr from Bad Fallingbostel, Germany

Comments: Used to live at 1 Langdale ave Higher Ince. Moved to Bolton in 1977 when i was 8. I am currently in the army and serving in Germany. I am married to Victoria who is from (soory about this Huddersfield) and have two daughters who were both born in (sorry again), North Allerton(N. Yorks). We have loads of fun when Wigan play Huddersfield my wife does not know who to support, she only discovered rugby league when she met me and loves it, she's a honourary Wiganer. Both my daughters recently saw there first wigan match at the JJB and now can't wait to go again. We go to wigan every time we come home. Love the place.

I miss: Oh the pies, and the rugby but i get that on Sky.
chris robinson from fuengirola spain

Comments: I used to live in car bank square, atherton until 1989,I decided to move to Spain and open a pub earlier this year.Come and see me in my bar Happy Days in fuengirola port.

I miss: I miss a good pie and a decent plate of fish and chips but most of all a decent brew as the water hear is crap
Lydia Denise Pope from Frankfurt/ Germany

Comments: Grew up in Wrightington.Keft to join the QARANC at the age of 18yrs.Been moving around ever since.Finally settled in Germany in 1988 .Daughter is now almost 19yrs. and im nursing in a German hospital.

I miss: UNCLE JOES MINT BALLS !!!!+ Crunchie Bars but most of all the friendliness of the locals !!!
Marian Simm/Ward/Barontini from La Chapelle au Riboul, France

Comments: I was born in Pemberton, daughter of a dentist and lived in Wigan until 1953. Remember Parson's Walk, Woodfield School, Wigan Park, the blitz, Williams' pies, Santus mint balls. Retired to France in 1998.

I miss: Miss - the cricket field,Bull Hey, JJ Broughton's sports shop (the original)in Market Street, the old market hall, the parish church on Sundays, our gang in Parson's Walk, rugby league matches with Grandpa Simm (sithee, size of Gee!)
Alexa Cummins from carrick on shannon, Ireland

Comments: i used to live at 1a bamford drive, whelley, and i moved to Ireland ten years ago, I am now working for a Credit Card company at the moment

I miss: i miss the rugby and the cheese and onion pasties and the shopping as i'm in a small town now
Chris Bird from Skierniewice in Poland

Comments: Used to live in Appley Bridge. Moved to Poland in 1999 with work. Met Kaska, my wife and decided to stay. Have two daughters. The eldest who is two, speaks English with a proper Wigan accent, especially when she says "now"

I miss: Nights out on Friday with th'lads, Pubs, the Santi Bag, Mr Joe's Kebabs, pies, chippies, Rugby, Northern hospitality and humour. What else, bacon, English style sausages, Warburton super toastie loaf etc. As they say, you can take the lad out of Wigan, but you can't take Wigan out of the lad.
Michael Nicholls from Newbury

Comments: Used to live in Appley Bridge and went Shevvy High and Wigan Tech. Graduated from Uni in 1997 and moved down to Newbury - been here ever since. Worked for a number of consultancy companies; currently work as a Central Government & MoD consultant.

I miss: I miss cheap beer, chips & gravy and obviously the pies!!! Still pop back to Wigan a couple of times a year to catch up with friends and family and, not to mention, the above items (in abundance!)
sean from kirckaldy

Comments: I use to live at 16 church road platt bridge wigan and i also lived in ince and hindley

I miss: everything espicially the pies and the greatest footie team in the world WIGAN ATHLETIC
Andrew Lomax (aka Germ) from Svensby, Norway

Comments: I know I've written comments before but....I've recently come back from another trip back home, and ALL Wiganers should be really, really proud of their home town. It's lively, it's kept it's heritage, the people are just great, talk to anyone they will. In short, Wigan has everything. I'll stop now, I've got tears in me eyes.............

I miss:
Alison Wilford from St Koloman, Salzburg

Comments: I was born and bred in Hindley, but moved a bit North to Preston when I was 18. Moved myself and all my pets over here last year (my boyfriend of 6 years is Austrian!) I now work for a company called Berlitz, teaching English to lots of Austrians (they're all running round with Wiggin accents!!!) I don't like it much though, as I teach Animal Care by profession!

I miss: Ahhhh........ Mushy peas! Crumpets, Greenhalgh's Butter Pies!! And 'proper bread!!!' (warbutons and all that!)
Ivan Birchall from Paris

Comments: After leaving Billinge Primary, I went to Up Holland Grammar School. On leaving and after a period with Pilkington Bro in St. Helens, I joined The Rank Organisation in Aberdeen, after which I set up my own business in Newcastle as an Impresario. I then became General Secretary of The Agents' Associtaion of GB and also Treasurer of The European Federation of Performing Arts. I now live mainly in the Champagne area of France in a small, but beautiful, City if Sezanne, about one hours drive from Paris.

I miss: Uncle Joes Mint Balls!!
Jonathon Alty from Mollerussa

Comments: lived with grandparents in worsley mesnes, then in chatsworth street pemberton where i went to st john's primary school. moved to highfield and went to hawkley hall high school. have been travelling round world since 2001 and am currently teaching english in catalonia, N.spain.

I miss: the rugby and a decent pint...black sheep was good last time i was back!
PHILIP DEAN from ALICANTIE

Comments: LIVED IN STANDISH MOVED 2000I WAS A SHOPFITTER

I miss: FAMILY FRENDS PIES
Ian Morgans from Macroom Co. Cork Ireland

Comments: Used to live in Whelley, Standish, Bryn - moved 1969 but still go back regularly for't rugby

I miss: Miss pies, rugby, beer and nice people wot talk proper!!!
Ian Morgans from Macroom Co.Cork Ireland

Comments: Born in Moore Street East but moved up Whelley in 1947 (me dad wuz posh!) then moved to Standish, then got married and moved to Bryn changed job in 1969 and moved to scouseland (boo)eventually ended up in Ireland but miss Wiggin - nobody can understand me here,their chippies are rubbish, they don't have pies and it costs a fortune coming over for't rugby

I miss: Miss pies, beer, rugby and nice people wot talk proper but at least I get a fix every few months when we come over for't rugby and load up on the way home with a bootful of Greenhalgh's pies!!!!!
Lora Frenneaux from Hull

Comments: Used to live in Wigan, have a stupidly mixed accent like!

I miss: haha. The pier!! The accent!!!!!!!!
PHILIP DEANI from ALICANTIE

Comments: LIVED IN STANDISH MOVED 2 SPAIN IN 2000

I miss: MISS FAMILY.FRENDS.PIES
Irenee McHugh nee Stokes from Albir Alicante

Comments: I used to live on Woodhouse Lane, then Bryn then Swinley, I have lived here in Spain for 5 years and have a small Novelty Cake Business

I miss: Close family, friends, Shopping I don't miss the weather or pies
Andrew Rigby from Liverpool

Comments: I didn't hail from Wigan but formed a great and lasting affection for the town as my dad, Les Rigby, taught at Wigan Tech for 25 years and was manager of Latics when they were in the old NPL. Enjoyed many, many great nights at Pemps, Blutos and Chaplins in my youth. Also remember seeing greats like Sean Edwards and Henderson Gill come to use the weights at the college before Wigan really hit the bigtime in the 1980s. Great memories of a great town.

I miss: The Wigan accent, which I still consider the best in the entire world.
kathleen mary conroy from madrid

Comments: Left wigan in 1972 with the idea of teaching in Spain for a couple of years, I'm still there!Married to Edu and have three kids,28.27.and25. Used to live in Wrightington street.

I miss: strolling aroound the shops and bumping into people I haven't seen for ages.
Philip Shaw from FRANCE (dept 16)

Comments: Born in Marus bridge 1968. Went to Marus Bridge primary, then MB Middle, then on to Mesnes High school. Worked as postman at wigan sorting office for 6 years. Moved to derbyshire in 1992. Been estate Agent for last 13 years. Live and work in France since 2002.

I miss: looking at other ex-pats on site, I remember Dave Williams,(went to Mesnes with him) and also Paul Causey, new him from Wigan harriers days in mid 80's. Miss wigan people and sense of humour, pies, bitter, King street on a Saturday night with mates.
Terry Dickens from Wigan

Comments: HiI have just retired after 38 years at HJ Heinz the last 15 years working around the Heinz world including Australia , America , Canada Newzealand ,Holland , Italy , Germany,Poland plus minor projects in the rest of Europe and my last day but one after 16 months in St Petersburg Russia I retired and its great to be home with family , son Daughter in Law and grandson just thought I would look whos out there

I miss: got them back
Gwen Pendlebury from Guérande - France

Comments: Lived in Lord Street, Hindley, went to St. Peter's primary school and later H.A.G.S - left UK in 1976 and been living in froggy land ever since....

I miss: Meat & tater pies, fish and chips, Uncle Joe's mint balls
John Brown from Delft, Holland

Comments: I'm born and bred in Wigan, lived in Welbeck Road, Goose Green for years. I went to Whitley High School, which as long since gone, leaving in 1987. Although I expect the locals were glad to see the back of us. I first left Wigan back in Jan 02 with my job to work in Wrexham, and live in Frodsham. But then in Sept 03 I moved again (with work) to Milan, Italy. I actually lived in a little Italian village just north of Milan called Saronno - if you ever find yourself flying to Milan Malpensa and take the train to the city have a look at it (it's only 1 of 3 stops). Plus you'll also see what was my apartment. I can recommend a great Pizzeria! Bellissmo! Then again, with work, I moved this time to Delft, Holland (as of Jan 07). Makes a change to come back to some north european weather, and no mountains.

I miss: Needless to say I miss the pies & pasties, normally it's one of the fist things I do when I return - go into town for a pie. I had wondered how well a pie shop would go down in Italy - niche market!. Also, and this is going to sound daft, book I have never actually been to the hairdressers while being anyway - would you believe I would always come back to Wigan for my haircut (at Wallwork's). It's only a short back and sides for god's sake. I miss the chance of watching both the Latics & the Warriors, I'm one of the rare Wiganers who support both. But wherever I am I always enjoy it when we beat Bolton & St Helens. Then there's the pubs and clubs. Do you remember Movies, Scotts and JJ's (which reminded me of that bar in Star Wars) all dumps (and sometimes a bit dodgy) but I had some great laughs in these places. Then there was mad Friday before Xmas, years ago I worked at Triangle Valve in Pem and we had some cracking all day sessions. 1988 - 1995 were the golden years of pubbing and clubbing in Wigan for me. Bloddy Hell that's over ten years ago! How yes and my friends & family......
neil wilson from gessen hessen germany

Comments: lived in eastwest street under wall street station.work as a stone mason.only work 7 months a year. coz of bad weather. so do a little of home growing.

I miss: bacon pies bread blackpuddings.
Jennifer Anderson nee Ainscough from Waalre, The Netherlands

Comments: I lived in Pemberton. I went to St. Cuthbert's church and school and then to Notre Dame, the convent in Standishgate, Wigan. I later lived in Crank, near Billinge. I left England in 1980. I am a teacher here in Holland.

I miss: my sister and family,R.O.Lace's pies; penny loaves from the little bakery near St.John's in Standishgate; dances at the Old Boys and Orrell RUFC and the folk club at The Old Engine Pub in orrell.
John ASHURST from Limassol,CYPRUS

Comments: Lived in Messnes Rd,Wigan close to Brocket Arms,moved 2004 to Cyprus.Retired,enjoying the sun,sea etc.Ex-Wigan Boro bobby.Brought up in Abram opposite Bucks Head.Pupil at St Johns Abram and Rose Bridge Sec Mod, Hr Ince.Wife Barbara from Newtown,worked at S and B.Eckersleys,Rathbones,Edwards shops.Came from Argyl St,Newtown,went to St Marks school.

I miss: I would have to say I miss Galloways pork pies,Chadwicks sausages etc,and the rugby,but do manage to see some of the games via Sky/BBC tv.Most other things you can buy here.We have Debs,M&S and large hypermarkets.
John Blackburn from Uithoorn

Comments: I used to live in Golborne and left for Holland in September 1970. I am a design engineer in the aerospace industry and our company does design work or Airbus in Germany and the UK. I am married to a dutch girl and we have 4 daughters.

I miss: What I miss is going out for a pint on Saturday and Sunday evenings with my mates & of course pies & crumpets. Also I miss speaking the local Wigan dialect.
Jonathan Kelly from Kos

Comments: I work for a tour operator who send me to the becah resorts of Europe in the summer and the ski resorts in the winter. I have been doing this for about 6 years now, but haven't really lived in Wigan for about 15. I tend to get beack once or twice a year to see the family.

I miss: Family, decent pie shops, footy, pubs, the Wigan accent
gina heslip from dordrecht/holland

Comments: i used to live in newtown before i moved to holland,my mum fell in love with a dutch man so we all moved to holland.me,mum,and my sister.

I miss: exactly PIES,god what would i do for a pie hahaha!
Michael McNamara from Malta

Comments: born in spring view, brought up in ince. ended up in platt wazz. been living in malta since 1988.

I miss: chips and fish, pies, fishing, pies, rugby, pies, my brother peter, pies, and sometimes get an urge for a pie
Alan Cheetham from Frankfurt, Germany

Comments: Hi, I grew up in Shevington, Wigan. I moved to Germany in 1980 and have been here since. Does anyone remember me from maybe Shevinton High School in the early 70s? Also, I had a friend at Shevington Primary School (Shveington Junior School) His name was Neil O' Brien or Brian. He had a brother called Ian. The family moved to Australia in the mid sixties. I am sure his date of birth must be exactly the same as mine, nameyl 12 September 1957. We will both be 50 in a couple of weeks. I would love to hear from anyone who remembers me. My email is as follows: armand_60320@yahoo.com Alan Cheetham

I miss:
Alan Cheetham from Frankfurt, Germany

Comments: I grew up in Shevington and ,oved to Germany in August 1980 where I still live.

I miss: Pies. I would love to hear from anyone who remembers or knows me. Alan
Alan Cheetham from Frankfurt, Germany

Comments: i grew up in Shevington, went to Shevington High in the 1970s. I have lived for the past 27 years in Germany. Does anybody remember me or any of my 5 brothers who are still living in Wigan? Would love to hear from anyone who remembers me. Alan

I miss:
Louise Barnes from Brussels

Comments: Wigan Mesnes Road, my muml had a shop in town too.

I miss: pies see facebook link: wigan pie eaters nice friendly people i had been living down south-not the same
Zoe Haywood from Poland

Comments: I grew up in Parbold and then moved to Wigan in 1994. I got married in 2002 (maiden name was Bennett)and slogged my guts out in contract security for 8 years. Earlier this year, I qualified to teach English to Johnny Foreigners so that's what I'm doing in Poland. I've only been here for a couple of months but it's fab!

I miss: Erm... not a lot! But I wish you could buy proper cheese round here.
susan Fairhurst from Marbella, spain

Comments: I used to live in Aspull

I miss: Pies and proper chips!!
Charlotte Ann Peet from IJmuiden, Netherlands

Comments: I was brought up in Robymill, The fox Inn being my next door neighbour (also Robymill C of E). Lived @ Spring Cottage until around 1988 when mum and dad got divorced and we moved to Upholland. travelled a lot basically and my twinnie is living in Oz now and I live in NL for almost 5 years now. (ready for a change, itchy feet)

I miss: Steak and Kidney Pies, Lemon Curd and shredded wheat... nights out at the Cherry gardens and Kudos (don't think it even exists anymore does it?) Princes (those were the days) and the Playhouse and the Turnkey (king street, Wigan) ??? cider... oh and Heinz!!!! :-)
marc price from vlieland

Comments: i am 21 i came to holland for a new life as wigan is rather boring and getting dull.i used to live in beech hill and i got fed up with all the theives and junkies

I miss: miss my pies mates proper beer and family
geoff newbury from liverpool

Comments: trying to contact christine bosson maiden name lucas mother and father named wilf and dorris got photo of your parents with my grandad joseph lucas and john and evelyn dawber plus my great grandad my nans dad[josephs wife]

I miss: can you please get in touch your email will not connect
geoff newbury from liverpool

Comments: wrong email address for lucas family and woodward family correct address kim.cope@YAHOO.CO.UK

I miss:
geoff newbury from liverpool

Comments: trying to contact christine bosson from stafford use to live in australia ur dad wilf lucas was my grandads brother my mum was josephine i have a picture of your mum and dad wilf and dorris with my auntie evelyn and uncle john dawber with my grandad on the photo and my nans father on the photo tried your email but would not connect

I miss: please reply previous email was wrong
geoff newbury from liverpool

Comments: trying to contact christine bosson from staffor daughter of wilf and dorris lucas now deceased your father was my grandads brother joseph lucas my mother was josiphine

I miss: please get in touch i have a photo with yor parents on
Henry Rigby from Hamburg

Comments: Moved to Germany in 1966 interested in contacting acqaintances used to live 441 Bryn Ashton then on Landgate Estate

I miss: Miss meat and potate pie stesk and kidney puds pork pies beer vimto miss the Ashton accent and my old mates
amanda plant from dept 44, france

Comments: used to live in norley hall wigan moved away when i was twenty, now live in france

I miss: miss the wonderful wigan accent, the pies and uncle joe's mint balls, also some of the family who still live in wigan
Vivienne McDonagh from Biarritz

Comments: Lived in Gidlow lane and Park Road, then out slightly to Hindley Green (not Wigan I know)Moved away in 1973 1st to Manchester, then Bristol in 1976, then across to London and east Anglia before moving to France in 2003. Now getting ready to move back to UK.

I miss: The friendliness, humour, meat and potato pies, Uncle Joes Mint Balls, Wigan Casino
Graham Lyons from Antwerp

Comments: Brought up in Worsley Mesnes, went to St James C of E, Wigan Grammar School, worked at Norweb, Tupperware, Dorma and Gullick Dobson before moving around UK and then lived in Belgium for last four years. 49 now, only get back occasionally. Some things haven't changed (Pemberton, my wife Jean is from there). Some things have changed out of all recognition more than once (town centre).

I miss: Rugby team being the best in the world - those days will come back. Jean misses Poole's steak and onion pies. Nightlife 1982-1988 (Pier, Turnkey, Bees Knees, even Swan and Railway for a rest. Going back to childhood - Wigan market, ABC Minors, Oxley's (I challenge anybody to remember that), children's library (and museum!)
Pamela ALKER from Toulouse, France

Comments: Born in Upholland, went to Winstanley College, Orrell. Left Wigan in 1985 and moved to Paris initially. Have lived in Toulouse for the past 10 years. Married with twins, a boy and a girl of 10.

I miss: Going to the chippy in Orrell after a heavy drinking session in the Stag, all those great nights out with my mates and of course the pies. My suitcase is full of them every time I come back from visiting my family. I of course miss my family a lot and would love to come up on the pools so I could buy myself a private jet and go visit whenever I felt like it. I also miss those nice frosty walks in the winter and the snow, no, I'm not joking ! Oh, to see snow at Christmas !
Sharon Lowe from Catral

Comments: Still got a Wigan base in Poolstock area, "just in case"! Moved over to Spain in March 2008. No work as of yet but trying to get teaching jobs and onto the entertainment circuit.

I miss: Friendly folk, chips and gravy from The Chippery, the new Grand Arcade shopping experience, Greggs' steak bakes, Morrison's garlic farfiroli bread, Uncle Joes Mintballs and most of Santus's sweets and finally walks along the Leeds Liverpool canal with my dog. Pete's Chinese chippy – I nearly forgot, oh and the odd trip to Southport. Seems to be very food related! Over in Wigan at the moment so will stuff myself with the above food items and take back as many bags of Aniseed Twist and Uncle Joes I can fit in the car!
Zoë Jones from Paris

Comments: Used to live in Winstanley, went to Deanery High, Lancashire Poly and been in Paris for the last 15 years ...

I miss: the people ....
Bernardo Sanchez from Sueca

Comments: I used to live near Sainsbury shopping Centre.My wife is from Saint Hellen.I moved to Spain as there were no jobs for me in the U.K. at the time.

I miss: I missed very much my beloved wife.
Denise & John Fedigan from playa las americas Tenerife

Comments: Hi, Moved to Tenerife 3 weeks ago, we have a pool bar in Playa Las Americas. We used to have the launderette in Pemberton Wigan. Denise retired fro the NHS - Health Visitor at Pemberton Clinic after 30 years service.. Our home is in Kitt Green near Heinz. If anyone is coming to Tenerife we would love to see them We have a website www.john-denise-marinasbar.co.uk

I miss: Galloways pies, the chippy in Kitt Green...Lots of lovely wiganers...
Lorraine Henry from St Helier

Comments: I was born in Ince went to St Bills primary - then to Cardinal Newman at this point lived in Abram

I miss: The Humour
Neil Batho from Almeria Spain

Comments: I lived in Lowton until I was 9, then moved to a newsagents shop in Ormskirk road Pemberton. From there to Appley Bridge, then Goose Green. Went to Wigan Grammar '68 to '73, then went to Walmsleys in the fabshop for 10 years. 1984 I started working for NEI Crane Erection and Services (Later to become Clarke Chapman). in 1996, I got a chance of a job in Nigeria, and have been working here since. We went to live in Germany early 2006, then relocated to Spain earlier this year, and hope to settle here. Been married to my Astrid for 28 years, and have 2 sons, and 2 stepdaughters and 6 grandkids.

I miss: Pies WRLFC and Tetley Bitter, but sadly not much more than that.
jean mills from boliqueime algarve

Comments: Iused to live in Bryn,worked in the brittania inn,and various other pubs around ashton in makerfield.worked at Slaters mens outfitters cromptons,now dont do nothing.

I miss: pies chips an musshy peys,hollands steak puddings etc
denise & John Fedigan from Playa De Las Americas

Comments: Hi We are John & Denise Fedigan from Kitt Green. Born & Bred in Wigan. Moved out to Tenerife in October 2008, now own Marinas Pool Bar on Marina Primavera Playa Las Americas. See us on our website www.john-denise-marinasbar.co.uk Love to hear from you xxDe & John

I miss: Wigan Rugby, Hollands Steak Puddings, Mermaid Chippy in Kitt Green & Gaskells Chippy in Orrell.
leeann fletcher from tenerife

Comments: moved to sunny tenerife in 2000. use to live in birkett bank. im self employed. i have a little girl

I miss: i miss going into shops like debs, new look, asda. having so much choice u can get anything u want!!!
Steve Brown from Ruffec

Comments: I lived in Lord Street near Coppel Lane for a bit, then in good old Whelley. I went to Gidlow Middle school (where did it go? I was proper shocked when I went on a trip down memory lane a few years back and there was just a housing estate there - how could they?!). Played for Wigan U-13's on Sean Edward's team. Moved to boring old Stockport after that. Huddersfield Uni - a PhD (in nothing useful!) studied philosophy at Nottingham and taught at Reading College. Married a French woman and moved to France - near Poitiers. Got a 13 month old girl. Neil Cooper - hello!! We were in Mr. Smith's class together. Jeff Kay, Stuart Tabern Ian Duckworth. When you used to get your hair cut, me and Jeff Kay used to 'Whizz' the back of your head with our hands. Felt bad about that for a number of years. Apologies.

I miss: The smell of cigarette smoke on a January Sunday afternoon down at Central Park watching Wigan hammer St. Helens. Sigh. Will they ever beat Saints again? Or anyone this season....
Brian Pilling from Chatain

Comments: We used to live in Golborne and moved to france in 2007. I keep racing pigeons and enjoy fishing and gardening,we enjoy the freedom here.

I miss: The people,the public transport,beer,mates,but not the weather.
marie burchall from holland rotterdam

Comments: i used to live in pemberton lichfield st. i moved ere 1990 married a dutch man. now single .

I miss: imiss my chip butties and chip barmcakes and the pubs and my best friend of 40 yrs we still keep in touch .i miss also my best friends of 25yrs and a good chin wag take care
Peter Keane from Tourmakeady

Comments: Brought up in Gidlow Avenue and lived there till I went to college in London in 1980. Now work as a geologist in Ireland and occasionally the Middle East

I miss: Walking everywhere, especially into town. Smell of Wigan market, Central Park on Boxing Day, watching the old ones bowling in Wigan Park and listening to Wiganers having a laugh
frank burke from wigan

Comments: hello jimmy remember you moving cant believe 13 years ago glad all seams to have worked out awe reet for thee turnkey mabbs stork all shut place going to ruins any room over theer ha ha

I miss: missing nowt still here
kathleen waterhouse ne bradshaw from buckley n,wales

Comments: i was born at 126 scot lane newtown wigan in 1941 Lived in the same house until i met a welsh man married him and moved to wales in 1961. I went to St Marks girls school in Newtown from 1952-1956.

I miss: I miss my friends i made in school riding my bike along the canel with my friend May Aspinall going for long walks anywere our little legs would take us and going home hungry!! Yes and the pies from Winstanleys shop in Scot Lane I can still taste them!!
laura walsh from kilkenny

Comments: i ust ta live in ince about 10years ago now......still at sku den at rose bridge...but wus at tommy more b4 that....moved away to ireland with my family

I miss: i miss mi chippy and my meat and tatter pies......and me owld lobbys haha
Nigel Carr from Gouves, Crete

Comments: An adopted Wiganer originally from Birmingham, but lived in Standish Lower Ground, and Orrell.

I miss: EVERYTHING.... we are currently up for sale and will be heading back to Wigan as soon as we can!!!! You don't know what you've got....until it's gone. Crete has sunshine and not much else.....Wigan has everything !
jeffrey crook from prado del rey cadiz

Comments: I used to live in shevington,after moving to norfolk,france & finally finishing in andalucia.

I miss: Pork pies,old ucp tripe shops,the rainy days & the old corporation buses
CATHY GREEN from COGNAC FRANCE

Comments: Lived in Wigan Swinley from birth.Standish from 1984-1993.Whitley from 1993-2009. Moved to France. Govt officer for nearly 30 years in Wigan

I miss: Marks and Sparks. Warburtons bread
Paul Heyes from Canillas de Aceituno

Comments: Lived in Ashton in Makerfield, educated at Edmund Arrowsmith school, then down the mines as a fitter, mostly down Golbourne colliery, left after the explosion. Moved to Lytham and BAE Systems. Volanteer crew with the R.N.L.I for 10 yrs leaving as Coxswain. now retired in the Spainish mountains near the Costa Del Sol and enjoying it!

I miss: The sense of humour of the Wigan people. And the smell of fish and chips drifting across the street after a beer, louring you in even when you where n't hungery,the old Wigan Corporation busses that ran on time and didn't cost the earth to ride on. Do n't miss the cold and rain though.
deborah hopkins from amsterdam

Comments: Left wigan 20 years ago to study....ended up in amsterdam.....and 18 years later..still here !!

I miss: I miss my family...my roots...and the amazingly friendly and open people......and if anyone can help me find christine smith , who went off to taunton to study textile design.....I have been trying to find her for 2 years !!!!
ian edwards from valkenswaard

Comments: from stubshaw cross,ashton.moved 21 years ago,earth mover mechanic,married with two children.

I miss: freinds,rugby,pies and northern soul.
Marilyn nee Seddon/Lawson/Taylor from Chania, Crete

Comments: Last lived in Swinley, grew up in Darlington St. East. Was a lecturer at Edgehill College. Moved here in 1999. Live in a small village with husband, horse, dog, cat, goldfish. visit Wigan regularly to see family.

I miss: Rugby league - going to matches.
Deborah Byfield from albir

Comments: Lived in Hindley most my life had a hairdressing salon on Atherton Rd - Shapers for many years moved to Albir 4 years ago now have a bar called Lill's Lounge

I miss: Pubs and pies
Jayne Edwards from Tamworth

Comments: Used to live in Beech Hill but moved away nearly 23 years ago. Went to Blue Coat, Gidlow Middle and Whitley High School. Now working as a psychiatric nurse in Staffordshire

I miss: Pies-They simply can't make them down here Gravy on my chips from the chippy
jean farmery Nee Smith from machynlleth powys wales

Comments: Born swinley lane 1935 Wigan Moved to yewdale crescent later.Went to st.michaels school and later to gidlow sec mod.Worked in a large shop on( market st ?)Loved going to the cinema and to the "wigan emp" whenever I could. Enjoyed the mesnes park cafe on sunday afternoons and roller skating round the bandstand (until the park keeper chased us off ! He never caught up with us though !!Sadly moved away with dads new job in 1951......Happy happy days.

I miss: Voses pies from the UCP on standishgate !!I can still taste them!!
Ian Prior from Alcaidesa, Soto Grande. Spain

Comments: Originally from Springfield/Gidlow area. Left Wigan in 83 when I joined the army. Since leaving the army lived in Afghanistan, Nigeria & now been living in Spain & working in Gibraltar since 2009.

I miss: Got to be the pies & rugby what else?? Thankfully Sky take care of the rugby.
Lizzie Jones from Urbino

Comments: I used to live in Wigan Lane and Spencer Road. I began a T.I.E. called Willpower doing schools workshops on Shakespeare. I moved to Italy when I half-retired in order to research and write but I still spend 2 months a year working in Wigan.

I miss: Fish and chips. Friends. All the various societies and opportunities for the over 60's. Not the weather!
Kylie carter from Limerick

Comments: I used to live in scholes then platt bridge til i was about 5 then in bryn til i moved to st helens in 2006 then moved to ireland in 2008

I miss: Mmmmmm i miss a decent chippy.( ireland has none) a pie n my fellow wiganers
Gordon Topping from Mijas Costa, Malaga, Spain

Comments: Originally from Moss Lane, Platt Bridge, Moved to Chorley obout 1969/70. Spent next 30 years in the Merchant Navy, until retiring 10 years ago.

I miss: Uncle Joes Mintballs
John Gittoes from Paphos, Cyprus

Comments: left wigan in 94, did 2 years in Ibiza, then 2 years at sea, moved to Dublin for 3 years, rejoined cruise ship's in 2000 until late 2011, now live in Paphos ,Cyprus. Own my own business www.divingincyprus.net

I miss: A pastie from Jeff west's little shop on atherton road. do miss my real ale. miss the pound shop, tanke out a second mortgage if you come to cyprus.
angela morgan from andalucia spain

Comments: I lived in "Wigan, then moved to Spain.

I miss: The People
angela morgan from andalucia spain

Comments: Usedd to live in Wigan, then Daisy Hill, then Spain

I miss: The people, English pubs & music and of oourse fish and chips & English supermarkets.
MICHAEL STEVENSON ( Mick ) from Alcaucin, Malaga, SPAIN

Comments: Wigan address was Hodges St. Went to Wigan Grammar - 1958 - 66. Worked for Royal Insurance in Library St. Used to go to Casino pre- Northern Soul days, ie 1966 - 1971

I miss: Nothing about modern Wigan. Just the people and good chips.
David Rowlands from Lagos

Comments: Home was one of the police houses in Gathurst Road, Orrell and later when in my teens in St James Road just up from the Grapes. Like a lot of kids I went to 'Orrell YM', turned 17 and graduated to nights out in Wigan at the Court Hall and th'Emp. Joined the police force in Wigan as police cadet then for a year or so as a bobby on the beat. Lots of names spring to mind like my Best Man Bob Taylor from the Long and the Short and then like me a policeman in Wigan. Moved away to the South Coast for several years, came back, moved to Cumbria and now live in Portugal

I miss: Central Park, Wigan town centre after a rugby match especially when we won, Corporation buses with twin green lights, the Ribble bus up to the Grapes and pretty well every pub for 20 miles around, two favourites might be the White Lion in Upholland and the Boars Head
Christopher Michael Burke from Vienna Austria

Comments: Used to live in Haigh, Wigan. moved to Vienna on a whim when a job came up in 1999 as I was unhappy with my job in Bolton as an Arborist and stayed! married with two daughters.

I miss: The people. my family,friends, neighbours, rugby, latics! (although I flew home for the Fa cup final!) The English Countryside!
vincent lannon from pueblo bravo alicante

Comments: lived in mason st wallgate mored to spain in 2001,play golf watch torrevieja fc

I miss: wigan and the people of wigan,first results I look for on sat wigan rugby and latics.
linda egan from mazarron

Comments: born billing 1947 married 1969 then lived in Standish until 1981 moved to Wirral until 2002 retired to spain in 2002

I miss: barons pork pies
karen Turner from playa flamenca costa blanca

Comments: Used to live ion Abram. In Wigan.Moved to Spain in January.

I miss: Just my friends ....and home bargains. Lol
John Peters from Canvey Island, Essex

Comments: Moved from Worsley Mesnes in 1971 at 23 to Essex. Married with daughter (married) and son (single). Now retired. Draw and paint, keep fit (yoga) and socialize.

I miss: Wigan Casino, Crofters Arms, friends.
Kate conroy from madrid

Comments: Went to love in Spain in 1972 with my friend Sheila Connor from Marsh Green. We're still there! We went over to teach in British schools.

I miss: Everything. Wiganers more than anything!
kylie carter from ireland

Comments: i was born in scholes, lived in platt bridge until i was 5 then moved to downall green rd bryn.. since leaving home in 2005 i lived in st helens for 3 years then moved to the west coast of Ireland in the middle of nowhere lol..

I miss: things i miss: definitely the pies cant beat a pie ont barm, and i missthe people. although i did meet a couple who live here to who used to live not far from where i grew up.
Chris.Engel.Was Derby from Dortmund.Germany

Comments: went to St.Michaels Swinley and Dearery High school.grew up in Worsley Mesnes Left to come to Germany at nearly 17. Am a Physiotherapist and a Psychiatric nurse.

I miss: My family,the accent,fish and chips,sunday dinner,christmas dinner,lancashire hotpot,vimto,lucazade,tcp,dettol,wrights coal tar soap,etc etc.The list is long.
Julian Heathcote from Nice

Comments: Platt Bridge, moved 1977 to Ireland, moved 1992 to Nottingham, moved 1995 to London, moved 2004 to Australia, moved 2014 to Nice. I manage holiday apartments here.

I miss: Pies definitely....in fact all chippy food. Not being able to watch warriors and latics live very often. English! Living with the French is a nightmare!
Terence Flanagan from NADUR

Comments: Originally from Hindley, went to St Ben's then Cardy. Started on railway in 77 retired in 2016 and moved to Island of Gozo 2 months later.

I miss: Family, My beloved latics and Pooles pies! Don't miss the beer coz the beer over here is better!
TERENCE (terts) JOHN FLANAGAN from Gharb, Gozo.

Comments: Lived at 6 Gloucester Crescent, Hindley till I got wed and moved to Winstanley then Southport with my job (train driver) I retired in 2016 and moved over here to sunny Gozo!

I miss:
[top]

Have you moved away?

Click here to add your details.




Feeling brave, why not email a photo?




Ed Owens met some expats (Bryn Roaders) in Spain and sent these 2 photos, click for larger image: