| | | |
| --- | --- | --- |
| Wigan and District Brass band | | Views: 1113 |
| Wigan & District Band at a Walking Day in Wigan mid 60s? | | Comments: 9 |
| Photo: David Brown Item #: 31200 | | |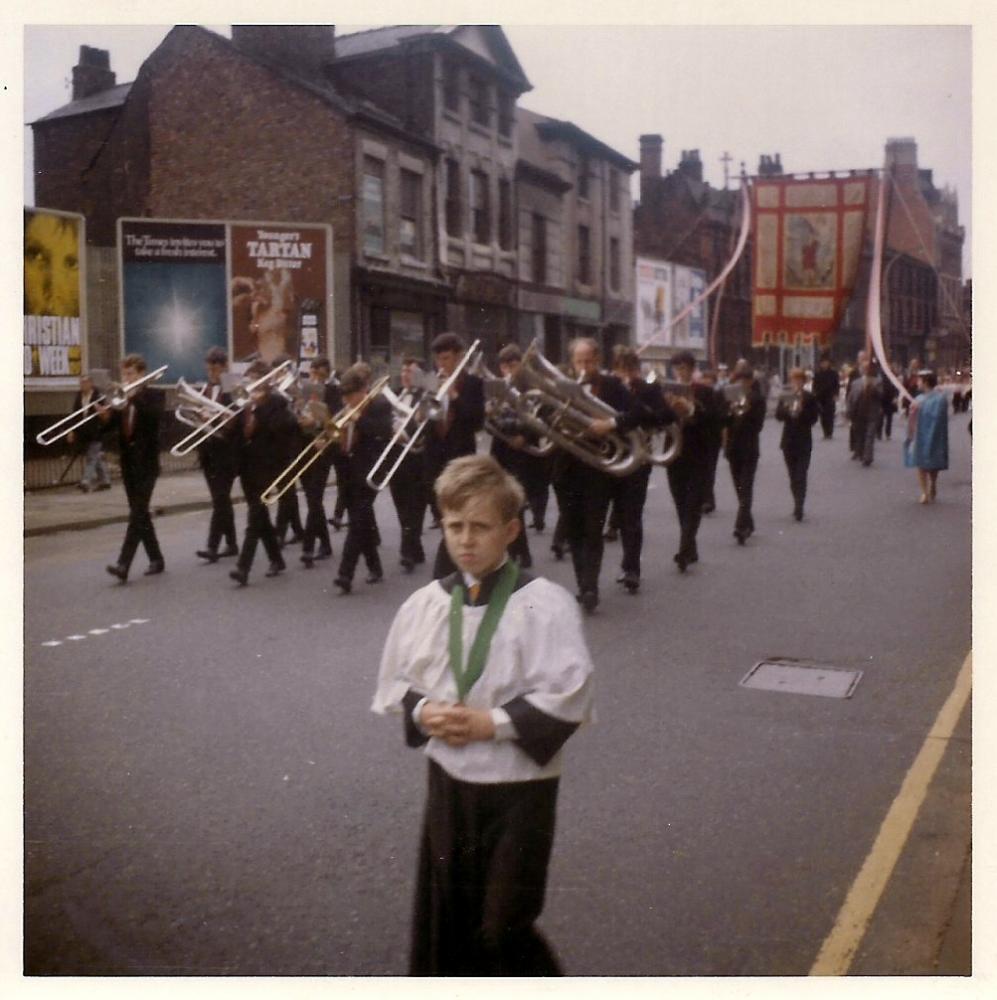 | | | |
| --- | --- | --- |
| | Image scaled down from 997px to 1000px wide | Click here, or click the photo to view original |
| | | |
| --- | --- | --- |
| | Anybody recognize this road? | |
Comments by Spenian, 7th May 2019
Library St ???
Comments by Philip G., 7th May 2019
I can't help you in identifying the name of the road David, so I'll hazard a guess that you're identifiable on the extreme left of front row, instead.
And as far-reaching as Brass Band music is, I now hope that you'll find my following meander to be of some interest to you. Thanks.
The recurring 'best bit' of a piece that had been played during our (St Aidan's, Billinge) Walking Day of 1956, or was it 1957?, has stayed with me ever since, while the title of the entire piece had continued to escape me for quite a number of years.
The weather had been blistering hot and, perhaps, partly responsible for my sun-affected 6/7-year-old imaginary words to have become attached to these 'best bits' at the mile (the walk had been in excess of one and a half miles); "Have another wafer, Have another wafer, Slap it on, thick, Slap it on, thick".
Last year, and during cooler climes, I took the opportunity to ask my neighbour (a 'Cornet' player since childhood) for her help in identifying the actual piece, and no sooner had I tendered my best effort in da-da scheme, only, she then replied 'It sounds like Punchinello'.
YouTube later confirmed her easy grasp of Mr Rimmer's popular march.
Comments by bugle, 7th May 2019
Looks like Darlington St. East where Kays used to be.
Comments by whups, 8th May 2019
could it be ashton town center coz it looks much like it was in the 60s with the cross keys at the back ? .
Comments by Margaret, 8th May 2019
Its definitely not Darlington St with all those triple story buildings. I grew up just across the road in Shelmerdine street and there were no buildings like that anywhere near Jays
Comments by Carl, 8th May 2019
Not Wigan to be honest it looks like Manchester
Comments by Kenee, 8th May 2019
It's not Ashton, my first thought was Scholes, or perhaps Bradshawgate, Leigh.
Comments by Terry, 9th May 2019
I was a delivery driver all around Wigan Ashton and Leigh in the 1960s and 1970s and its no where I recognise.
Comments by Karen, 15th May 2019
Looks like Leigh to me