| | | |
| --- | --- | --- |
| Wigan and District Brass band | | Views: 844 |
| Wigan & District Band at a Walking Day in Wigan mid 60s? | | Comments: 6 |
| Photo: David Brown Item #: 31198 | | |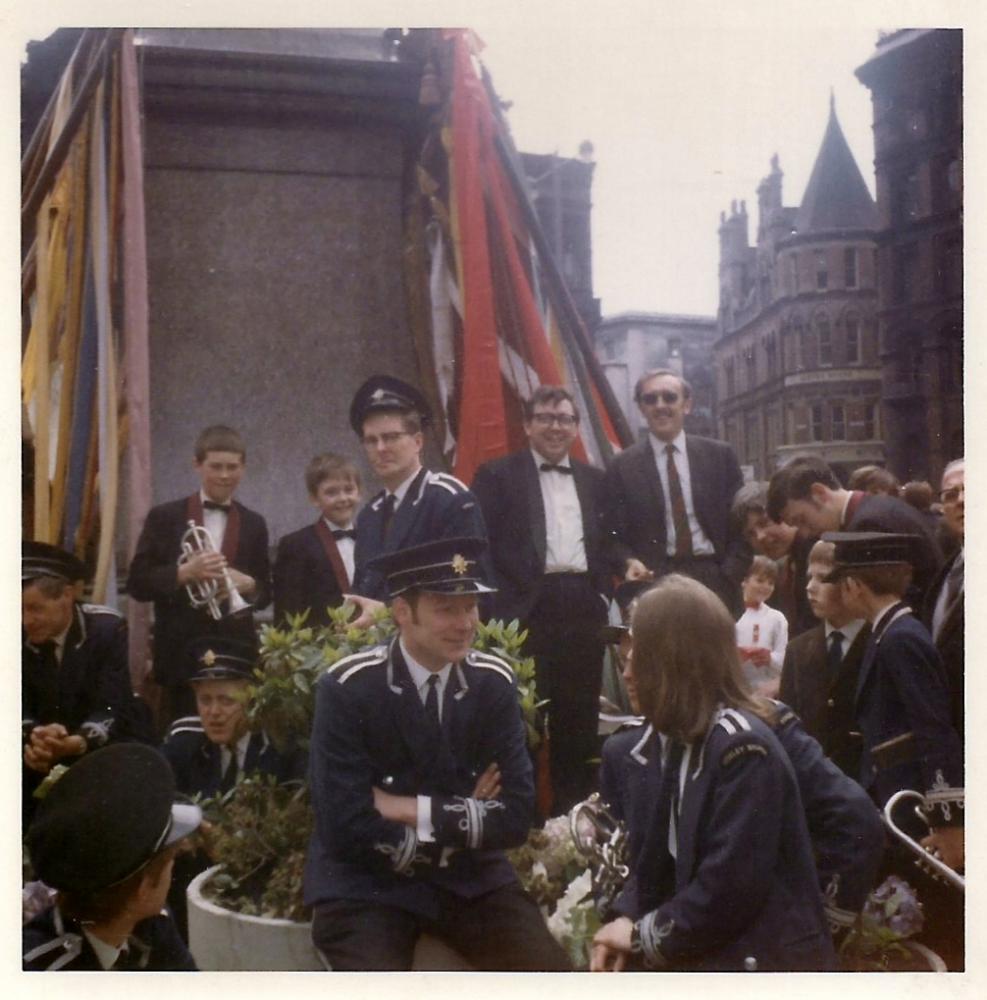 | | | |
| --- | --- | --- |
| | Image scaled down from 987px to 1000px wide | Click here, or click the photo to view original |
| | | |
| --- | --- | --- |
| | Resting with another band. Michael Dugdale, Nigel Cavil, Alan Mason, Fred Cavil (from Wigan & District Band) | |
Comments by Mick, 7th May 2019
This is Albert Square, Manchester, taken at the foot of John Bright's statue. The building with the pointed turret is on the corner of Southmill St, and the white building which can be seen behind the man wearing sunglasses is the old police headquarters.
Comments by DerekB, 7th May 2019
David, don't think this is in Wigan - it is nowhere recognisable to me and I have lived in Wigan all my life.
Comments by David Brown, 8th May 2019
I did put a ? mark after the title 'cause I wasn't sure where this was taken. It could quite well be Manchester as we did quite a few whit walks from, if I remember correctly, a church in Pendleton into Albert Square and back again.
Comments by Kevin, 8th May 2019
Correct about it being Albert Square in Manchester. That building on the right with the tower is a bbq restaraunt now. We were in there a few weeks back.
Comments by alan, 10th May 2019
Looking at the shoulder badge of the girl at the front of the group, the band in blue uniforms could be Whaley Bridge.I believe they still wear blue uniforms today.
Comments by Stephen Price, 9th June 2019
I think it's Clive Bilsborough with hie head bowed on the right