| | | |
| --- | --- | --- |
| War Memorials | | Views: 693 |
| War Memorials, NatWest Bank, Standishgate | | Comments: 1 |
| Photo: Rev David Long Item #: 30756 | | |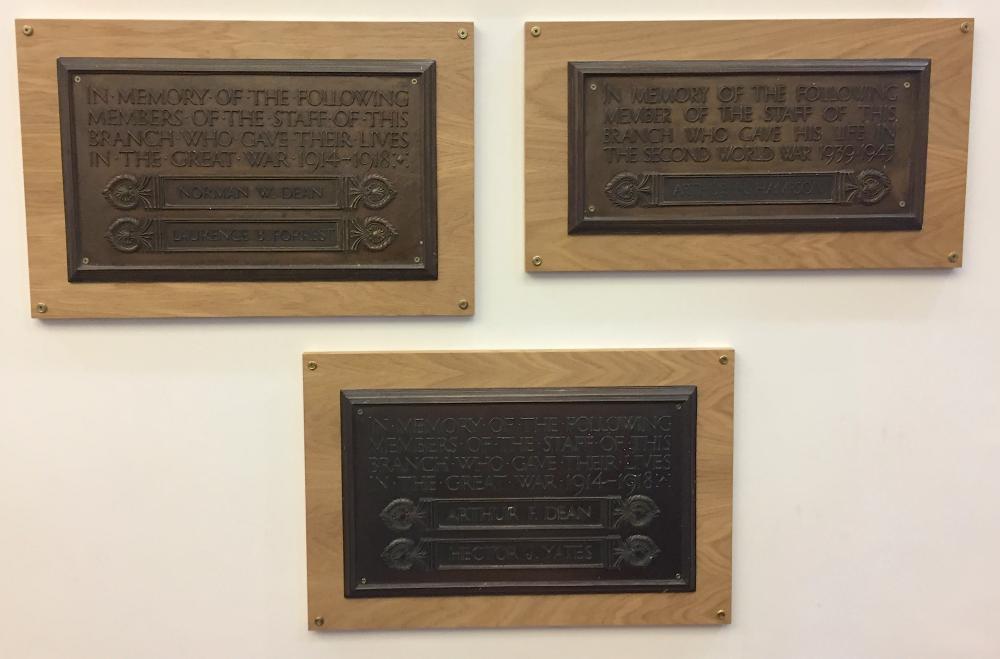 | | | |
| --- | --- | --- |
| | Image scaled down from 1000px to 659px wide | Click here, or click the photo to view original |
I went to the Bank to photograph just one plaque - and found that there are three on display in the main public area.
The larger two are from WW1 and carry two names each, the smaller one is from WW2, and carries just one name.
The lower one is from the Wigan Branch of Parr's Bank.
According to the RBS website (the parent Bank), the men commemorated on the other WW1 plaque worked at the former Hindley Branch of the same bank. Wigan Archives say they worked at both the Hindley Branch and the Westhoughton Branch - and the present Manager thinks the plaque came from the Westhoughton Branch.
The names on the Wigan plaque are Arthur Dean and Hector Yates, and those on the Hindley plaque are Norman Dean and Laurence Forrest.
Arthur and Norman Dean were brothers. Laurence Forrest was one of two sons of Canon Edward Forrest, Vicar of St John's Pemberton, to be killed.

There is no information on the RBS site about WW2 casualties, but the parents of the casualty on the WW2 plaque, Arthur Hampson, came from Walkden. It is possible that he worked at either or both of the Hindley and Westhoughton Branches....
Comments by Philip G., 23rd September 2018
I reckon that the three plaques look great on the plain white wall. And, evidently, are also within easy view.