| | | |
| --- | --- | --- |
| Transport | | Views: 948 |
| South Lancs Tram heading for Leigh Market | | Comments: 17 |
| Photo: Chris Heaven Item #: 30631 | | |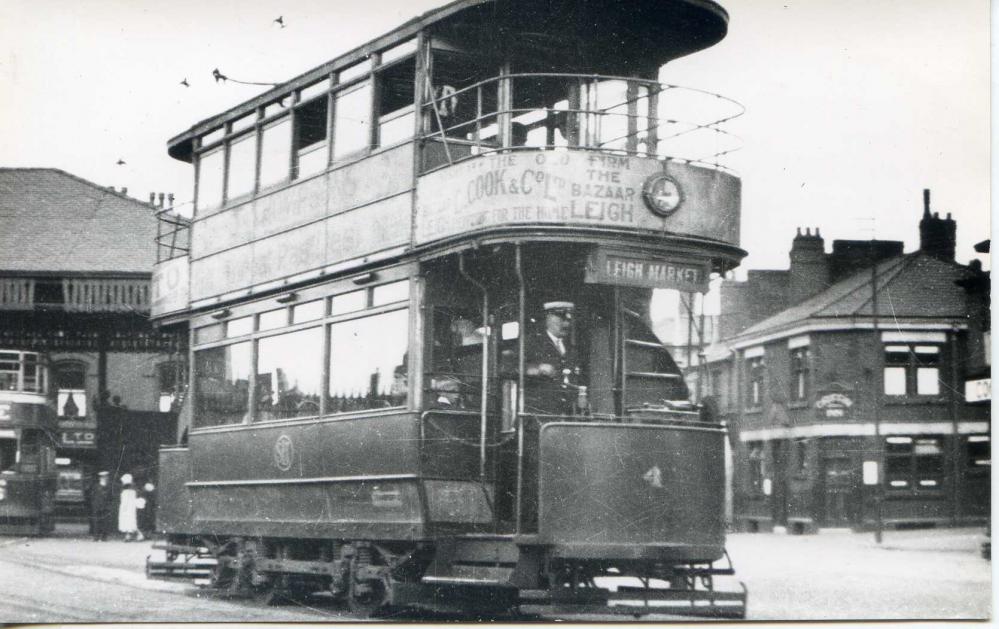 | | | |
| --- | --- | --- |
| | Image scaled down from 999px to 629px wide | Click here, or click the photo to view original |
| | | |
| --- | --- | --- |
| | Dated 13th August 1933 - South Lancashire Tramways car number 4 heading for Leigh Market. Note advert on front of upper deck for "The Old Firm, C. Cook & Co. Ltd of The Bazaar, Leigh - Everything for the Family". From other ads I've seen I gather The Bazaar was on Railway Road, Leigh and the firm sold furniture, carpets, floor coverings, curtains, ornaments, ironmongery, general tools, oils etc - i.e. they seemed to have lived up to the claim. I don't know the location of the picture though. The name above the door in the right background looks like "Griffin Inn". | |
Comments by Poet, 7th July 2018
Not just a charming glance at the past but a vision of the future if politicians got their fingers out.
Comments by jack, 7th July 2018
What a smart looking driver. Looks like an ex soldier.
Comments by Ged, 7th July 2018
Fantastic photo Chris
Comments by DTease, 7th July 2018
Warm, cosy cab ? Luxury! It's out in the open for this lad. Wind, snow, rain it's all the same to this driver. Not even a seat to sit on!
Comments by Poet, 7th July 2018
He does look like an ex-soldier Jack. Did Hitler ever come to Leigh?
Comments by Stuart, 7th July 2018
This picture was taken at the Great Moor Street terminus in Bolton town centre. This was the last tram route operated by South Lancashire Tramways, Bolton to Leigh (now bus route 582). The picture was taken by MJ O'Connor in February 1933. The trams ceased in December of the same year.
Comments by fred foster, 8th July 2018

I had a ride on the last tram to Abbey Lakes in 1931. I was 6 months old and my mother told me about it. The trams were taken off that year. Later on, my dad bought a top deck of a tram as they were sold to make caravans and sheds. It was on our allotment until 1980 when it was finally demolished, having been a hen house all that time
Comments by Brewster, 9th July 2018
Looks like the Metrolink is getting closer to Wigan.
Comments by Johnny, 10th July 2018
Was there any trolley - buses ever operating in Wigan?
Comments by Cyril, 12th July 2018
The driver reminds me of the photo of Captain Webb that was featured on matchboxes at one time.

They did Johnny, it was around twenty odd years ago when the last tram lines were taken up along Templeton Road Platt Bridge, the tram sheds being on Tram Street, not sure if they served all of Wigan or if there were other tram sheds around the borough.
Comments by Roger, 13th July 2018
There was a steam tram shed in Hindley in the late 1890s, early 1900s, I think belonged to Wigan Council. Part of the building is still there, it's in Albert Street, public toilets, closed, but still there.
Comments by Johnny, 13th July 2018
Thank you Cyril.
Comments by Pw, 13th July 2018
I do not think trolley buses ran in Wigan.The only ones I remember we're on the St Helens to Atherton route
Comments by Stuart, 18th July 2018
Yes. Trolleybuses did operate in Wigan very briefly, for 5 years between 1927 and 1932. There were 4 of them and they operated between Wigan Market Place and Martland Mill Bridge.
Comments by Pw, 20th July 2018
Thanks Stuart,I did not know that.
Comments by Ray, 20th July 2018
The Martland Mill trolley buses actually ran for seven years, Stuart - between 7th May 1925 and 30th September 1931.
Comments by Ray, 20th July 2018
Correction to my comment above - should read 'six years'. Oops...